2022 World Cup China Brand Marketing Insight
According to data from QuestMobile's 2022 World Cup Marketing Insights Report, the trend of World Cup-related content has increased significantly closer to the start of the World Cup, and most of the content is related to World Cup knowledge, popular national teams, and World Cup winner predictions. Most of the World Cup watchers are men aged 25-35, and users whose interest are sports accounts for the most.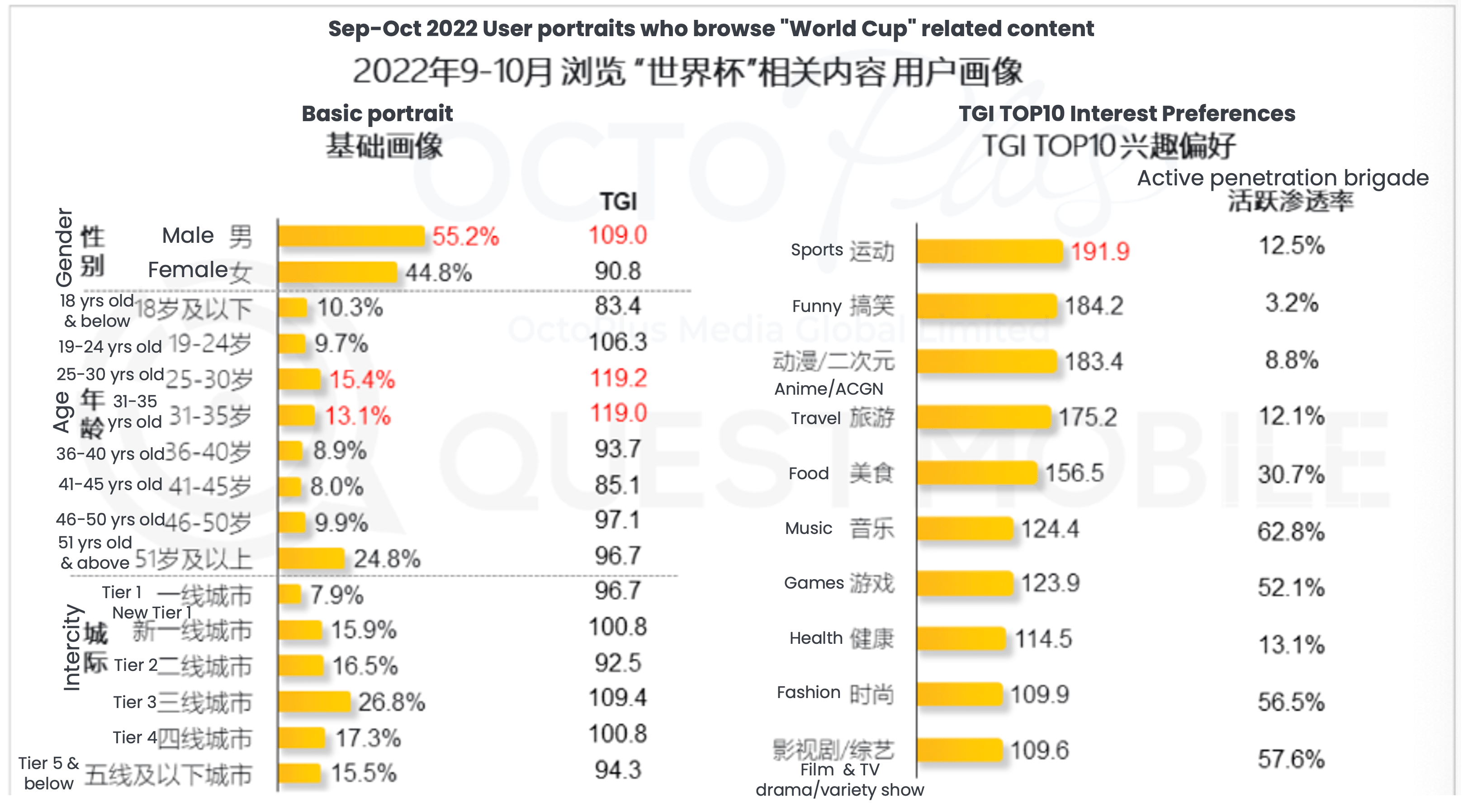 In addition, Chinese companies occupy 4 seats among the main sponsors of the World Cup, the largest sponsor is Wanda Group, and the rest are Hisense Group, Mengniu Dairy and VIVO. Of course, in addition to sponsorship, several Chinese listed companies are directly involved in the construction and guarantee of the Qatar World Cup, such as China Railway Construction Corporation which participated in the construction of the stadium, Changjiang & Jinggong, Power Construction Corporation of China and so on.
Media data – CCTV, Douyin, Migu video
Douyin and Migu Video respectively obtained the World Cup broadcasting rights from CCTV, and Douyin is also the first short video platform in China to obtain World Cup broadcast rights, including Douyin Express Edition, which covered a total of 829 million users across China's network in this World Cup event. Between the opening and the closing match, the cumulative number of online visitors in the Douyin sports live broadcast room exceeded 40 million, peaking around the first goal, and eventually accumulating a total of 108,000 barrages. Here's what the platforms are doing for FIFA World Cup Qatar 2022:
CCTV: To create a full range of experience and column topics with the watch, play, sing, and chat, such as a live broadcast program with "anchor to watch with you", variety shows such as "Hello World Cup" and so on. CCTV also launched an AI-intelligent editing highlight and morning/evening newspaper section to help fans quickly view content; even through the 3D virtual intelligent voice assistant Yang Xiaoyun to interact with users using voice interaction.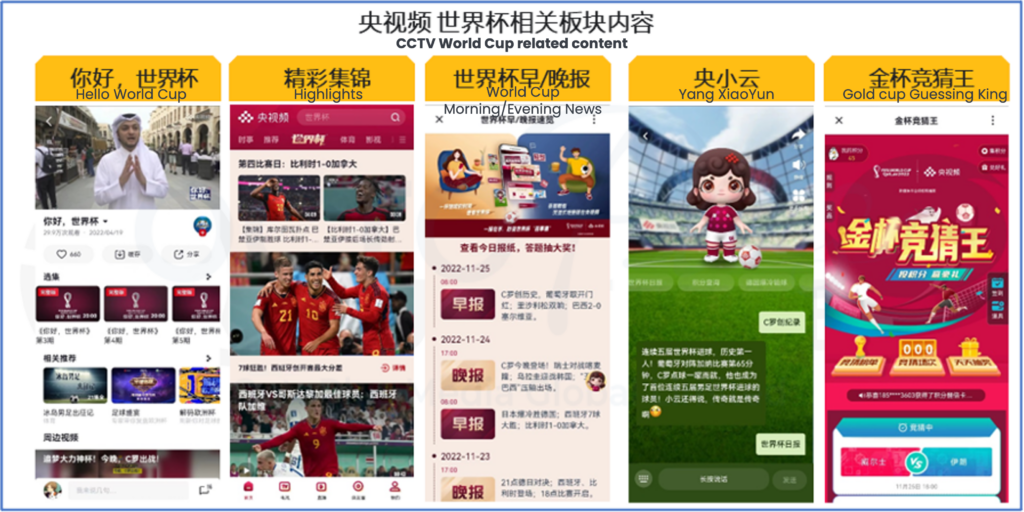 Migu Video: Improves interaction with fans through activities such as picking teams, and football stars, guessing the winning team and creates the "metaverse" World Cup virtual interactive space and launches a variety of sports courses, inviting everyone to practice and create a comprehensive audio-visual experience.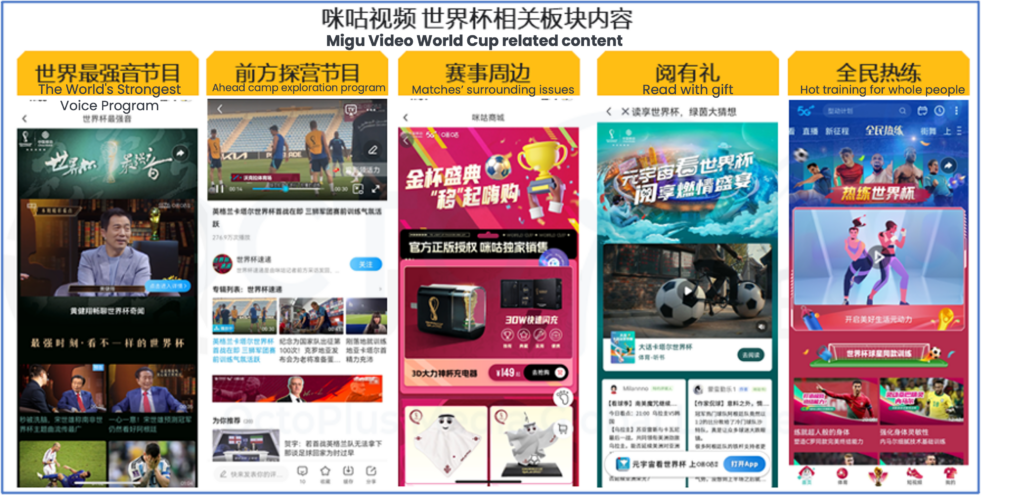 Douyin: Through various variety shows, join hands with celebrities in the football industry and well-known e-sports commentators to share football passion with users, such as "DOU to the World Cup", "Stilll Fan Zhiyi", "Understand the Ball Conference", etc., and launched the World Cup gesture dance topic to increase traffic. Douyin has utilized the mature commercial closed-loop capabilities in the platform to play around the "World Cup economy".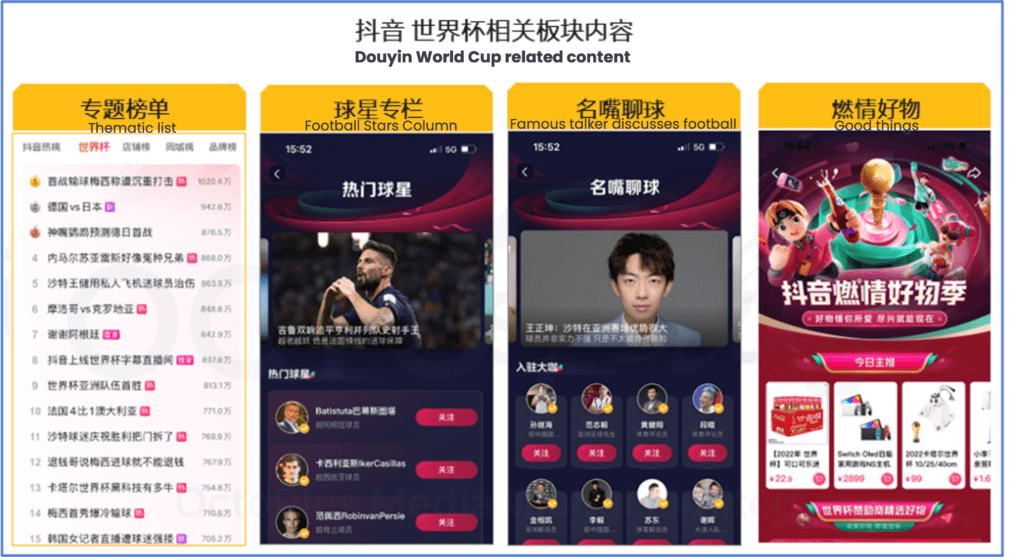 (Image source: all from QuestMobile)
Brand marketing
The World Cup brand marketing is mainly based on emotions to arouse user resonance, topic-driven interaction, and product as the starting point, and TVC advertising is still an important way for brands to convey the concept of the World Cup, reaching consumers through various emotional connection points, such as "World Cup classic moments", "fan celebration parades", "champions", etc., causing emotional resonance among users. Other types of marketing include launching customized products, signing/sponsoring popular teams, and topic marketing, especially the word "World Cup customized/co-branded" itself has its own halo, and the gameplay is diversified, such as the launch of World Cup-themed limited food and drinks, World Cup official TV/mobile phone and other home appliances, digital, team jerseys or football, etc.
This series of marketing campaigns successfully led to brand sales growth, most notably in food and beverage, especially Mengniu, Coca-Cola and Budweiser. Coca-Cola, Budweiser, and Mengniu Daily recorded sales of 467,000, 338,000 and 7.751 million respectively as the World Cup opening ceremony approached on the Douyin channel. The distribution of TOP3 sales volumes in the Douyin channel is food and beverage (62%), sports and outdoor (19.9%), and cultural and creative products (8.2%). Here are some examples of brands for each marketing event in the 2022 World Cup:
Released customized products: Coca-Cola, PepsiCo, Budweiser, Yili, Adidas, Hisense
Signing/sponsoring popular teams: Yili, Panpan, Nike, Adidas, NetEase News, Xiaohongshu
TVC: Mengniu, Coca-Cola, Hisense, TCL, Budweiser, Meituan
Topic marketing: Mengniu, Hisense, Yili
In addition, the value of World Cup IP has been fully tapped, with scene + World Cup elements as a "marketing gimmick", all kinds of beer, beverages, snacks, sports outdoor and cultural and creative supplies have been sold hot, and the sales of Douyin's officially authorized souvenir stores have exceeded 10 million.
In general, creating high-quality marketing content and creating a deep interaction with users, and even allowing users to enjoy a comprehensive experience, are the core marketing strategies of brands in this World Cup. If you would like to know more about advertising and marketing solutions, please contact us.
Talk to our team.
It's a team with one single shared goal, which is our client's success. Deliver results for your business now. 
 Email: bd@octoplusmedia.com