2023 China KOL Marketing White Paper
Miaozhen System and China Advertising Association jointly released the "2023 KOL Marketing White Paper", which explains in detail the 6 major trends of KOL marketing and 6 major practical guidelines of KOL marketing in 2023. The following is an overview of key points compiled according to the report.
China's social marketing continues to rise in 2022, which means that there is great potential for emerging advertisers to increase their investment, especially for emerging advertisers/brand owners to change their social marketing budgets by as much as 81% in 2023, an increase of 2% over the past year. KOL marketing has become the focus of brand marketing, with a ratio as high as 66%. Nowadays, KOL marketing is the top priority of brand marketing and product longing is still the core appeal of KOL marketing, but the purpose of KOL marketing in China is no longer limited to this. Brands look forward to becoming more diversified and helping to expand the entire marketing link. Advertisers have three major goals for KOL marketing in 2023: product cultivation (74%), brand communication (65%) and conversion (64%)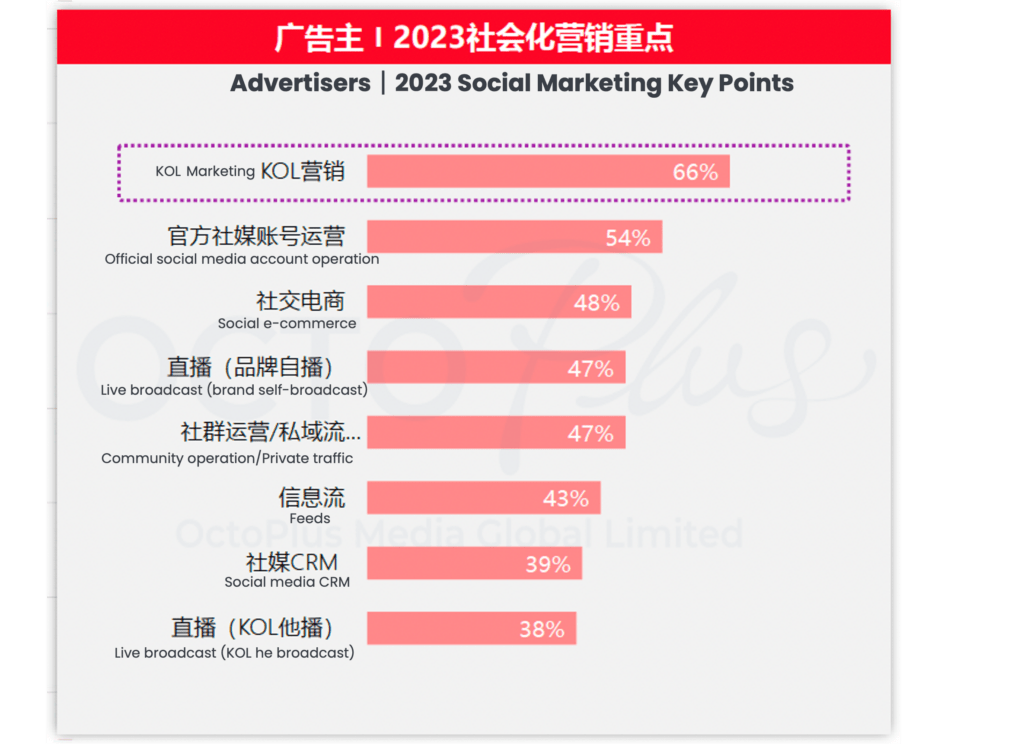 The evaluation indicators of brand KOL marketing activities are dissemination power (achieving exposure), goods promotion (promoting conversion) and product cultivation (strengthening brand recall), while brand marketing activities have different appeals.
Difference comparison of each platform :
Platform

WeChat

Kuaishou

Douyin

Weibo

Bilibili

Xiaohongshu

Differentiation

Acquittance social platform, spontaneous dissemination of major events, and viral swiping of moments

Replying on people as a platform, inclusive mechanism trusted e-commerce strong repurchase

Super large traffic pool, efficient streaming delivery, fast conversion of low customer orders

A public entertainment venue, a national exposure machine, and a hot search all over the country

A platform for young people, UP content creator mainly focuses on in-depth content and immersive impact cognition

Trend leader, KOC co-creates and explores new tracks to seize the mind

 
In terms of user structure, female users of Xiaohongshu and Weibo far more than other platforms; WeChat has more middle-aged and elderly users, while young users are more active on Bilibili and Xiaohongshu; Kuaishou's user score distribution is more inclined to the lower-tier market, while Weibo and Douyin users are more distributed in first- and second-tier cities.

The figure shows the goals of brands to launch KOLs on major social media platforms. Among them, Douyin and Kuaishou have a global marketing mentality, WeChat and Weibo take brand exposure as their biggest advantage; Xiaohongshu and Bilibili are quite effective in product cultivation.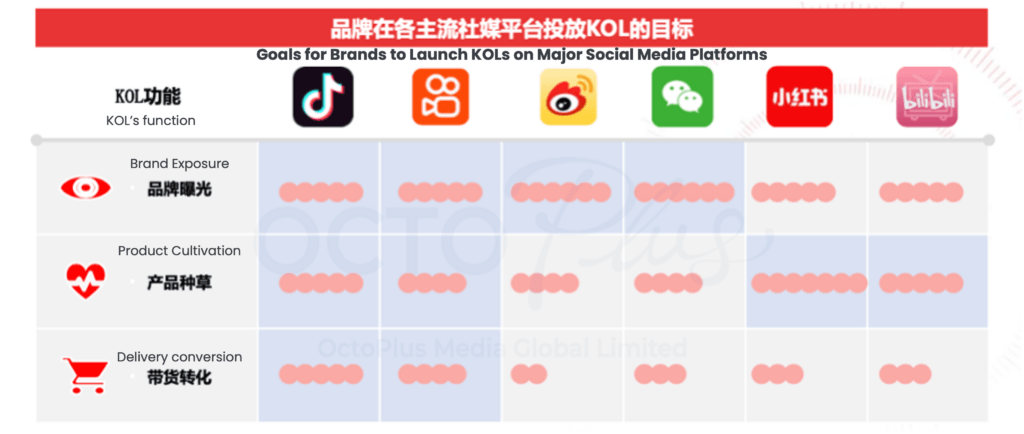 The following are the user magnitude, characteristics and industry characteristics of major Chinese platforms.
 

Weibo (national social platform)

Douyin (national traffic stage)

Kuaishou (hinterland of trust culture)

Bilibili (a product-longing community for young people)

Xiaohong (a gathering place for place characters)

User magnitude

580 million MAU

700 million MAU

 

600 million MAU

310 million MAU

200 million MAU

User characteristic

More female users, younger users, and more top-tier cities user

 

Balanced male and female users, a balanced age distribution of users and many users in top-tier cities

Balanced male and female users, a balanced age distribution of users and a high proportion of users in lower-tier cities

Balanced male and female users, with the highest proportion of young users and more users in lower-tier cities

The "she" attribute is significant, and there are more users in top-tier cities

Industry characteristic

Overall, users who focus on the beauty and food and beverage industries accounted for the largest proportion

Industry bias is not strong

 

Compared with other platforms, automotive users account for a significant proportion

Industry bias is not strong

Compare with other platforms, smart consumer electronics users account for a significant proportion

Compare with other platforms, the user of beauty makeup and mothers and babies account for a significant proportion

Latest news

1. In May 2022, Weibo officially launched the #Hongru Project# to support professional content and authoritative experts to help rational voices.

· Weibo Super Celebrity Day 2022

· Ocean Enginge released full growth plan.

· Douyin e-commerce releases "high-quality author spirit" to seek long-term value.

· Douyin's new brand incubator, Douyin brand.

· The Douyin product longing APP Kesong was briefly launched;

· Kuaishou E-commerce builds the ultimate trust system and establishes the second growth curve.

· Kuaishou E-commerce's new strategy in 2022 "Engaging in fast brands".

· Magnetic Engine Releases "Kuaishou Master Five Forces Model"

· Bilibili is online for immersive video streaming, and the main content of UP is preferred for advertising

· The live channel launched a shopping area, and the "little yellow car" function was added

·Xiaohongshu co-innovates new brands with consumers

· Dandelion platform "Thousand Powder Commercial Monetization Project"

· The concentrating platform upgrades dual-field intelligent advertising;
Compared with 2021, the overall number of KOLs in 2022 has increased by 14%, of which KOCs accounted for the largest proportion of 76%. Among the many platforms, Xiaohongshu has become the platform with the highest proportion of KOC, accounting for 81%. China's overall digital human market is growing steadily, and virtual KOLs have grown significantly, with a YoY increase of 292%.
Two pain points faced by KOL marketing
Uncertainty of content: how to filter influencers who fit your brand to create high-quality content
Uncertainty of dissemination effect: how to expand the radiation of influencers and brand cooperation, widely attract accurate traffic with high-quality content, and convert it into actual sales
Brand KOL selection method
Measure the CPE of the talent
Achieve KOL effect measurement according to the business and industry benchmarks provided by major platforms
Accurate content labelling
Intelligent talent selection
In addition, cross-borders and circle-breaking is inevitably good way to break through the predicament, and diversifying content can drive traffic. In order to ensure long-term marketing, it is imperative to integrate talent and brands accounts and build a matrix for influencer self-broadcasting
Other ways to drive brand marketing effectiveness
Screen dominance rate SDR
Closely related to e-commerce conversion
According to the comparison of Double 11 e-commerce data in the same period, Xiaohongshu's search scene highly overlaps with the top 10 brands in the Tmall beauty category, with a ratio of up to 70%
Content marketing effectiveness evaluation and adult placement decisions can be carried out according to the needs
Social ROI cross-domain longing attribution
It can scientifically evaluate the conversion efficiency of KOL's product-longing posts on e-commerce post-links, and quickly find high-quality longing stickers for agile promotion
Segment consumers based on demographic attributes (gender, age, etc.), demographic insights (based on customers' expressions on social media), and interest circles. Then, according to the labels of different groups of people or customized topics, the index data is used to find influential KOLs within the circle or topic, and to realize the radiation of different circles and the consolidation of the brand image under the topics
"Alternative KOL: Virtual Human"
With the progress of the times, the commercial value of virtual humans has soared rapidly, and they have also gained a share in the Chinese marketing circle. According to the Miaozhen Mingjian system, the volume of virtual humans has increased by 292% compared with last year. Weibo and Bilibili platforms are the main positions for the development of virtual humans, accounting for nearly 70%, with rates of 31% and 28% respectively. At present, the virtual human class is mainly concentrated on the low- and mid-tier (T4 & T5) on major platforms. For the direction of cooperation, in addition to brand marketing in various industries, virtual humans also participate in social responsibility marketing (e.g., public welfare activities) and public services (e.g., promoting traditional Chinese culture).
Top 10 virtual humans with the most commercial value
Little monk
Liu Yexi
Tianyu
Love and producer
Yishiqi
AzA
Luo Tianyi
A-Soul Eileen
AYAYI
A-Soul Diana
In addition, Miaozhen launched the "Virtual Human Business Value Evaluation Model", which objectively evaluates the commercial value of virtual humans through the three dimensions of virtual human appeal, activity, and business practice, combined with the Miaozhen algorithm model, so as to facilitate the selection of virtual KOLs that fit the brands.
To sum up, in the Chinese marketing market, KOLs are the primary brand marketing method. Therefore, the selection of marketing platforms and KOLs is extremely critical. It is necessary to accurately locate the target group while matching the brand image. In addition, virtual KOLs are also a modern marketing trend.
If you want to know more about the China KOL marketing report, please contact us! 
Talk to our team.
It's a team with one single shared goal, which is our client's success. Deliver results for your business now. 
 Email: bd@octoplusmedia.com