China Banks riding on Qatar World Cup marketing to launch themed credit card promotion
Closely linked to the 2022 World Cup in Qatar, banks are full of enthusiasm for issuing themed credit cards as a strategy of bank credit card marketing. At present, Agricultural Bank of China and Shenzhen Rural Commercial Bank have launched World Cup-themed credit cards, continuing to dig deep into sports marketing (World Cup marketing), and giving back vast number of new and old football fans customers.
Agricultural Bank of China has launched the "Visa Agricultural Bank of China FIFA World Cup Credit Card (Set of Cards)". From November 1, 2022 to January 31, 2023, the main cardholder of a new customer who has applied for and issued the card for the first time, uses the card to make 3 purchases through online channels and each transaction is over 18 yuan within two natural months after the card is approved, will have the chance to grab the FIFA World Cup commemorative gift exchange coupon x1. With the coupon, customers can choose one of the three: FIFA World Cup mascots, FIFA World Cup training balls, FIFA World Cup commemorative canvas bags to redeem.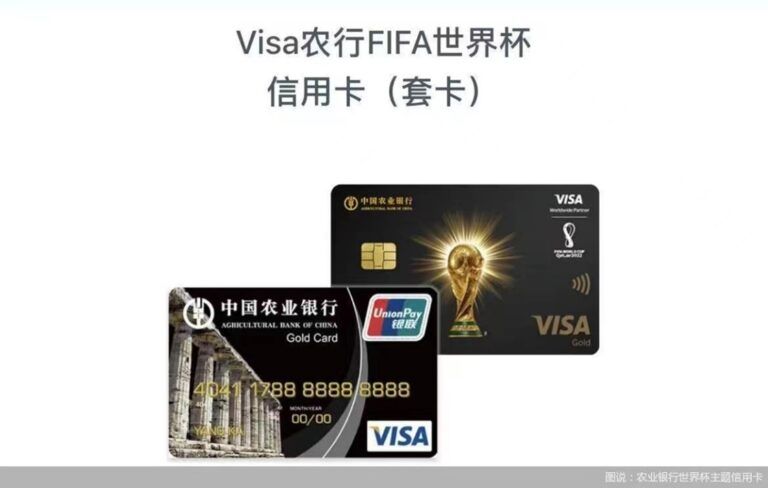 Shenzhen Rural Commercial Bank also launched a World Cup-themed credit card. From October 26 to December 31, 2022, new applicants who successfully apply for the "VisaFIFA World Cup Credit Card" and activate a purchase payment, can receive Qatar 2022 training balls/plush mascot key chains/canvas bags for free through the bank's Mobile Banking Benefit Center after reaching the requirement and before January 15, 2023, with a total of 2,600 gifts.
This kind of marketing model will indeed bring "traffic" to bank credit cards. Behind it is not only the bank's customer acquisition behavior, but also a vivid manifestation of the application of the "fan economy". Thematic credit cards with a specific meaning, in addition to their use value, may also pay attention to their commemorative and collection value, and will not easily suspend or cancel the card, which is also beneficial for banks to maintain active credit card users.
However, what needs to be paid attention to is that the enthusiasm brought about by the World Cup is only temporary, and banks also need to pay attention to the follow-up customer retention problem, so as to avoid the situation of customers losing after "finishing the gifts".
Talk to our team.
It's a team with one single shared goal, which is our client's success. Deliver results for your business now. 
 Email: bd@octoplusmedia.com