China Marketing Insights Monthly Newsletter [November 2022]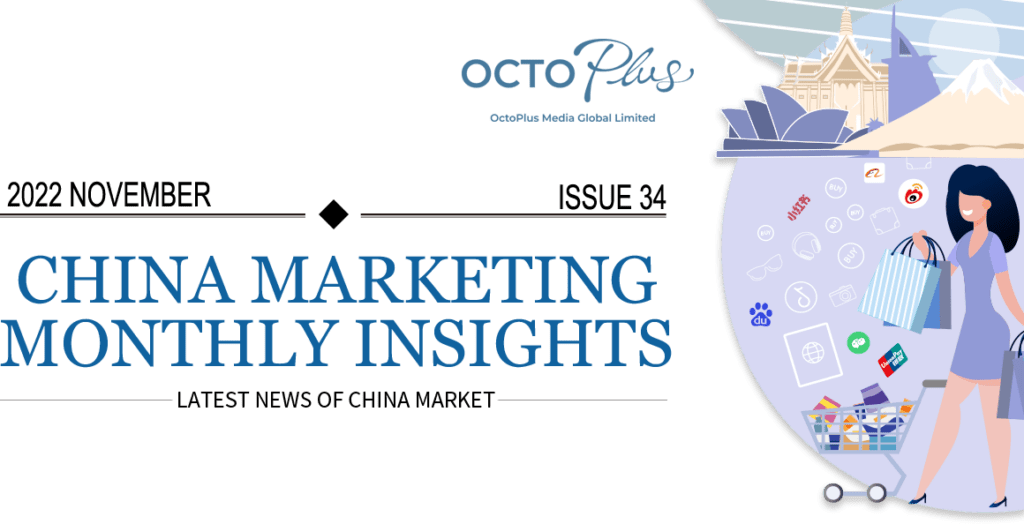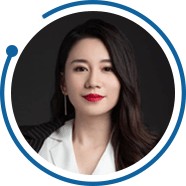 Hello There,
Welcome to our November newsletter.
We have worked on several insights reports – 1) 2022 China KOL Marketing Overview and Strategy– an excerpt from the report by Group M and Miaozhen on KOL marketing strategies; 2) 2022 China Basketball Consumption Trends and Insights – we highlighted user insights, basketball advertising, Chinese fans' commodity consumption, and marketing opportunities; 3) 2022 Xiaohongshu Marketing Trends – An overview key trends on Xiaohongshu platform; 4) 2022 China Maternity and Baby Industry User Insights – we look at the growth of the scale of the maternal and baby industry in China.
We also cover the China Enterprise Marketing Transformation Roadmap by compiling an overview of the key points from the research report by iResearch.
Lastly, in the app of the month, we feature Toutiao – a news data mining and AI-based news recommendation aggregator platform, which has 550 million registered users with 280 million MAU, we detail the audience segments and marketing opportunities.
Sincerely,
Mia C. Chen
CEO & Co-Founder of OctoPlus Media

2022 China KOL Marketing Overview and Strategy
In 2022, the number of mobile internet users in China has increased, and the number of monthly active users of the leading media platforms including long and short videos, social media, and e-commerce platforms has stagnated. Consumers are more distracted, they follow their interests to search for content, and at the same time have higher requirements for content quality, the most common channel is content sharing by KOLs/bloggers on the platform. At present, the rapid development of the KOL economy has become the marketing focus for most advertisers. However, marketing will become more difficult with implementing and tightening of various regulatory measures. GroupM has partnered with Miaozhen to launch "2022 Brand and KOL Twin Insights". Below is an excerpt from the report.
The main forms of KOL marketing and advertising characteristic
KOL marketing mainly uses "people" as the medium and employs trust to influence the minds of the audience. Its advertising features include:
Richer creative themes

More diverse forms of expression

The scene is more lifelike
The main media are short video platforms, vertical content communities, information platforms, e-commerce platforms, etc. KOL marketing can mainly attract consumers' attention, and its acceptance is relatively high. It can achieve the goal of attracting consumer interest, social interaction and active comparison, and then further work towards the goal of exposure and conversion.
KOLs have become the marketing focus of most advertisers, and the proportion of the number of KOLs at the top of the market has increased significantly, which shows that the KOL economy is developing rapidly. The expected growth rate of up to 43% of the market size in 2022 is directly related to the KOL economy. Compared with 2021, as high as 67% of advertisers will focus on TOP 1 KOL advertising readiness in 2022, and the proportion of nano KOL (KOC) will increase by 5.5% compared with 2020.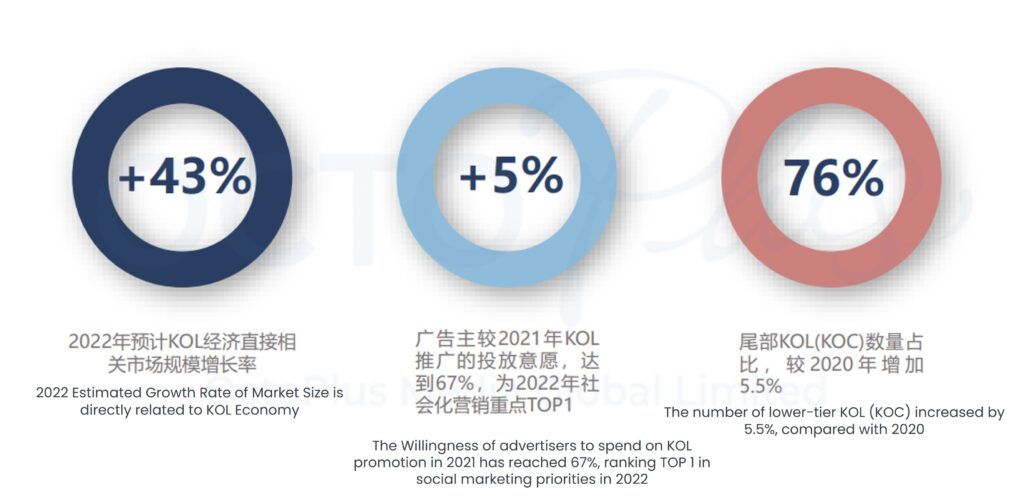 The characteristics of different industries and platforms for KOL marketing
The main objectives and scenarios of marketing have different preferences for different industries, as follows:
Cars, luxury goods, mothers and babies – the main objective is to increase the consumer's awareness and adapt to marketing scenarios for new product launches

Beauty & personal care, shoes & bags, food & beverages, 3C and home appliances – the goal is to focus on traffic while driving conversions, the main scenarios are e-commerce promotions and new product launches

Gaming, internet, finance – achieve the goal of improving performance conversion through the scenario of product promotion
The TOP3 KOL marketing investment amounts that have changed across industries in 2021 compared to 2020 are games and animation (381%), internet (208%) and home appliances (191%).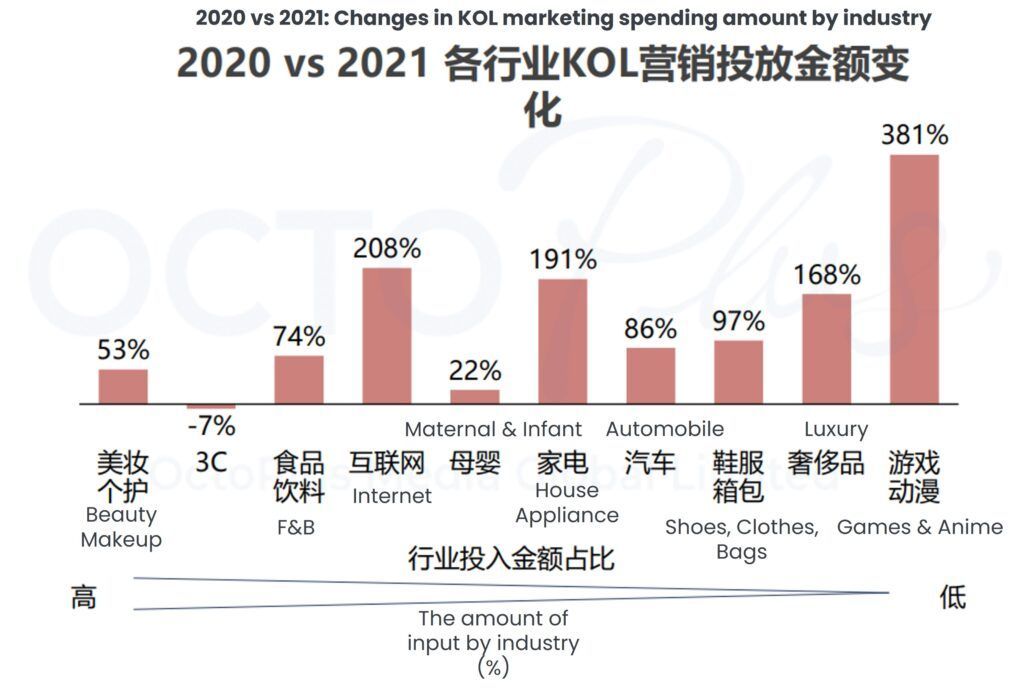 KOLs on different platforms also have different methods to gather people, express content and product longing methods, for example: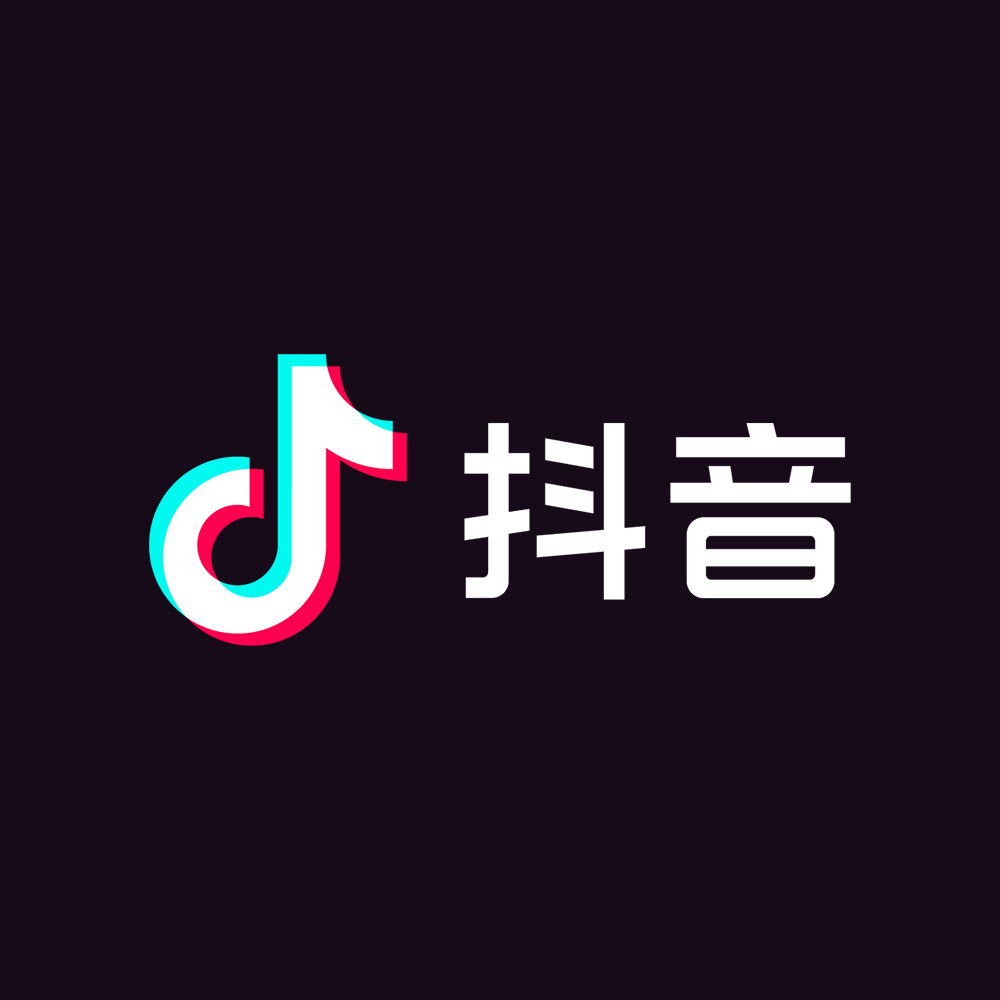 Douyin: Skewed towards entertainment attributes and users' interest-oriented traffic distribution, suitable for dynamically displaying product selling points with details to achieve consumers' rapid longing. Suitable for product categories such as Beauty & Personal Care, Food & Beverage, Sports, 3C and Automotive.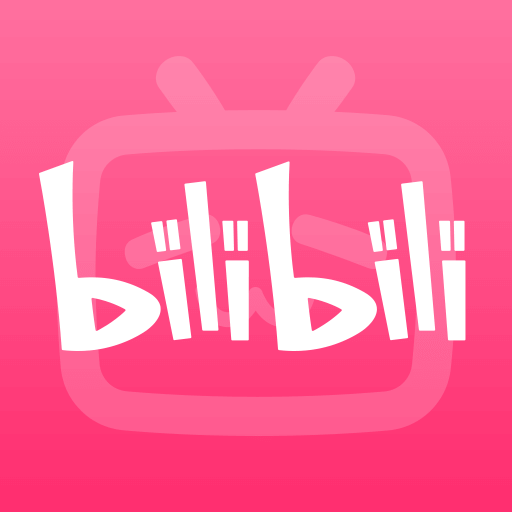 Bilibili: Based on circle/professional attributes, using creative content to target young consumers, suitable for product longing with the combination of circle DNA. Product categories include Gaming, Food & Beverage, 3C, Beauty & Personal Care and Pets
Xiaohongshu: A tool/strategy attribute, and it distributes traffic through user interaction, most of which is shared from mid-low tier KOL to do product sharing, which in turn influences consumers' desire to buy. Product categories include Beauty and Personal Care, Luxury Goods, Food & Beverage, Health & Wellness, Pets and Travel.
KOL marketing and target customization strategy:
Brands need to formulate different KOL marketing strategies according to their marketing purposes, and KOLs at different levels have different brand interaction and conversion efficiencies. If brand marketing aims to increase exposure to achieve widespread longing, T1 star KOL and T2 macro-KOL are more suitable. If the marketing aim is sales conversion, the brand will be changed to T2 macro and T3 mid-tier KOL. In addition, brands need to take into consideration the ability of goods promoting in e-commerce and social communication power to formulate KOL strategies when evaluating KOLs.
User magnitude and user characteristics of each platform:
Weibo (national social platform): 570 million MAU, more female and younger users with more users in lower-tier cities
Douyin (national traffic stage): 650 million MAU, more male users and younger, more users in upper-tier cities
Kuaishou (dude economic hinterland): 520 million MAU, male users are more and younger, with more users in lower-tier cities
Bilibili (young product longing community): 220 million MAU, with many male users and the highest proportion of young users, with more users in upper-tier cities
Xiaohongshu (a gathering place for high-quality women): 120 million MAU, with a significant "she" attribute, a significant proportion of young users, and more users in upper-tier cities
WeChat Video Account: 450 million DAU, more male users, and more users in lower-tier cities
Baidu (an established search platform): 620 million MAU, many male and mature users
The main customization strategy can be selected according to different platforms and promotion needs and chosen KOLs based on comprehensive consideration of different scenarios and goals. For example, communication KOLs are suitable for plot/imagination and implanting brand through interesting content to expand publicity and strengthen awareness; KOLs with goods promotion capability are suitable to highlight product features and evaluating products to enhance consumers' purchase intension; celebrity KOLs tend to amplify the same style of celebrities to attract traffic and divert traffic to e-commerce to improve conversion. Compared with the star KOL, the nano KOL (also known as KOC) has better ROI performance in the vertical circle, which is conducive to reducing advertising costs and improving efficiency.
A quick guide to KOL marketing strategies for brand
Exposure and awareness: With low CPM/CPE as the goal, to improve product awareness and dissemination, choose star pan-entertainment KOLs to promote wide population reach and dissemination, and later match with mid-tier KOLs for product longing to increase consumer interest and purchase intention
Activation and product longing: According to the needs of different segments of the population, many micro and nano KOLs are selected to plant product longing in the vertical circle layer in deep to ensure sustainable ROI. At the same time, combined SEM & SEO for long-term search ranking optimization
Sales conversion: Select a small number of stars KOLs to build momentum during the warm-up period of e-commerce promotion, divert the e-commerce prepayments product to grow e-commerce and brand private traffic, and then use many micros and nano KOLs to implement promotional information for each circle, and cooperate with live broadcasts to promote goods for e-commerce
If you are interested in KOL marketing, please feel free to contact us for more information. For the full report, click here to download.
2022 China Basketball Consumption Trends and Insights
In China, basketball is one of the sports with the highest participation and a broad user base. From the basketball audience perspective, the percentage of 6 to 65-year-olds in China who play basketball is about 11%, and the percentage is even higher in the 6 to 17-year-old group, making basketball the most important market in the sports business.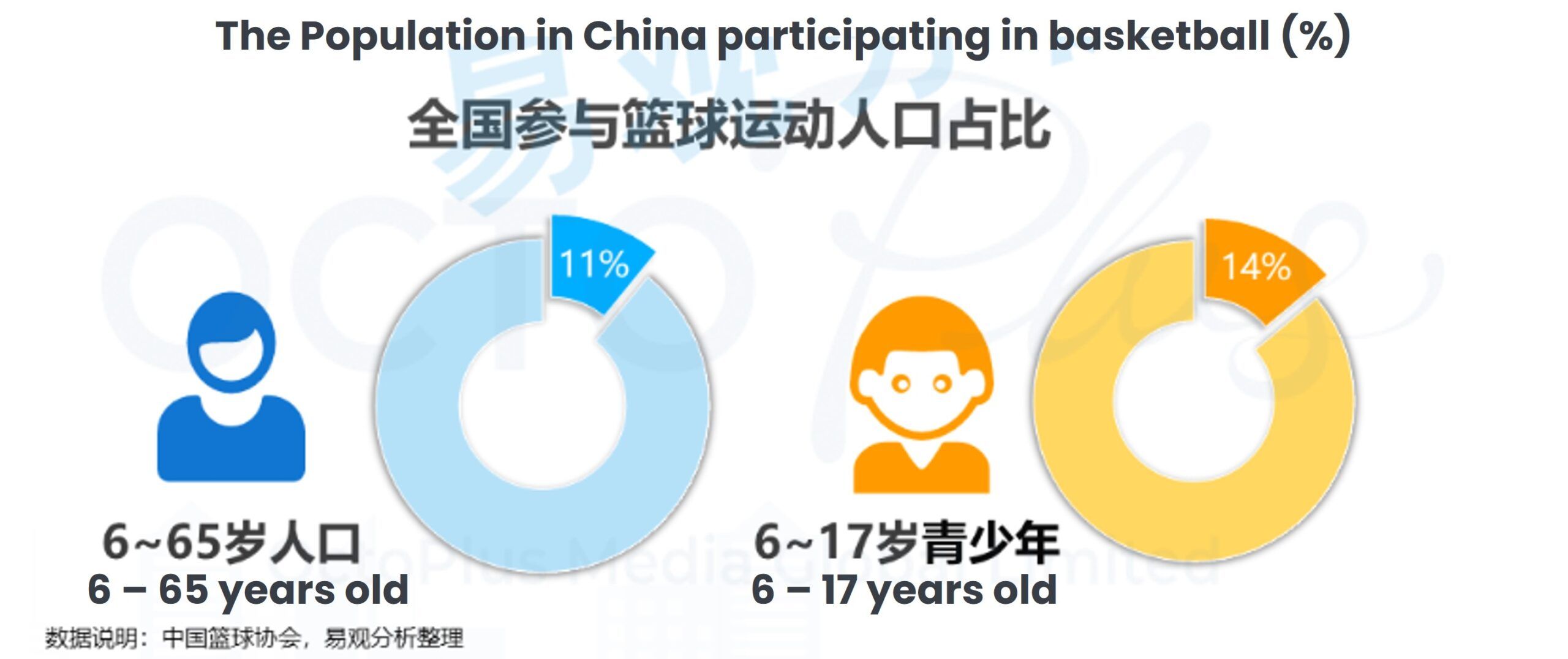 User Insights on Chinese Basketball Matches
According to Analysys' "2022 China Basketball Content Consumption Trend Insights", basketball tournament followers in China are mainly married, high-income white-collar workers, mainly men aged 25-40, whose love for basketball sprouted during their student years, and about 58% of fans began to take an interest in basketball in high school and college. Most of these people enjoy watching and playing basketball, with more than 54% of basketball fans playing basketball at least once a month.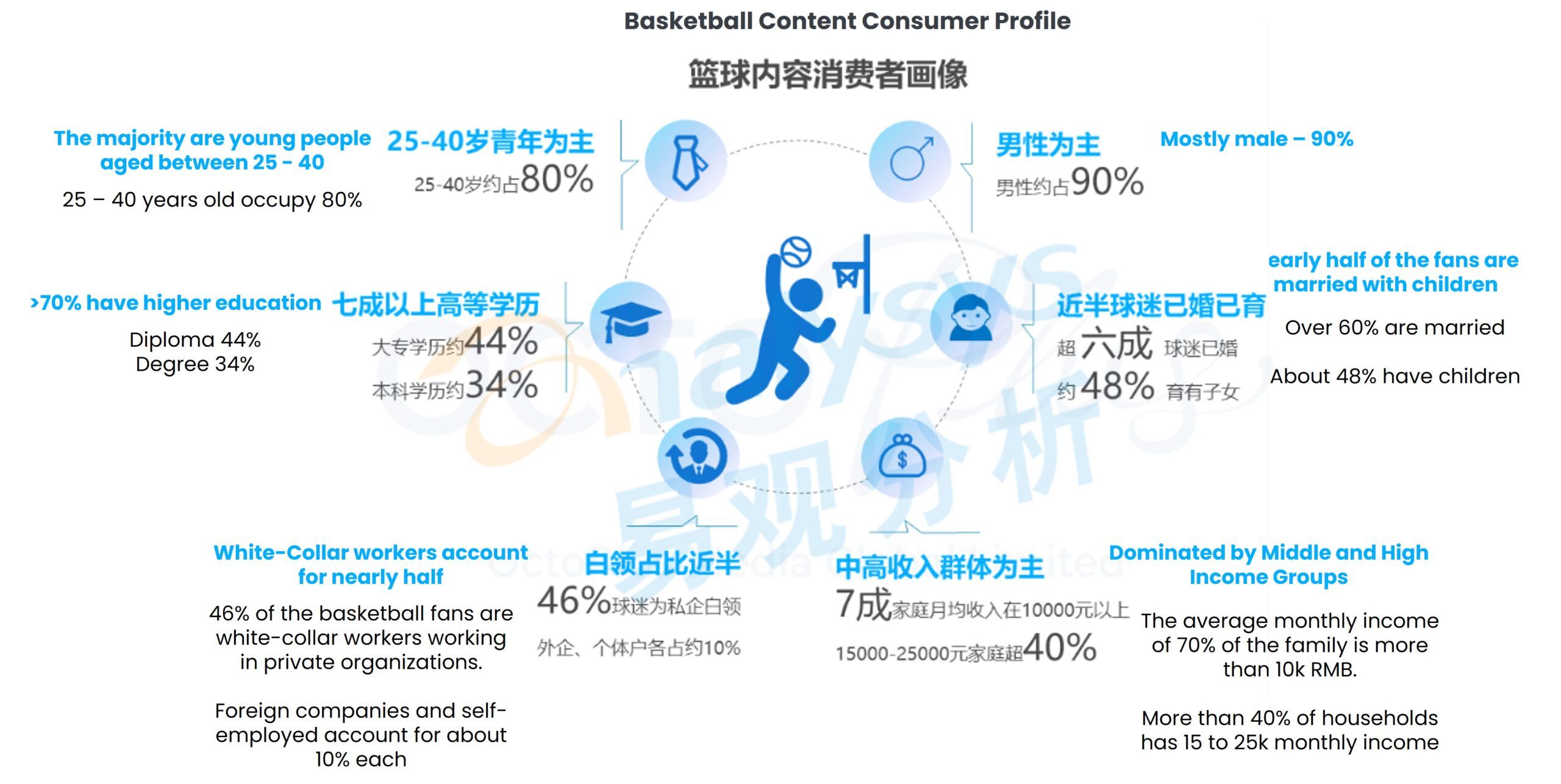 Basketball games followers are mostly hardcore fans, with more than 60% of users frequently watching highlights of basketball games. Of these basketball fans, more than 51% watch at least one game per month, and about 10% watch it every week. In terms of viewing scenes, these basketball fans enjoy both solo and communal entertainment, with watching tournaments alone (69%) being the most common scene, followed by family members (53.9%) or friends (58.8%).

According to the survey, Migu Video is the preferred platform for fans to watch tournaments, nearly 46% of fans choose Migu Video to watch basketball tournaments and get basketball tips. This is followed by CCTV (38.3%) and Tencent Video (27%). In terms of platform selection, comprehensive coverage of tournaments, timeliness of updates, commentator line-up and professionalism of the commentator are the primary considerations for fans in choosing a viewing platform. Migu has advantages in these aspects and is also the fundamental reason favoured by fans

Among the various basketball tournaments, NBA, FIBA Basketball World Cup (FIBA) and CBA are the three major events that domestic fans pay the most attention to. Among them, clip highlights, live events, and on-demand are the most watched content by fans. Outside the pool, basketball variety shows and rankings are also popular. Judging by the reasons for paying attention to basketball games, fans' love of basketball itself (54.7%), attention to specific basketball players (41.9%), and attention to a specific team (27%) are the reasons they focus on basketball tournaments. At the same time, outsiders also get attracted by the enthusiasm of other fans (26.9%), and are influenced by relatives and friends to immerse themselves in the world of basketball.

Approaching a major tournament (63.5%) is the main driver for basketball content consumption. In addition, the promotion and discounting of membership products (37.5%) and the expansion of viewing rights (33.5%) can also be effective in driving the consumption of basketball content. In terms of payment methods for watching games, nearly half of the fans (45.4%) spend 300 to 1,000 yuan per year on basketball content consumption, indicating high willingness and purchasing power.
Basketball advertising is becoming more popular in China
Basketball tournament advertising is widespread, more than 80% of fans pay attention to sponsors' brands while watching the game, and more than half of fans pay attention to event sponsors' brands frequently. The most popular sponsorship types among fans are those that are strongly associated with IP, such as events, stars and team sponsorship brands.

In terms of advertising formats, open product ads, interactive ads, H5 ads, video pre-roll ads and studio title/insert ads are the most popular among fans, due to the fact that they have little impact on the viewing experience, more interactive and interesting, and mature advertising types are more likely to be accepted by fans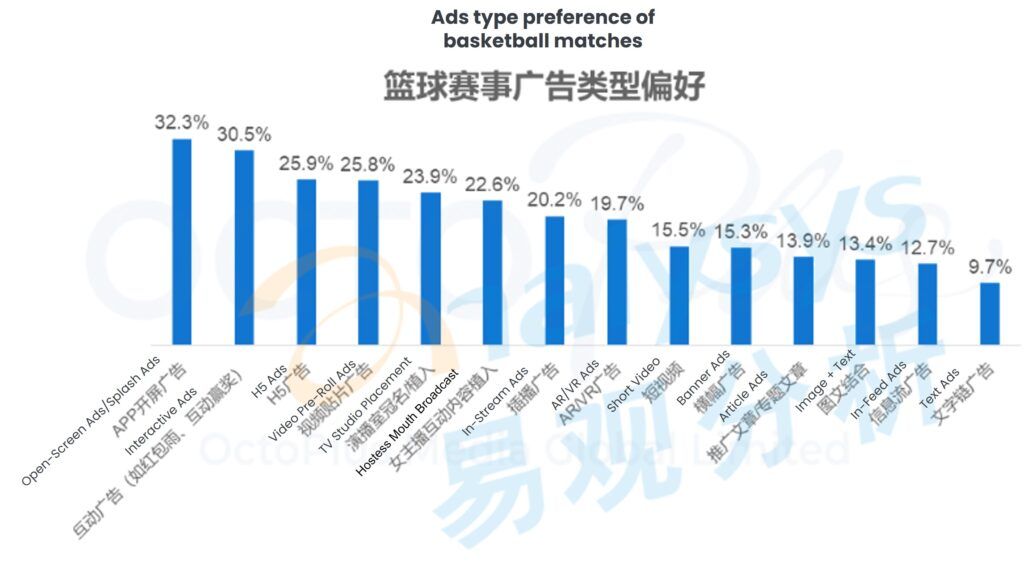 Analysis of Chinese fans' commodity consumption
Car consumption: Nearly 80% of fans are concerned about car consumption and plan to buy a car, and most of them plan to buy or change a car. Looking at the level of automobile consumption, more than 85% are high-end models worth more than 100,000 yuan and nearly 60% are models worth more than 150,000 yuan, so the overall consumption level is high, among which Tesla, BYD, Mercedes-Benz, Audi and other luxury brands are more popular among fans.

3C digital consumption: More than half of 3C fans consume digital products worth 1,000 – 3,000 yuan. The 3C digital products they are most concerned about are quality, configuration performance and intelligent functions. They are relatively less price sensitive, and less interested in cost efficiency and promotional discounts. In terms of brand preference, fans prefer mid-to-high-end mobile phone brands, with Apple and Huawei being the most popular.

Household appliance consumption: The annual consumption is concentrated at 2,000 – 3,000 yuan, and more than 70% of fans spend more than 2,000 yuan per year. Rich features, powerful performance, brand awareness and good value for money are the main expectations, with domestic brands clearly preferred by fans.

Clothing and apparel consumption: More than 60% of fans spend more than 2,000 yuan on clothing and accessories every year. They are more concerned about promotional discounts, followed by fashion and high-end clothing styles. They are price-conscious and have high aesthetic needs. Among the main types of clothing, fans prefer sportswear and accordingly prefer sports brands.

Alcohol consumption: The annual consumption is within 2,000 yuan, with the consumption of liquor and beer being prominent. Authenticity and taste are the most important factors when choosing alcohol products. The most popular liquor categories are Maotai and Wuliangye; classic beer brands such as Qingdao and Budweiser are the most popular.

Food and beverage consumption: Fans prefer casual snacks and soft drinks, both to satisfy their craving and to be healthy. They tend to choose healthy foods and beverages with low sugar content, but also pay attention to price and tend to stock up on food and beverages during promotions and discounts. High-quality snacks brands represented by Bestore Co and Three Squirrels and classic soft drink brands represented by Coca-Cola and Pepsi, President and Nongfu Spring are favoured by fans.
Analysis of Chinese basketball content platform and marketing opportunities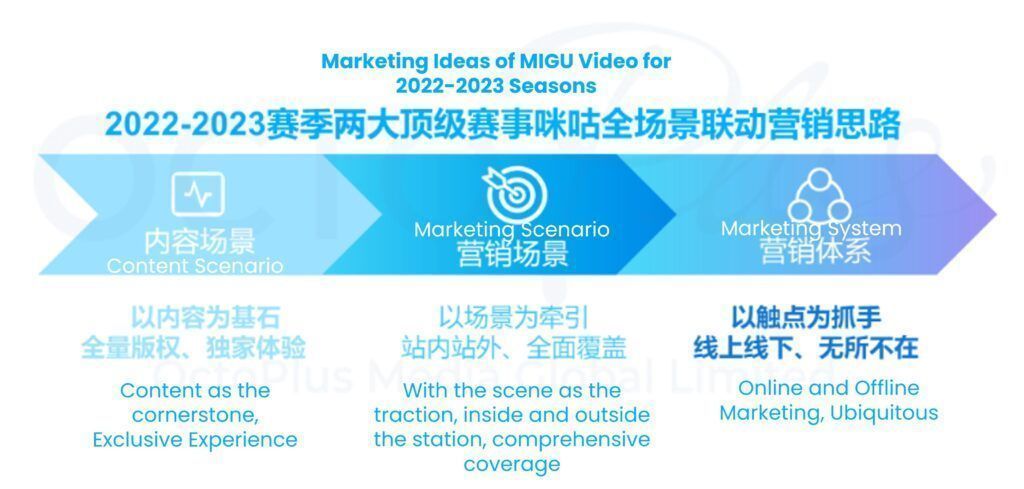 Migu Video has copyrights for many high-profile basketball tournaments such as CBA, NBA, Super League, etc. At the same time, it takes advantage of 5G, ultra-high-definition broadcasting and other technologies to provide users with a smoother and better viewing experience. Based on the copyrights of various top events, digital technologies, multiple interactions and derived contents are used to create a digital-age viewing experience.
Migu Video has rich basketball copyright resources to achieve mutual drainage and has developed an original advertising model for "provincial channels". It also works with event organizations and China Mobile to improve content operation capabilities and brand reach efficiency.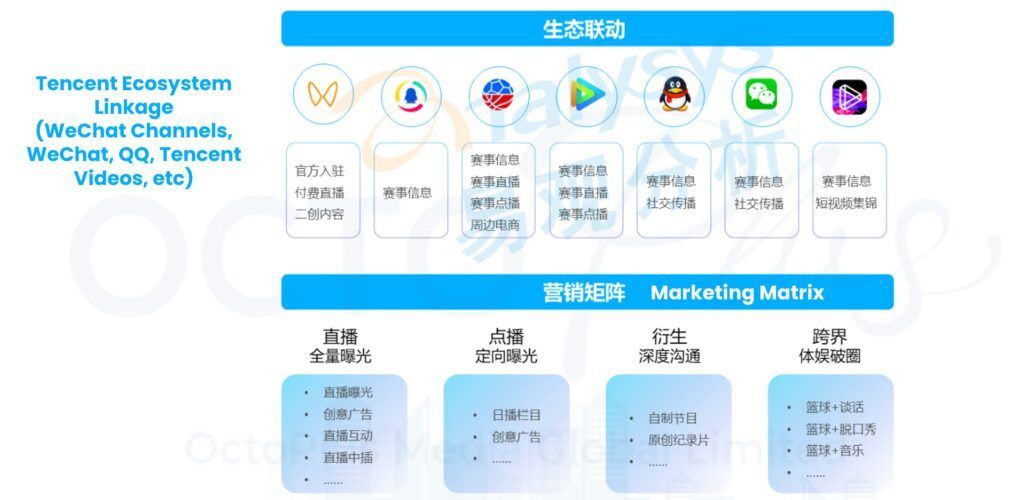 Leverage Tencent's new media matrix to maximize IP value, explore diversified profit models based on the Tencent platform's distribution capabilities, such as tournament information or social dissemination on WeChat, and fully leverage Tencent's own aggregation capabilities in social media.
Building an open content community based on CCTV's content resources, tapping on the IP value in the form of rich content, gathering leading new sports media, generating a large amount of professional content on the platform, attracting users to browse and discuss, and building a content ecology with diverse participation.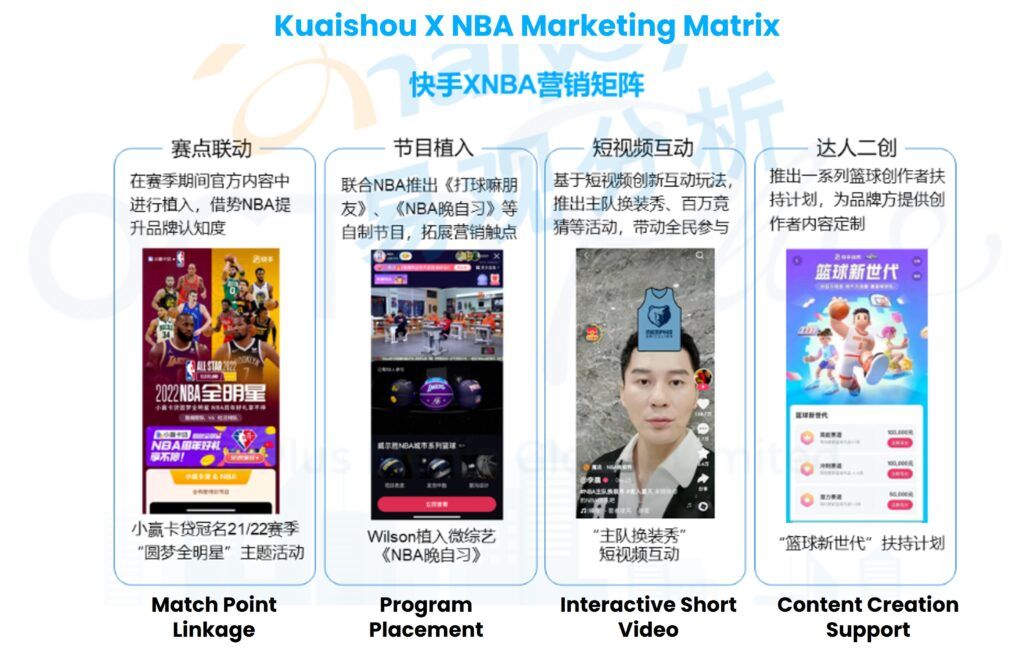 Kuaishou became the CBA's official 20/21 live broadcasting platform and official short videos platform, obtained content second creation permission, and entered into strategic cooperation with the NBA in the same year. Kuaishou focuses on building an ecology of short video content, launching official accounts of football stars, narrowing the gap between users, and fostering a sense of interaction. Under this partnership, Kuaishou also receives extensive tournament materials, promotes content creation, and provides rich gameplay and interactive content to meet various marketing needs.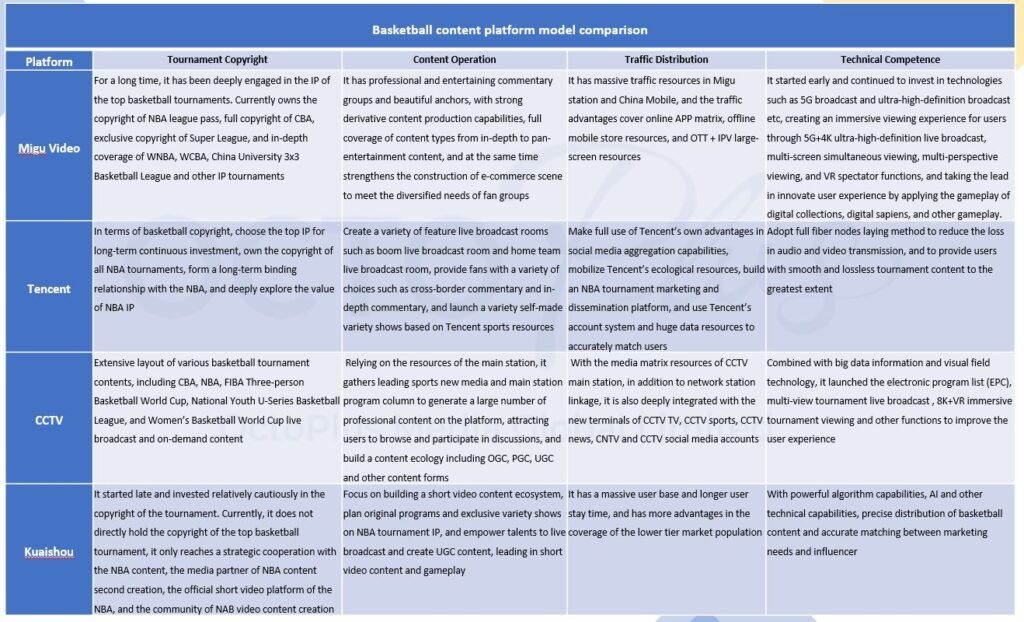 2022 Xiaohongshu Marketing Trends
Weiboyi published the "Marketing Trend of Xiaohongshu Platform" in 2022, which analyses the marketing value of Xiaohongshu, its launch trend, direction and recommendations in detail. Here is an overview of the highlights of the report:
1. Xiaohongshu users are heavily involved in content production, mostly young upper-class women, spreading to various young strata, first- to third-tier cities and men's circles. Xiaohongshu platform has 200 million MAU with high purchasing power, loyalty, high interaction and youthfulness.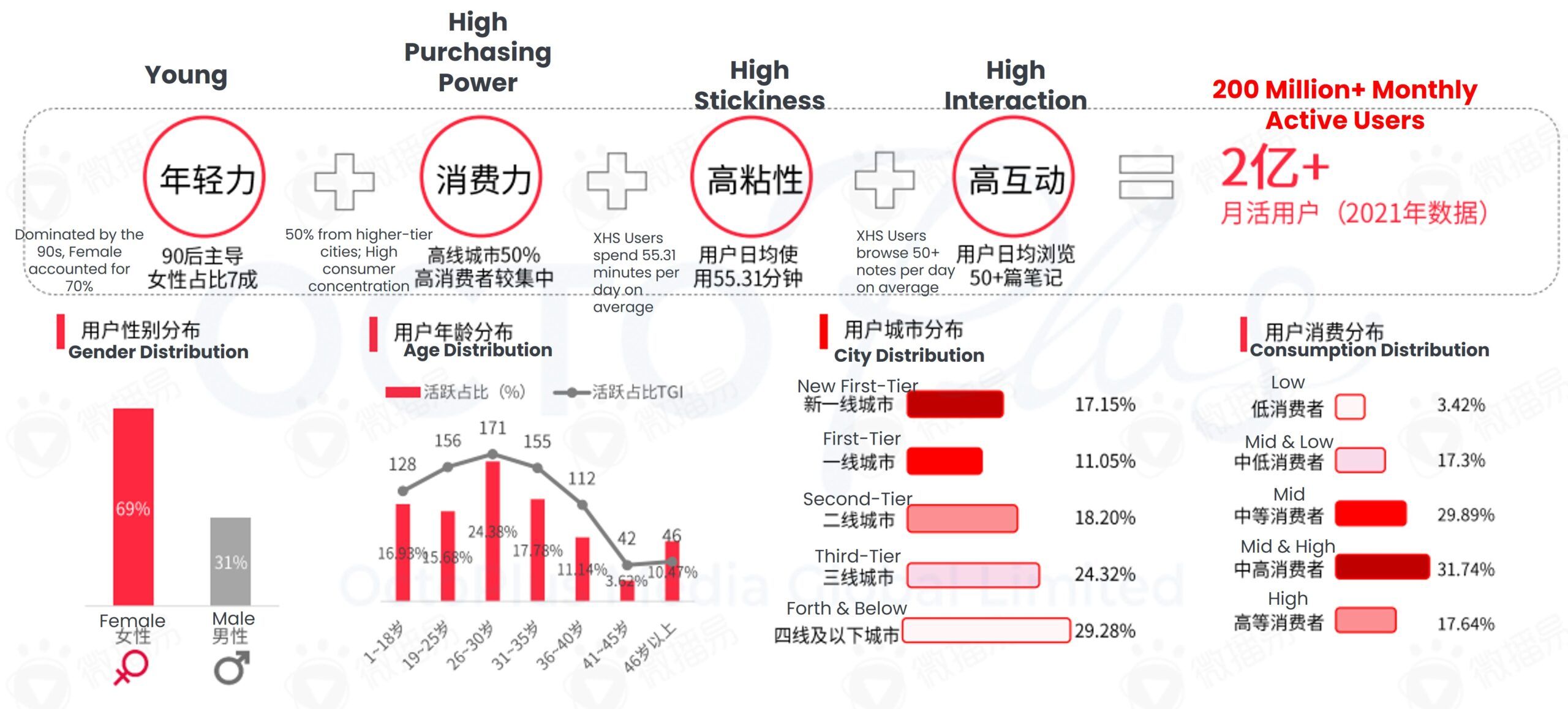 2. Compared with other popular content platforms in China, Xiaohongshu has a more intuitive content format, a more universal content product and more efficient content delivery, and a more acceptable consumption threshold.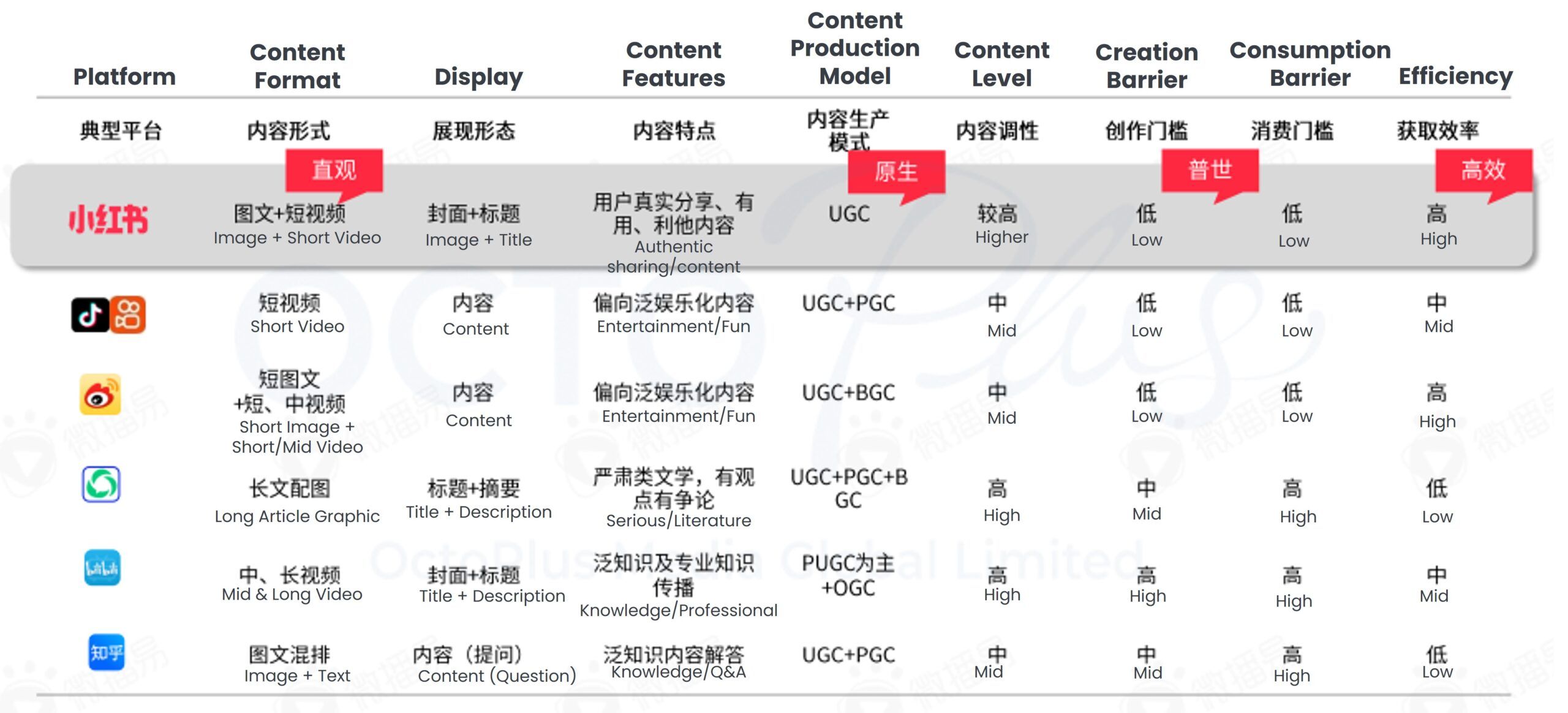 3. Xiaohongshu is very important to the younger generation of internet users, from basic needs such as food, housing, and transportation, to important life moments, more young generations flock to Xiaohongshu with "usefulness and purpose". The content of Xiaohongshu comes from the real-life experiences and attitudes of users. Today, Xiaohongshu has become an encyclopedia for young people on the internet.
4. The content has been expanded, from pure beauty to all aspects of life, covering a comprehensive range of consumer products. The content of Xiaohongshu continues to expand from beauty, personal care, fashion, food, travel, digital, entertainment, education, and other aspects. Male traffic has entered the market on a large scale and more and more male users are using Xiaohongshu (31% male users in 2021, 17.4% in 2018) 
5. Xiaohongshu platform promotes high-quality content and labels, categorizes content, bloggers, and users to provide more accurate content recommendations; introduces the CES (like + favourite + share + comment + follow) scoring mechanism, based on user interaction, increases the chances of seeing notes created by creators.
6.
Xiaohongshu's high-quality decision-making platform meets the various needs of users on the path of consumption decisions through a smooth flow between different fields, from browsing to search, the real choices of users, profoundly influencing the purchase desire and decision-making
7.
E-commerce on the Xiaohongshu platform connects users and bloggers, builds brand influence, efficiently transforms users' thoughts, and forms a unique business ecology.
8.
The connection of search and transaction conversion from Xiaohongshu to third-party e-commerce platforms has been established, and the user interaction data obtained on Xiaohongshu and the number of searches on Tmall are stable, with an average of about 5-10 interactions per search
The launch trend of the Xiaohongshu platform and its importance for Chinese marketing
Xiaohongshu's marketing advantages are prominent
From the advertiser's perspective, the number of orders purchased on the Xiaohongshu platform has increased, the number of commercial accounts on Xiaohongshu has increased significantly, and more and more amateurs have published high-quality notes that have good value for business cooperation. The number of accounts traded on Xiaohongshu has surpassed Weibo, an increase of 39% in 2021.

The industry-wide marketing volume has increased
Beauty cosmetics and daily use cosmetics are still the most intensive industry in Xiaohongshu's marketing layout, but other sub-sectors have shown significant growth trends, including the IT network industry and home appliances with the fastest growth rate.
Moving away from T1 & T2 influencers
Mainstream advertisers have reduced the budget of macro influencers and increased cooperation with mid-tier (tier 3), KOC (tier 4) and amateurs (tier 5).
Mid-tier influencers are an important asset
The contribution of mid- and micro-influencers to viral articles has greatly improved, and the transaction price of mid-tier (tier 3) and KOC (tier 4) has more advantages over CPE
Xiaohongshu marketing suggestions
The Rise of "KCKU – KOL/Content/Keyword/Up(Boosting)" delivery strategy:
1. Talent strategy and layout (KOx)
Six dimensions to screen Xiaohongshu's quality talents:
Basic data: Account fine-label tags

Audience match: Audience preference assessment

Content quality: Impact assessment

Commercial quality: Conversion assessment

Growth quality: Health assessment

Value for money: Execution assessment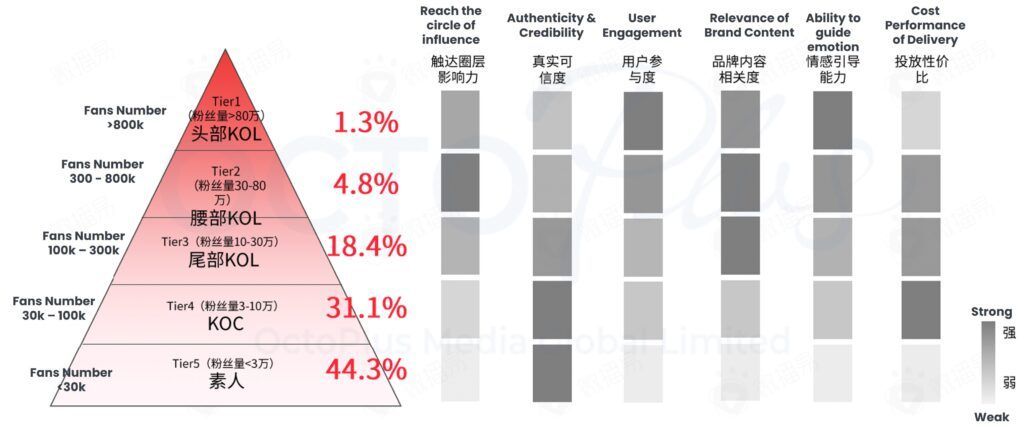 2. Content Delivery strategy (Content)
The viral note strategy is based on honest sharing and highlights the altruistic benefits of the content. There are many types of content, of which reviews, crave lists, and sharing are more likely to go viral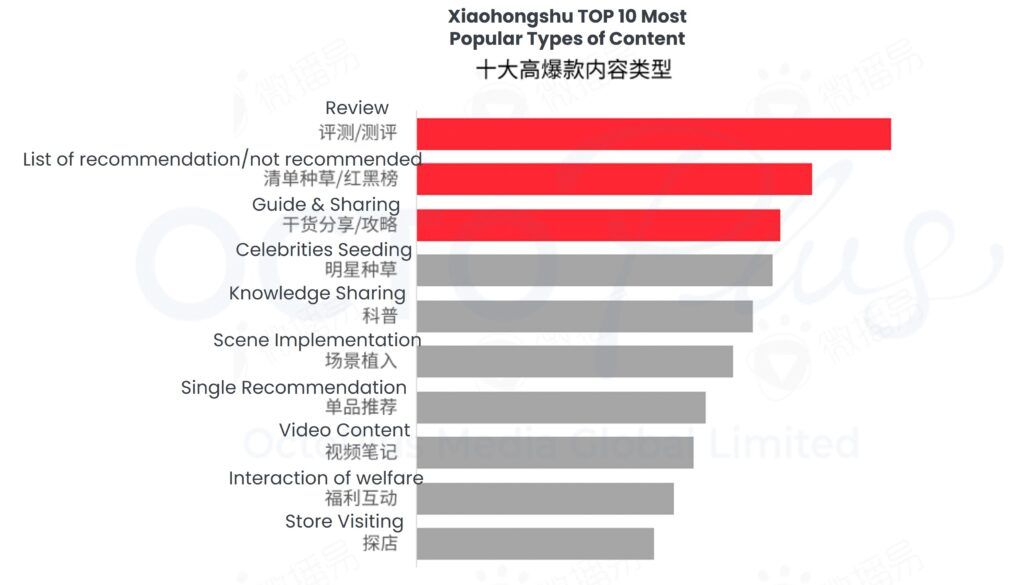 Cover of viral notes: Reinforce the sense of graphic design and highlight the theme; the sense of authenticity is eye-catching; the style should be consistent with the brand

Title of viral notes: Build suspense to arouse users' curiosity; use an analogy to stimulate users' interest; emphasize the impact and highlight the attraction points; use a pre-label to attract eyeballs, etc.

Text of viral notes: control the word count and include keywords in the text, mainstream topics around Xiaohongshu, add viral topics
3. Keyword strategy (Keywords)
Choose a high-interest, low-volume topic with potential keywords in the notes

Set brand core keywords to guide the active search for brands

Keyword rank optimization placeholders (for details, please contact us about CSEO services)
4. Booster tool strategy (Up)
Leverage Xiaohongshu's marketing accelerator (use Xiaohongshu's friend circle, news feed ads and search ads)
Please contact us to start your Xiaohongshu marketing plan. 
2022 China Enterprise Marketing Transformation Roadmap
Marketing digitalization is an indispensable part of an enterprise's digital strategy and an important part of the development of the digital economy. According to the China Academy of Information and Communications Technology (CAICT), the scale of China's digital economy in 2021 has reached 45.5 trillion, accounting for 81.7% of the digital scale contribution, indicating that the digital economy is in a period of rapid development. iResearch published the "China MarTech Market Research Report", the following is an overview of the key points compiled in the report.
Chinese enterprises' thinking about marketing digitalization can be divided into three phases: digital growth, digital operation and digital ecology. The following table shows the analysis of the development context of each stage.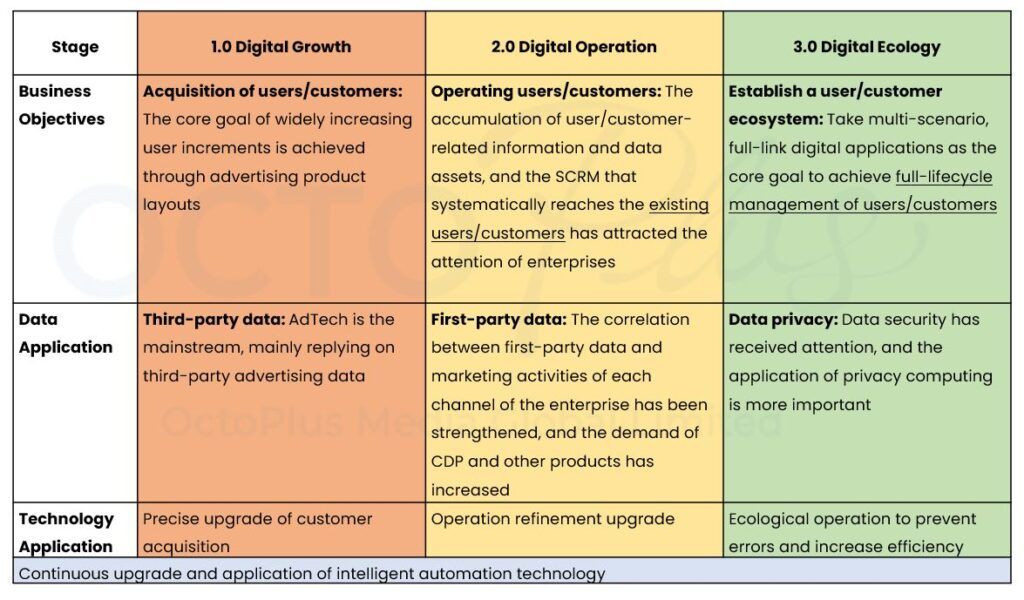 In 2022, iResearch remains optimistic about the long-term investment in marketing digitalization due to the impact of the epidemic and the economic environment, the overall budget reduction of enterprises, and the simultaneous temporary decline in consumption related to marketing digitalization. As the market of MarTech service providers continues to mature, the budget of enterprises in marketing digitalization will increase the service and product procurement of more and more MarTech service providers.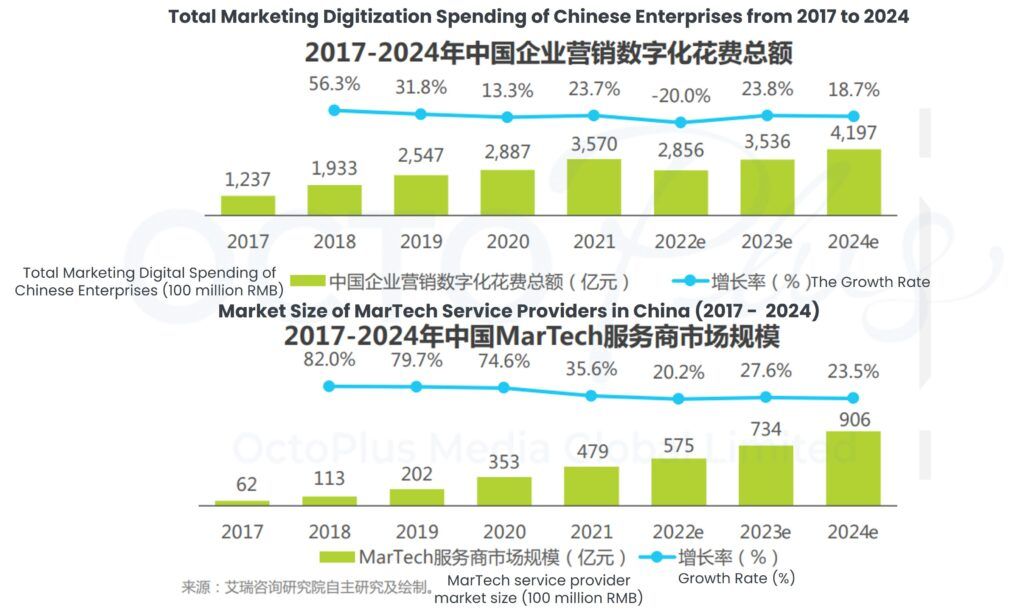 According to the current distribution of service providers in China's digital marketing segmentation scenarios and development periods, the number of service providers in more segment scenarios is still relatively small, such as the blue ocean market and the composite market, which are expected to gain more market attention under the impetus of the development of the Metaverse. The mature market is a development opportunity with the continuous strengthening of AI technology, which can be regarded as a blue ocean market with great development potential. Finally, there is the popular market, in a relatively short period of development, a large number of service providers have emerged, which include the sophisticated and intelligent operation of users or customers has become the core focus and demand hotspot for enterprises in the existing market. The following is the current status of the number of service providers in China's marketing digitalization scenarios in 2022.
Advertising scenarios and status of marketing digitalization in channel operation
In 2021, the market share of advertising placement on e-commerce platforms and short video platforms was 40.3% and 22.9% respectively, representing the largest share of the online advertising market of many media types, It is expected that there will be a greater demand in the advertising business in the next three years, driving the application of digital resources and more innovative tools.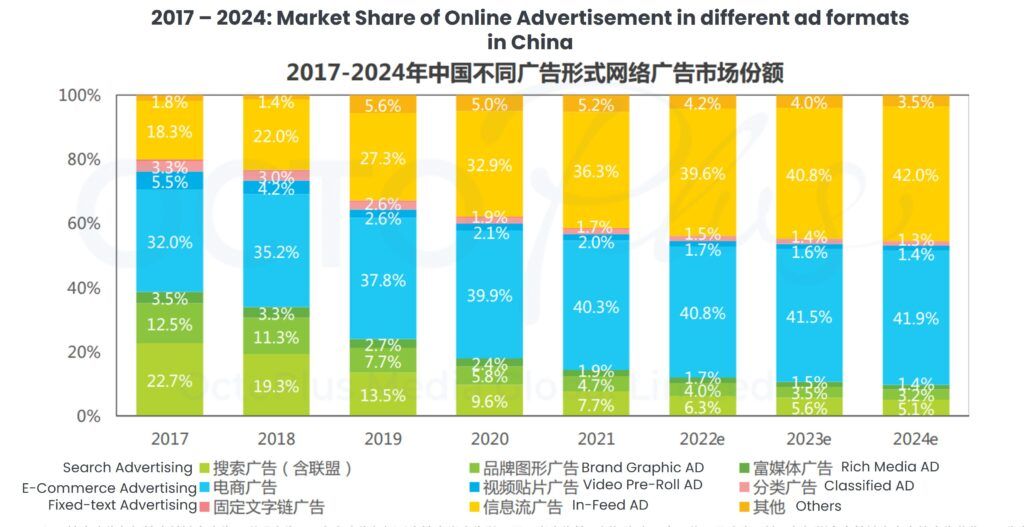 The analysis of the digital development status of the main channel types includes the following:
Online shopping channel: The level of commercialization and digitalization is high, and in the future, there will be more efficiency improvements around each operational link, reducing operating costs for brands and retailers

Live broadcast channel: Emerging marketing channels, users and transaction volumes are growing rapidly. Going forward, more attention will be paid to developing back-end links in live broadcasts, to create more features and value at the continuous operations level based on redirects

Mini program channel: Emerging + private traffic marketing channels that enable established brands and merchants to have the same comprehensive experience as public e-commerce, will be at the heart of the development to build the integrity of the mini program marketing ecology in the future

Offline store channel: The most popular marketing channel is limited to data collection and analysis. Therefore, the future digital direction will focus on collecting and linking complete offline consumption data to achieve the same level of digitalization and operation mode as online channels

Offline channel for events/conferences: As a commonly used supplementary channel, it is used for dissemination and announcement at specific times or objectives, and the value of conversion and digital value is very low, the future development direction is based more on event management efficiency
Pain points of marketing digitalization in Chinese enterprises
Marketing digitalization is divided into three types of pain points: general pain points, phase pain points, and end-of-scenario pain points
General pain points: People and organizations are the common points of marketing digitalization in enterprises. The urgency and necessity of marketing digitalization are perceived differently at different levels of the organization, and the subjective readiness and acceptance of employees also vary, making it difficult to achieve a unified understanding. In addition, corporate culture and long-standing work habits have an impact on the implementation of the marketing digitalization process in the organization and to some extent impair collaboration and sharing between organizations, such as the lack of willingness to expand marketing digitalization or the insufficient skills

Phase pain points: Although enterprises have begun to realize the importance of marketing digitalization with the help of the general environment (the rapid development of communication facilities and mobile internet), enterprises that have not yet entered the MarTech market, are faced with unclear directions, do not know whether to enter the game and do not know the direct demand, which also creates phase pain points in the decision-making and design phase.

End-of-Scenario pain points: In 2022, Chinese enterprises will face different pain points in different scenarios of marketing digitalization: In data and strategic marketing scenarios, enterprises focus on data security and quality; in content and creative marketing scenarios, content quality and optimization are crucial to enterprises; in advertising marketing scenarios, enterprises face the difficulty of navigating between and integrating scenarios; in channel operation and conversion scenarios, it is difficult to convert resources between channels, product functions and integration are difficult to support; finally, integrated service capability in customer and process management is weak, and the limited level of intelligence may have a negative impact on marketing strategy formulation and enterprise user.
Trends in Marketing digitalization
Trend 1: Integrated services
It is difficult for a MarTech service provider to combine the complete marketing linkage of multi-scenario products that support a business. The cooperation and collaboration of small ecological service providers will empower the overall marketing digitalization of enterprises
Trend 2: Market consolidation
With the continuous development of China's MarTech industry, it is becoming increasingly difficult to penetrate platform data, and data silos are becoming more and more obvious. The MarTech industry will face reshuffling, ushering in integration and consolidation, and data-based service providers will be preferred.
Trend 3: Deepening operations
The development of MarTech enterprises will focus on customer operation, exchange channel transformation and technological form upgrade
To learn more about digital marketing or interested in advertising, please contact us for more details.
2022 China Maternity and Baby Industry User Insights
With China's latest policy in encouraging childbirth, the proportion of newborn second children in China has increased, which in turn has promoted the growth of the scale of the maternal and baby industry. Analysys and Baidu Marketing jointly released the "2022 Internet Maternity and Baby Industry User Insights" report, according to that we have compiled the following key overviews.
The proportion of maternal and baby product users of all ages, up to 60% are users under the age of 30, which shows that the post-90s generation has become the main force in this field. Despite the growth of online channel consumption, offline purchase channels such as offline mother and baby stores or offline comprehensive supermarkets are still the core of the maternal and baby market. Cities below the third and fourth-tiers have used the birth bonus given by the government to ease the burden of raising children, showing a high-frequency purchase rate.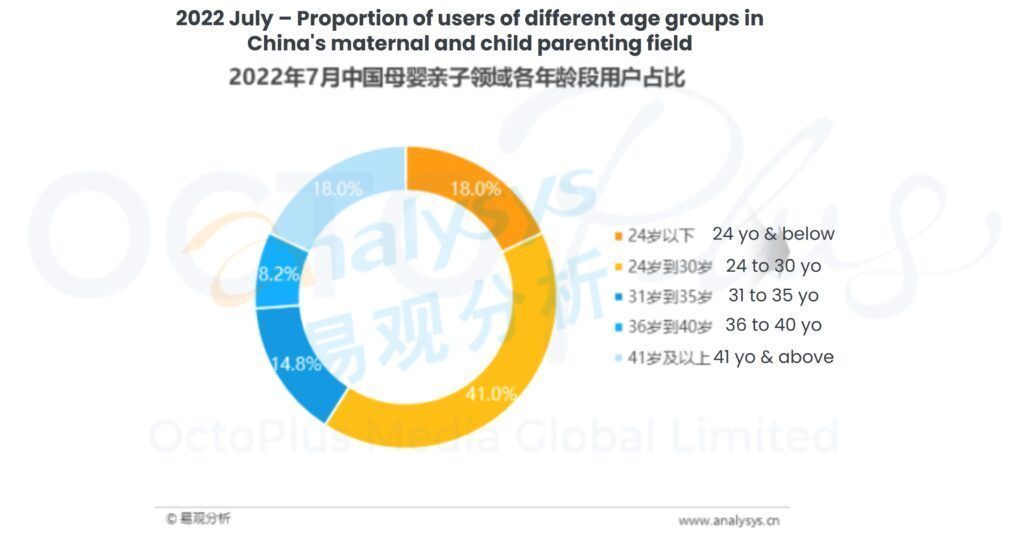 As the main force of maternal and baby products, the post-90s generation has promoted a new consumption model, increased demand for fine professional products, and is accustomed to doing their homework before purchasing any products. New consumption concepts such as personalization, quality, and scientific have brought diversified development space for the maternal and baby market. More than 80% of users check product reviews, research professional information, and compare product ingredients.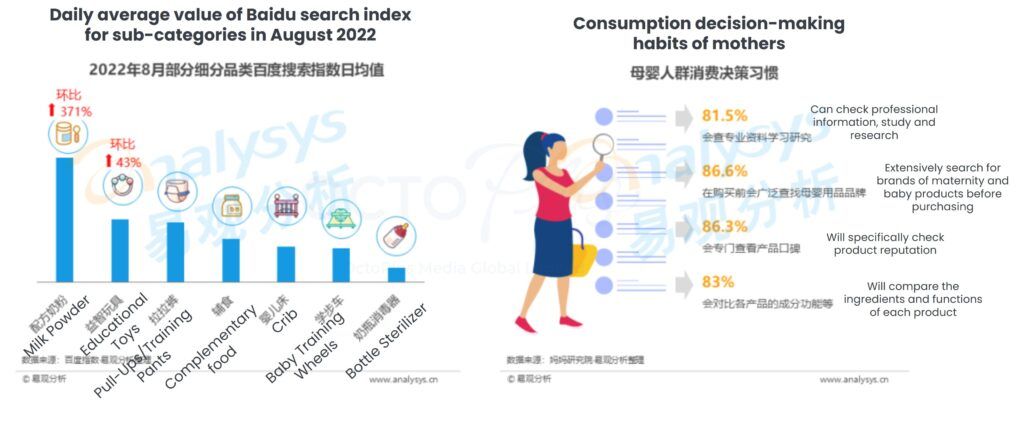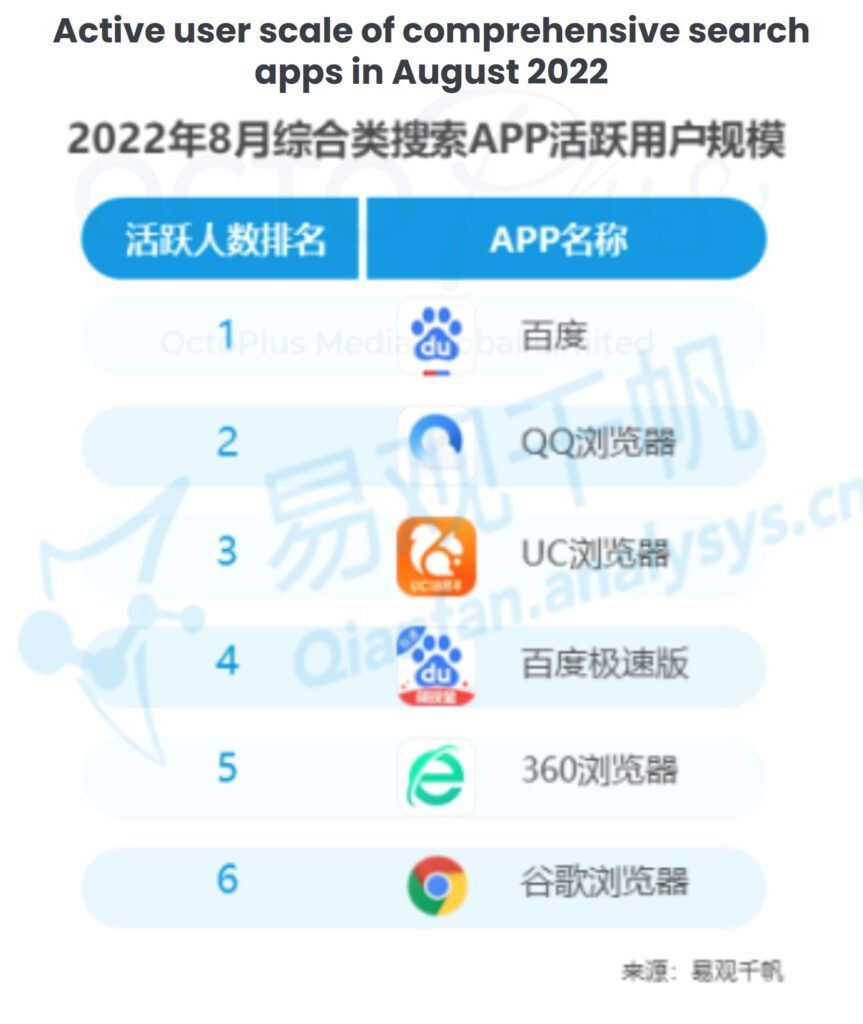 In the selection of search platforms, up to 45.3% of users prefer comprehensive search platforms, and Baidu APP dominates, it is one of the main platforms for maternal and baby group users to search for information, and it is also one of the key channels affecting the consumption decision of maternal and baby groups. Only a small number of users, 19.5% would prefer a social networking site/app or short video app to search for relevant information.
Maternal and baby group users' behaviour
Maternal and baby group users have expressed abundant needs and formed multiple sub-categories, such as checking products, searching for genuine products, checking reviews, searching for channels, comparing prices and learning general knowledge. In addition to paying attention to the vertical content of mother and baby, in terms of hobbies, mother and baby users will also pay attention to different fields such as pregnancy and postpartum. For example, users during pregnancy pay high attention to makeup in the field of personal care and beauty, and in the field of pregnancy diet, fruit is another concern. As for the postpartum field, the focus is on confinement centres and weight loss.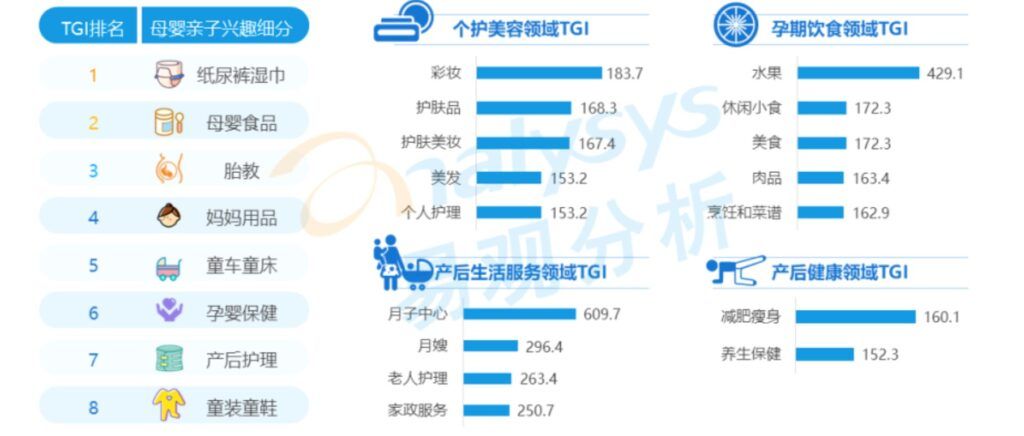 In addition, maternal and baby group users also showing new features in key categories:
Baby food: The increasingly segmented milk powder industry has made feeding more refined and scientific for maternal and baby group users. At the same time, focusing on formula efficacy and eating methods, and maternal and baby group users pay more attention to complementary foods as an important source of balanced nutrition for infants, which has also become a planned meal.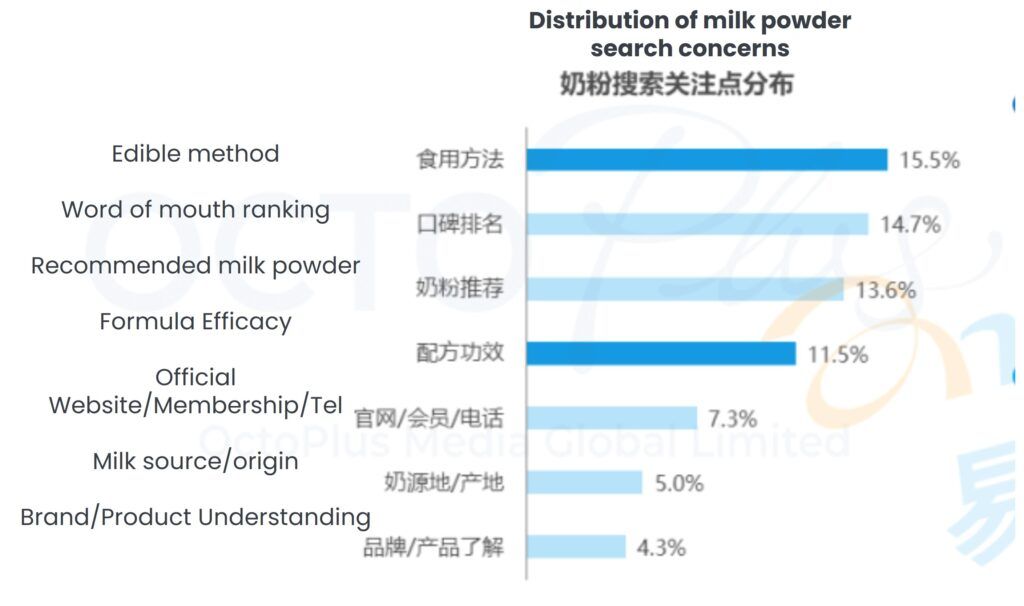 Diapers: Based on the increase in functional requirements and usage scenarios, the segmented categories showed a trend of specialization, and users have begun to pay attention to the differences between segmented categories and material safety, and their attention also increased rapidly, increasing by 16.4% year-on-year.
Maternal and baby toiletries: The bottom content needs of maternal and baby group users are still the general knowledge of washing care, for example, the attention towards ingredients has increased rapidly, thus the overall search share of the skincare category has risen rapidly, and the plant-based ingredients have become the new trend of scientific skin care.
For more details and marketing in the maternal and baby industry, please contact us.

Toutiao - Btyedance China News and Information Content Platform
Toutiao is a news data mining and AI-based news recommendation aggregator platform, it recommends information to users from various media sources and provides service products that connect people and information. Toutiao was developed by Beijing ByteDance Technology Co., Ltd., founded by Zhang Yiming in March 2012, and released its first version in August 2012.
Personalized, real-time and accurate recommendation engine technology, can recommend news, music, movies, games, shopping, and other information in a personalized way according to the user's interests and location, etc., and can automatically and accurately calculate and recommend residents' interest information according to the user's city, age, gender, occupation, and other characteristics. Toutiao has also launched the Toutiao tracing project using the more accurate geographical pop-up technology of the internet, and in 2018, successfully helped search for 7,000 missing persons, of which 2,704 were elderly and 733 were young children.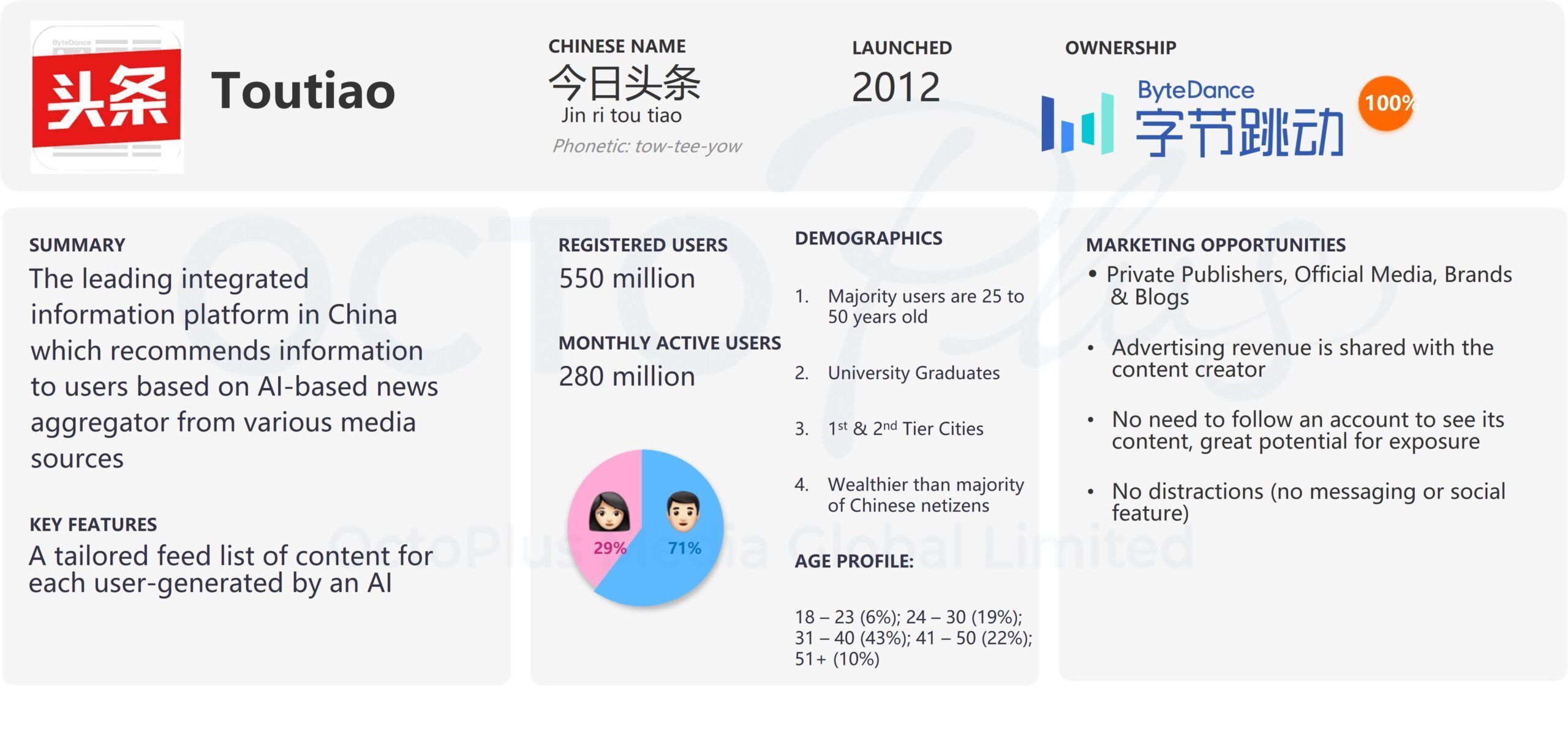 User and Data Analysis
550 million registered users, 280 million MAU

71% male, 29% female

Most users are between 25-50 years old, mainly in first- and second-tier cities

Daily content consumption of 5 billion, daily video viewing of 6 billion

Each person spends an average of 89 minutes per day on Toutiao

600,000+ pieces of content are created daily

100+ vertical categories, 100,000+ top influencers in vertical categories
Marketing Opportunities
Provide high-exposure, precise targeting, creative interactive advertising, and in-depth content interaction, combined with data to build brand marketing for brands.
1. Smart advertising mode
High exposure: brand takeover, in-feed ads, detail page ads

Precise targeting: user targeting (user profile, user behaviour, industry/brand interests and preferences, first-party data, third-party data), content targeting (vertical channels, content page, search keywords)

Creativity & interaction: interactive display ads, immersive experiences, customized interactive products
Marketing model: CPM / CPT / CPV
Upgraded CPM purchases, guaranteed delivery and achieved multiple marketing objectives, optimized placement, and optimization of reach and clicks through intelligent buying.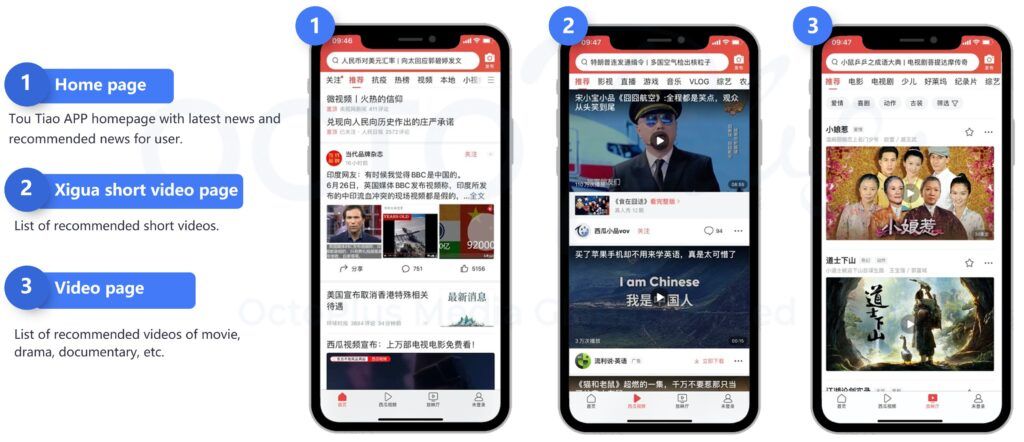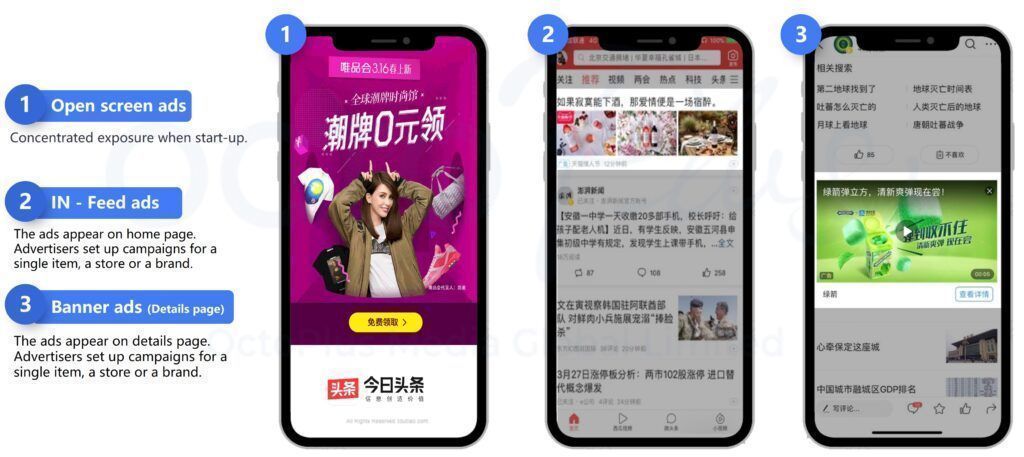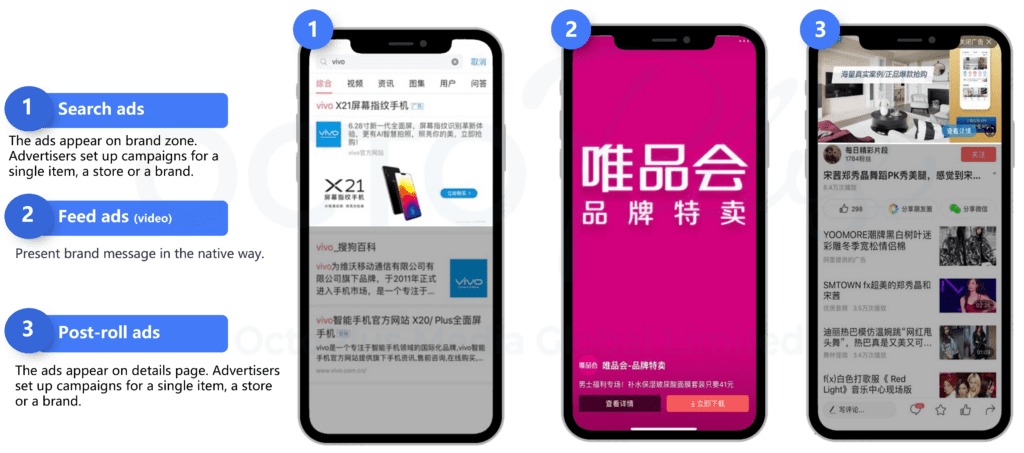 2. Content interaction
Official Account: official account "Blue V" certified, the brand's long-term interactive fan base
Authentication & privileges: brand message aggregation, comment protection, e-commerce, call-to-action
Intelligent content creation: hot topic analysis, double titles/covers, image library
Vertical Community: target and engage the different vertical communities with common areas of interest
Precise targeting of vertical groups with shared interest topics, through vertical-themed projects whose content is created by high-quality PGC teams, create sponsored collaboration of vertical-themed projects: customized creative H5, brand/product placement, brand sponsorship, PGC created by top influencers on the platform, customized topics, offline collaboration, multiple brand exposure on the theme page, etc
Influencer Community: leveraging top influencers in vertical categories to drive brand affinity
Highly customized brand assets created by top influencers: advertorials, product placement, Q&A interactions, etc
Event Collaboration: enhance brand image through offline large-scale events and online collaboration
If you would like to learn more about Toutiao's advertising opportunities, please contact us
Talk to our team.
It's a team with one single shared goal, which is our client's success. Deliver results for your business now. 
 Email: bd@octoplusmedia.com