China Marketing Insights Monthly Newsletter [October 2022]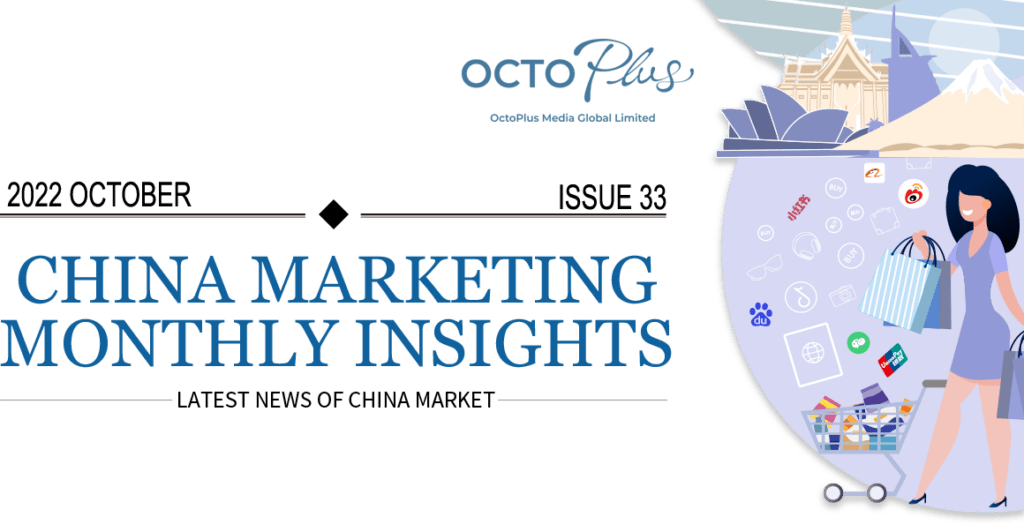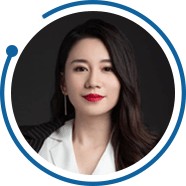 Hello There,
Welcome to our October newsletter.
A new regulation "Provisions on the Administration of Internet Pop-Up Information Push Services" has been officially implemented since September 30, 2022.  In the latest regulatory updates that happen in China, we highlight the requirements internet pop-up information push services shall comply with.
In this month's newsletter, we have covered 2 key reports – 1) China's 163 Million New Middle-class Report– we highlighted the characteristics of online consumption, marketing strategies and a few key points of the new middle-class group. 2) China's New Youth Consumer Interest Consumption Insights and Trends – key points of consumption trends, reasons for "interest consumption" and market trends are highlighted.
"Content Seeding" is common for brands in China to attract consumers and increase sales, it is another kind of content marketing but users have gradually put forward higher expectations for the quality of content. We highlighted the new way of Content Seeding for brands and provide a solution – CSEO for brands to grow their content seeding strategy effectively in China.
In the app of the month, we feature Alipay – the first mobile digital payment solution under the Ant Group umbrella, which has 1.2 billion users worldwide and is available in more than 80 countries overseas. We look at its audience segment, marketing, and brand opportunities.
Sincerely,
Mia C. Chen
CEO & Co-Founder of OctoPlus Media

China Regulations - Provisions on the Administration of Internet Pop-up Information Push Services
This is part of our series on the regulatory policies updates, reports and advertising laws – Xiaohongshu Banned 39 Brands, March update, December update, November update, October update, Anti-monopoly crackdown, PIPL, Advertising law, Medical Advertising, IP Location Regulations , Didi US$1.2 Billion Fine, Measures for Security Assessment of Data Export

China's new regulations on pop-up windows on the internet were officially implemented on September 30, strengthening standardized management of pop-up window information push services
China's "Provisions on the Administration of Internet Pop-up Information Push Services" officially came into force on September 30, 2022. This "regulation" aims to strengthen the standardized management of pop-up window information push services and strive to solve the problems caused by the illegal use of pop-up advertisements to promote the healthy and orderly development of internet information services.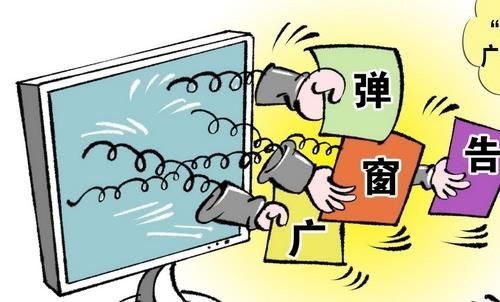 Many of us have encountered advertisements while watching news or videos, but could not find the button to close the advertisement, or the close button is set very small, so it was often accidentally clicked to land on the advertisement content page. For a long time, advertising revenue has been one of the most important revenue sources for internet platforms, the "landing rate" of pop-up advertising is higher than other advertising, and the permission and attention of pop-up ads are high, thus user click-through rates are also high, but uncontrolled and bottomless push pop-up advertisements have seriously affected the user experience.
The "Internet Pop-up Information Push Service Management Regulations" are based on the current reality, and focus their attention on the most important issues, such as pop-up news information push, pop-up information content orientation, and pop-up window advertising, focusing on solving the problem of pop-up push violations mentioned at the beginning, including illegal push news information, pop-up window advertising logo that is not obvious, the inability to close the advertisement with a single click, malicious speculative entertainment gossip, excessive push frequency, an unreasonable proportion of push information content, clickbait for fraudulent traffic and other issues. This also indicates that the continuous proliferation of advertising, vulgar content and entertainment hype to gain traffic and attention by many APP platforms will be eradicated.
The following are the "Provisions on the Administration of Internet Pop-up Information push Services" stipulating that internet pop-up information push services shall comply with the following 9 requirements.
(1) It is not allowed to disseminate illegal and negative information as stipulated in the "Provision on the Ecological Governance of Online Information Content", especially content that violates public order and good morals, such as malicious speculation on entertainment gossip, private scandal, an extravagant display of wealth, trial ugliness and other contents, and shall not use malicious speculation for the purpose of focusing on relevant old news on a certain topic;
(2) Those who have not obtained an internet news information service license shall not disseminate news information through pop-up windows, and the info pushed through pop-up windows involving other internet information services, shall be reviewed and approved by the relevant authorities or obtain relevant licenses;
(3) When disseminating news through a pop-up window, strictly comply with the "List of Sources of Internet News Information" issued by the Cyberspace Administration of China, and do not reprint beyond the scope, do not distort or tamper with the original meaning of the title and content of the news information, and ensure that the source of the news information can be traced;
(4) Increase the diversity of information pushed through pop-up windows, scientifically determine the proportion of news information and content in vertical fields, embody positive and healthy mainstream values, and do not focus on pushing or hyping trending sensitive events, vicious cases, disasters, accidents, etc., causing social panic;
(5) Improve the management specifications of pop-up information push content, improve the work process of information screening, editing and pushing, and equip the audit force to match the scale of the service, and strengthen the audit of pop-up information content;
(6) Protect users' rights and interests, clearly inform users about the specific form, frequency of content, cancellation channels, etc., of the pop-up information push service through service agreements, fully consider the user experience, scientifically plan the push frequency, and shall not conduct unreasonable differential push to ordinary users and member users, shall not interfere or influence the user to close the pop-up window in any way, indicate the identity of the pop-up window information push service provider;
(7) It is not allowed to create algorithm models that violate laws and regulations or violate ethics and morals by inducing users to indulge in addiction, excessive consumption, etc.; algorithms must not be used to implement malicious information blocking, excessive recommendations, and other such behaviours; do not use algorithms to profile minors and push information that may affect their physical and mental health;
(8) Pop-up window displaying advertising information should be identifiable, clearly indicating "advertisement" and include a close sign to ensure that the pop-up advertisement is closed with a single click;
(9) Third-party links, QR codes, and other information that maliciously divert and redirect traffic by means of pop-up information pushes are not allowed; and enticing users to click through pop-up information push services to perform traffic fraud and traffic hijacking is not allowed.
We will continue to monitor updates to China's regulatory policy updates, contact us to understand more and discuss China's marketing strategies and regulatory policy.

China's New Youth Consumer Market in 2022 – "Interest Consumption" Trends
Post-90s and post-00s are important groups in China's current new-era consumer market, and they profoundly impact new consumer demand. The activity of these new youth groups on the internet and trendy consumption have driven the trend of "interest consumption" surge. The "2022 China Interest Consumption Trend Insights White Paper" by iiMedia Research has highlighted the market development and user research of "interest consumption". The following are some key points to help everyone learn more about the relevant consumption trends.
In 2021, the income of Chinese people has increased rapidly, and at the same time, the level of mass consumption has also continued to improve, especially the consumption expenditure on services has increased rapidly, up 17.8% year-on-year, which shows that Chinese are pursuing higher product and service quality for consumption. According to iiMedia Research, per capita disposable income in China rose 5.1% YoY to 10,345 yuan in the first quarter of 2022.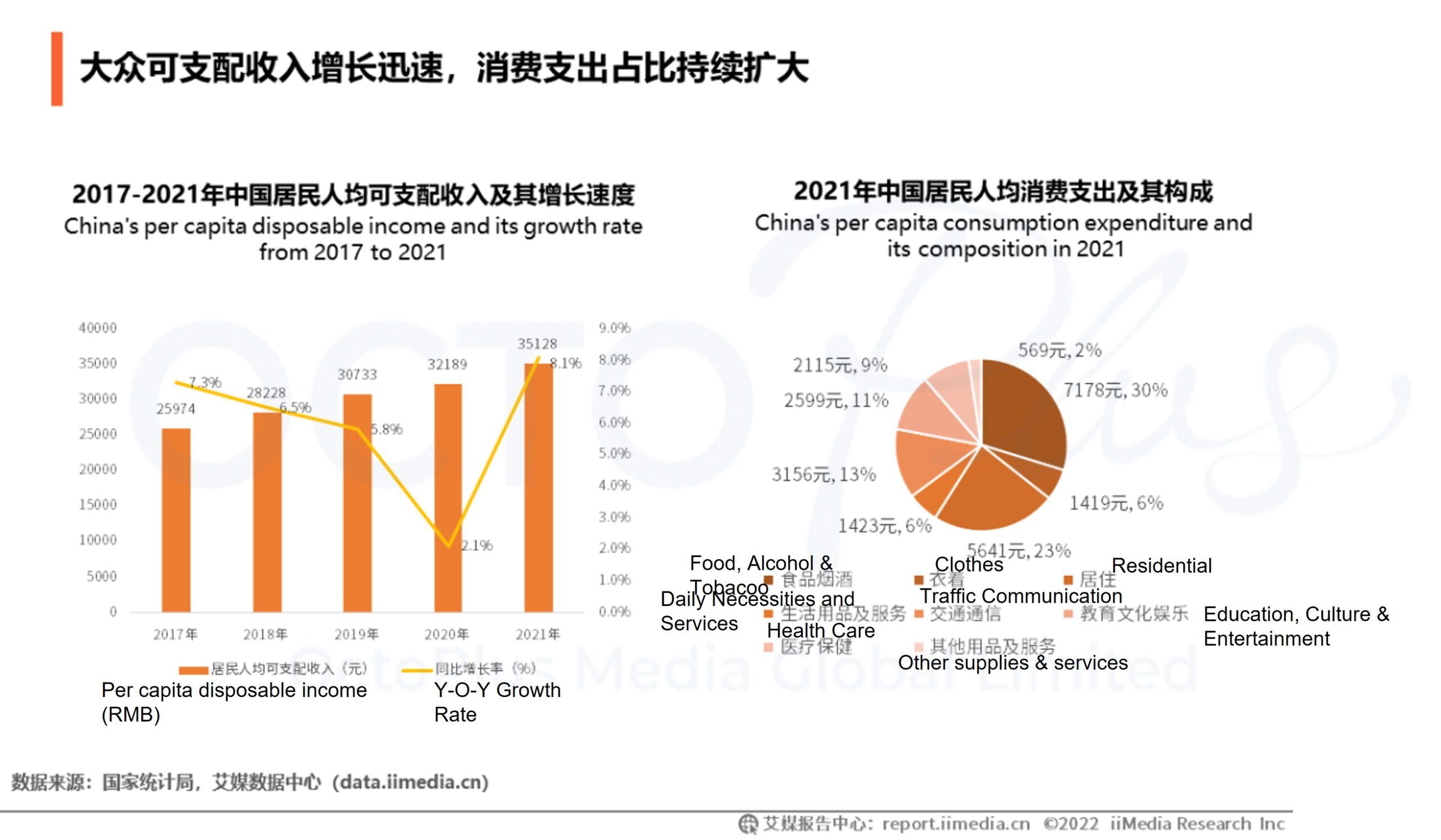 The concept of "interest consumption" was first proposed by Ye Guofu, Chairman and CEO of MINISO Group in 2020. It indicates that consumers tend to seek emotional values and personalized products in consumption and daily shopping, especially social, personal and cultural characteristics of products/services, etc.
Reasons for "interest consumption"
The analysis shows that new youth groups have access to channels including public or private traffic channels such as e-commerce platforms, official brand websites, social media, mini-program malls, e-commerce live broadcasts and offline stores. Therefore, the path from "product craving" to consumption has a strong continuity among the new youth groups, which can effectively promote user engagement and help brands better capture users' interests.
Enjoying themselves and socializing are the two main reasons why Chinese young people buy products that interest them, and products that "look good, are fun and easy to use" have a stronger influence on consumers.
Data shows that 94% of consumers believe that the appearance of goods has an important influence on consumption, and the annual growth of sales of high-end products purchased by Gen Z is as high as 166%. Most of the new youth consider in their purchasing decisions come from the design and creativity of product appearance and packaging, and high-quality products can make users happy. Therefore, brands need to consider "good-looking" as a standard requirement, and study consumer aesthetic needs more closely in the future.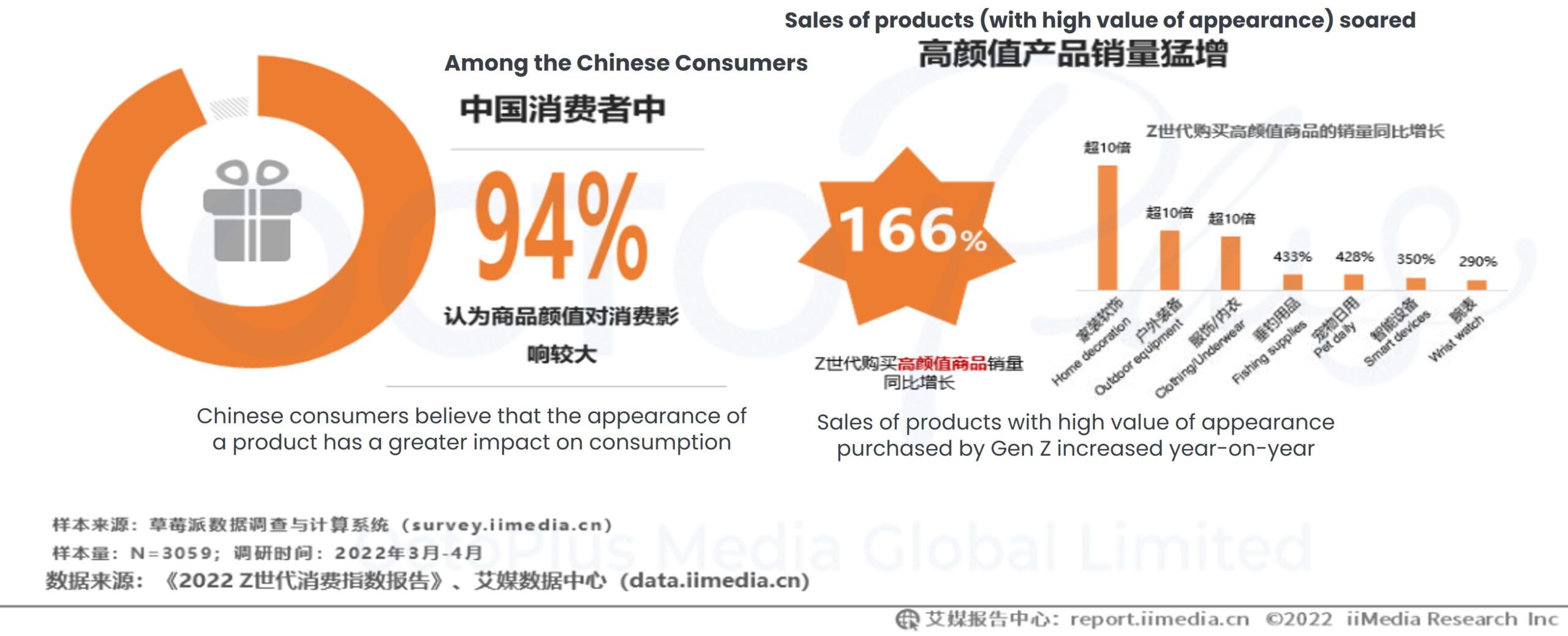 63.3% of new young consumers prefer design models or IP co-branded products when buying daily necessities, because IP co-branded products have unique designs, and fun and interesting styles, which are more attractive to new young consumers, and give them a sense of belonging and satisfaction.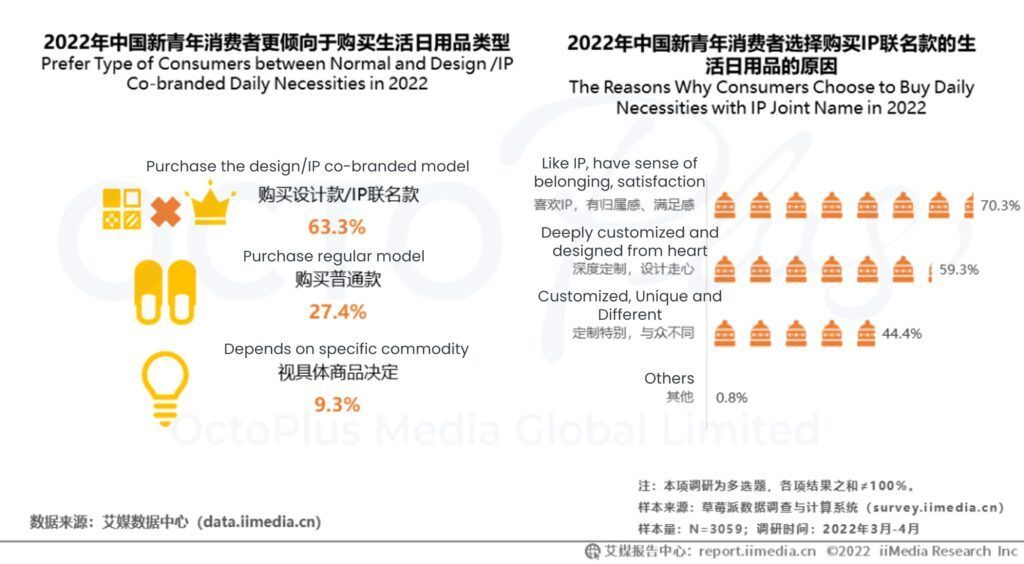 Among the factors that play a role in the consumption of daily necessities, the new young consumers pay attention to practicality, price and quality. For non-essentials, new product launches, brand tonality, design and other interesting factors are the focus of interest for new young consumers, in addition to the most important quality factors. Therefore, high-quality, practical and "easy to use" products can withstand the test of the market economy.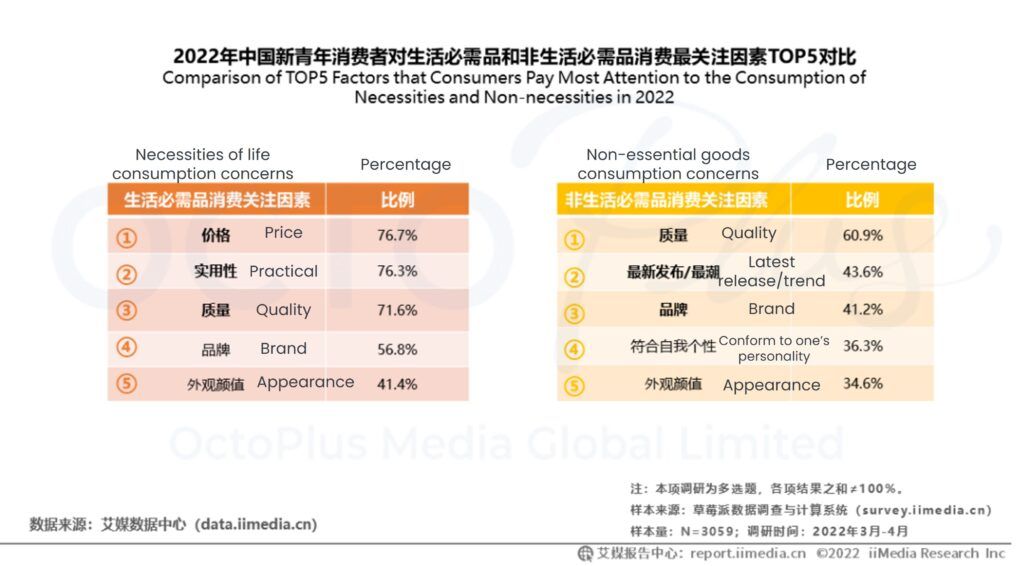 Interest Consumer Market Trends
The social depth and emotional added value have become selection criteria – brands can bring together circles with interests, integrate product design into various social scenarios, and even capture the interests of the new youth, leverage the value of different IPs, and convert interest into consumer goods to further tap into the new market for young consumers.

IP or value recognition as the core – grasp the emotional value demand core of the new youth groups, understand their cultural values, tap the potential IP as much as possible, incubate own IP, jointly create IP, and guide consumers' interest and consumption trends, improve the added value of products and achieve higher brand value

Private traffic / social media to support interest consumption – through social media and private traffic channels to understand users' interests and needs, set up a user tagging system, from insight into interests to product craving, and effectively help brands keep up with the trend of interest consumption

Integrate innovative consumption scenarios to enhance the offline shopping experience – new stores with scene-based design and social check-in attributes such as theme stores and concept stores are more popular with young consumers, such as Lab (brand laboratory), Gallery (art museum form), Park (open community) and other stores.
"Interest consumption" is still changing within the new youth group, take advantage of this consumption trend to seize business opportunities and grasp consumers' mentality. If you want to know more information, please feel free to contact us.
2022 China's 163 Million New Middle-Class Insight Report
With the development of China's social economy, a new group of people defined as the "new middle-class" is emerging. They are mainly between 25 to 40 years old, live in third-tier cities or above, and have more than 1,000 yuan online purchasing power and medium to high online consumption intention.
According to QuestMobile's latest "2022 New Middle-Class Insight Report", the new middle class continues to grow, and as of July 2022, the new middle class reached 163 million users, representing a 13.7% increase in the entire network, and a 15.6% YoY increase.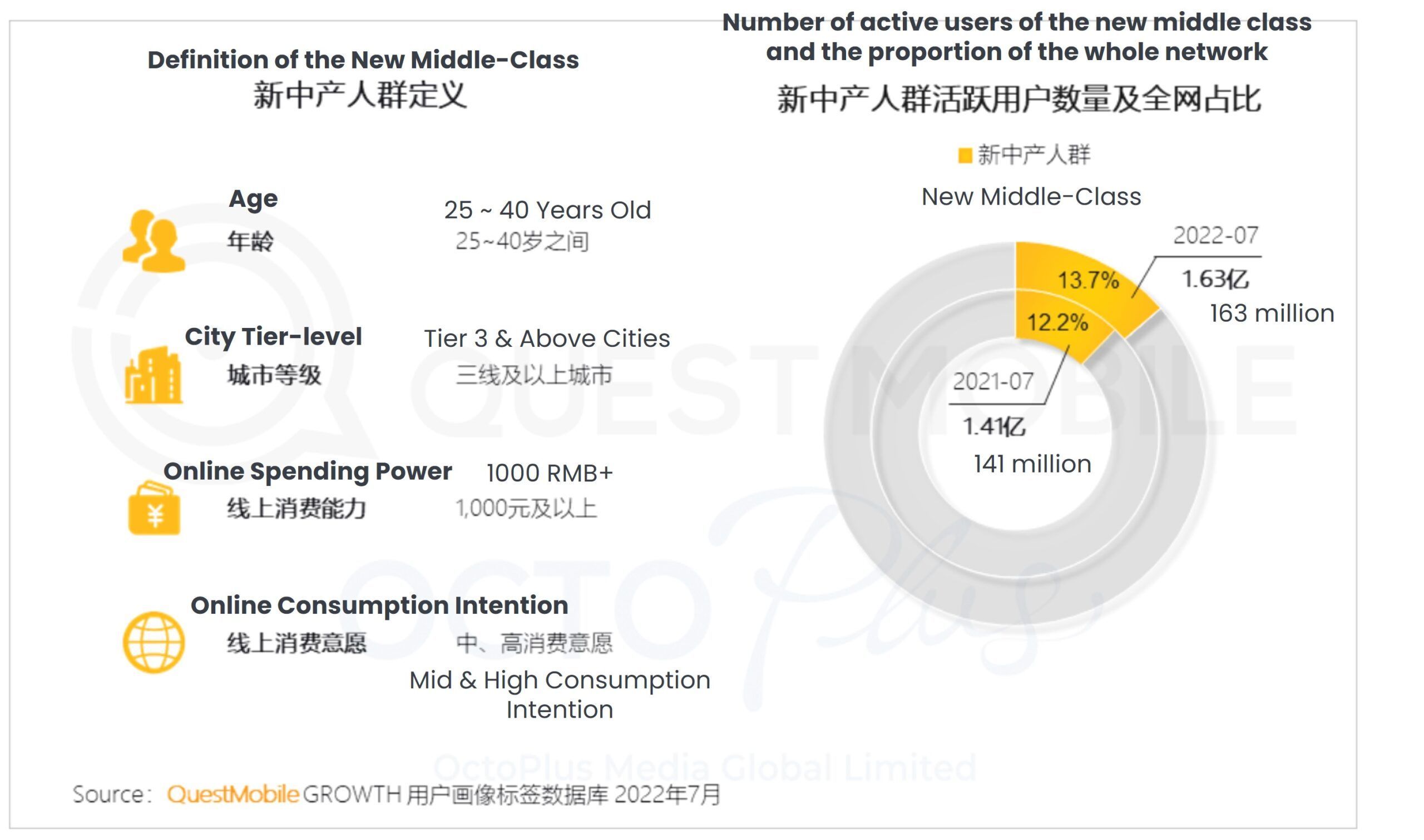 At the same time, the social and economic status of the post-90s generation is rising, and more people have reached the middle-class standard of living and promoting the growth of high consumption power. The rise of the post-90s generation has increased the willingness to spend online, and the proportion of users with high online purchasing power in the new middle class has increased by 2.4% YoY, reaching 16.4%. 22.1% of the new middle-class users own a house and a car, and the number of users planning to buy a car has reached 29.26 million, indicating that the economic power is relatively high, and real estate and cars are regarded as symbols of wealth.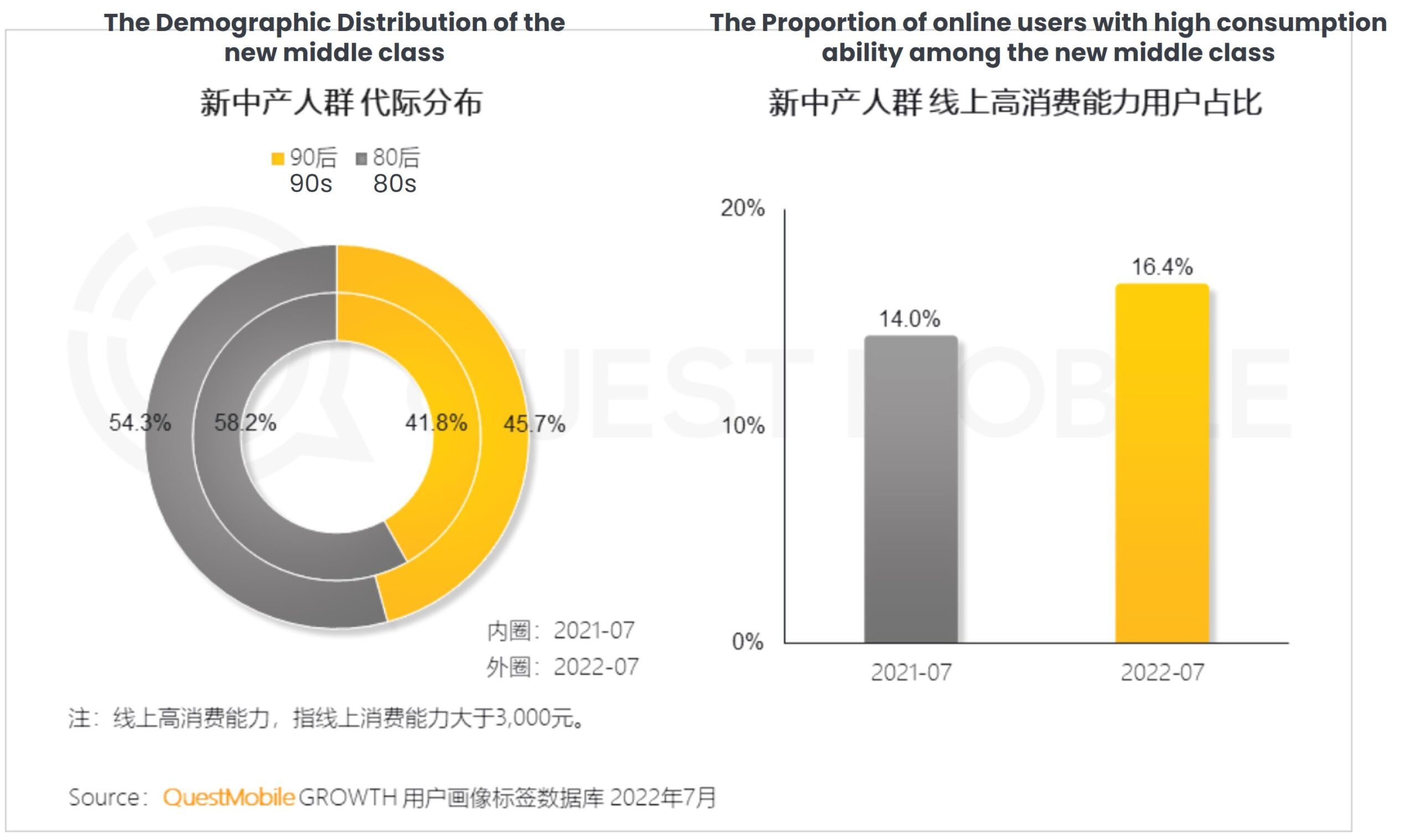 In order to meet their daily needs, the new middle-class people use a variety of apps, and the length of APP usage time and the number of APPs used exceed the average level of the entire network. The monthly average use time is as high as 180.9, while the monthly average usage of APPs per user is as high as 33.33, which is far above the average usage of 29.9 APPs per user on the entire network.
The new middle-class group is very addicted to the Internet, and their peak hours of activity even exceed the average level of the entire network, and they like a variety of leisure and entertainment services. Apps with prominent entertainment attributes are more commonly used by the new middle-class group, the apps with a TOP5 monthly average usage time are Honor of Kings (126.8 minutes), Douyin (115.2 minutes), Game for Peace (112.6 minutes), NetEase News (107.4 minutes) and Bilibili (103.3 minutes). Long and short videos, popular competitive games, and interactive social applications are the most frequently used applications by new middle-class groups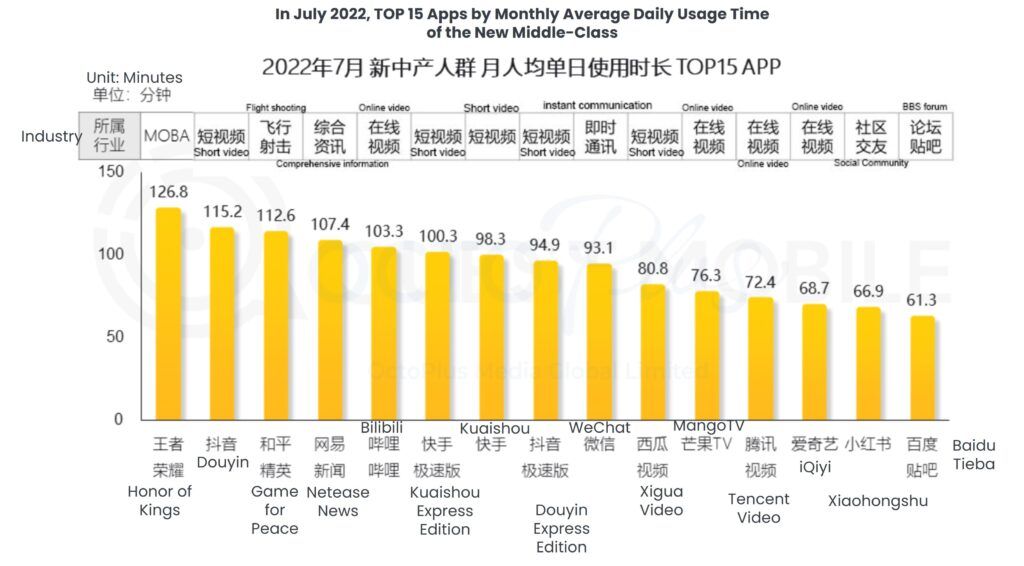 Characteristics of Online consumption by the new middle-class group
Intelligent life: Striving for a smart quality of life, early adopters of high-tech products

Automobile consumption: Main users of new energy vehicles, inclined toward new influence brands

Self-improvement: Pay attention to physical fitness and own knowledge and culture to ensure high competitiveness

Financial awareness: High risk-awareness and financial concept, striving for financial freedom
1. Intelligent Life
As early adopters of high-tech products, people in the new middle-class pursue a "smart" quality of life and are easily attracted by innovative ideas, have strong purchasing power for home appliances, and love and pay close attention to the Metaverse. According to QuestMobile data, the number of active users in the smart device industry in the new middle-class group has increased by 42.6% YoY to 65.71 million, and the active penetration rate of smart devices is higher than that of the general population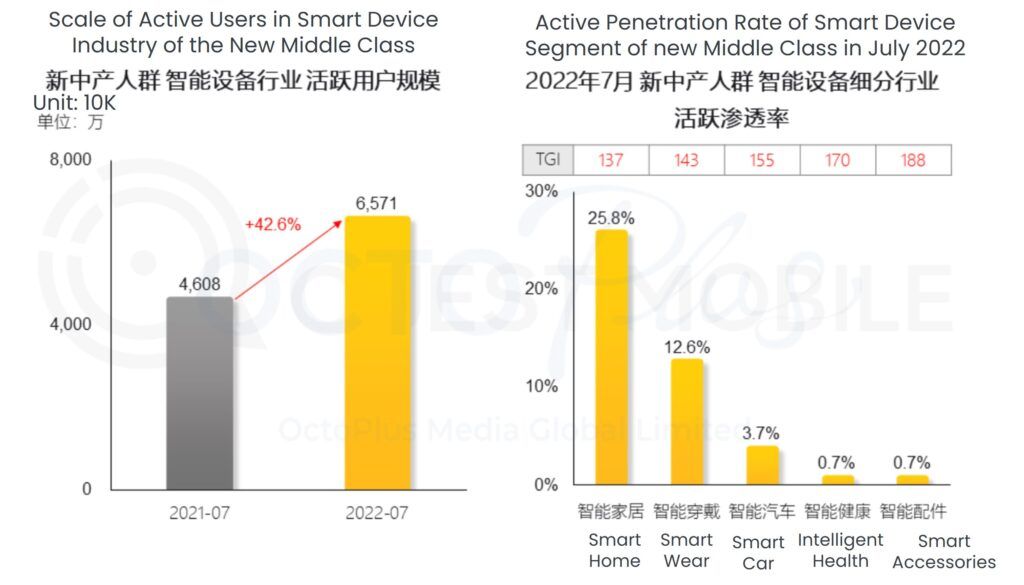 2. Automobile Consumption
Automobile consumption is the main expenditure area of the new middle-class group, and its active scale has grown rapidly, reaching a double-digit growth rate, and the number of active users in the automotive information industry has increased to 27.73 million in July 2022. The smart car industry's monthly active user in the automotive-related industry has the highest growth, with a YoY increase of 77.4%, nearly 6 million. This indicates that new-energy vehicles are the main audience of the new middle-class group, and they tend to incline towards new influential brands, including mid-to-high-end brands. Due to their high dependence on Internet information, the new middle-class mainly obtains information through online channels, and top KOLs in the car category are the main sources of information. Based on this, automotive companies have also taken advantage of this active characteristic to increase their investment in online advertising.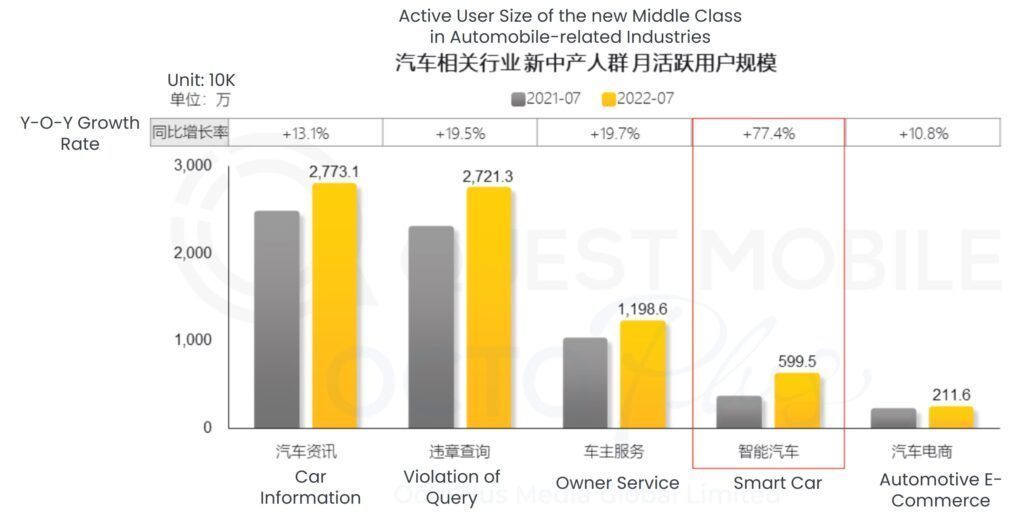 3. Self-improvement
To stay competitive in the workplace, the new middle-class groups are learning new skills through online channels such as educational apps and even from KOLs to improve their knowledge and cultural quality. At the same time, they are also good at utilising APP + live broadcasts + video lessons to carry out daily fitness exercises to improve their health. According to QuestMobile data, the number of active users of sports and fitness in the new middle-class group increased by 16.8% YoY to 12.47 million.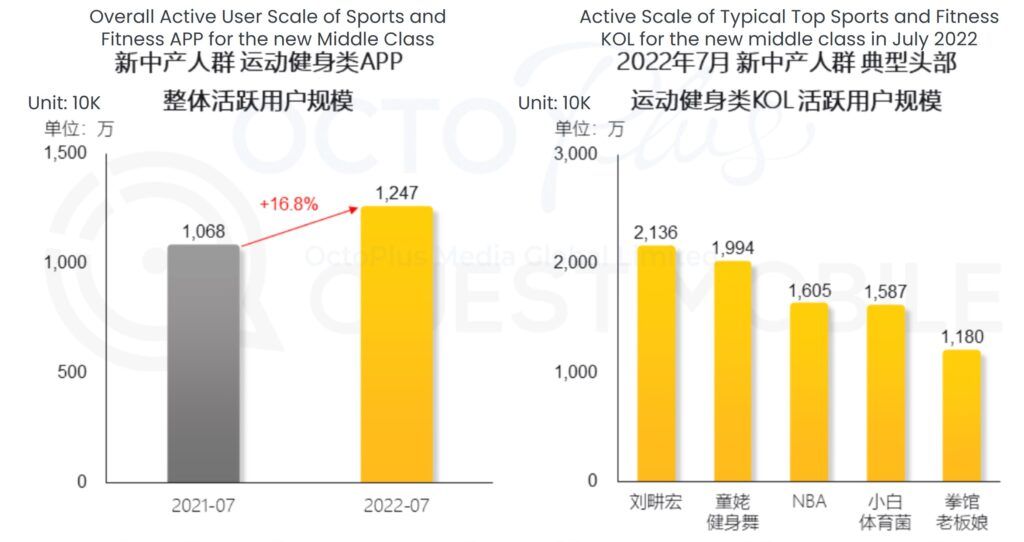 4. Financial Awareness
The new middle-class groups have a strong awareness of risk and financial management concepts while pursuing financial freedom, at the same time, focusing on the information of financial management knowledge through daily information browsing. They have a greater preference for high-risk and high-return investments. The new middle-class group who are good at relying on the Internet can meet their diverse financial management needs through Internet finance. Up to 58.6% of the new middle-class groups are users of "investment and financial management" related content, while 24.8% are from third-tier cities. Meanwhile, the TOP3 monthly average usage time of financial management APPs are Sina Finance (289.3 minutes), Flush Stock (239.2 minutes) and East Money Information Co (164 minutes).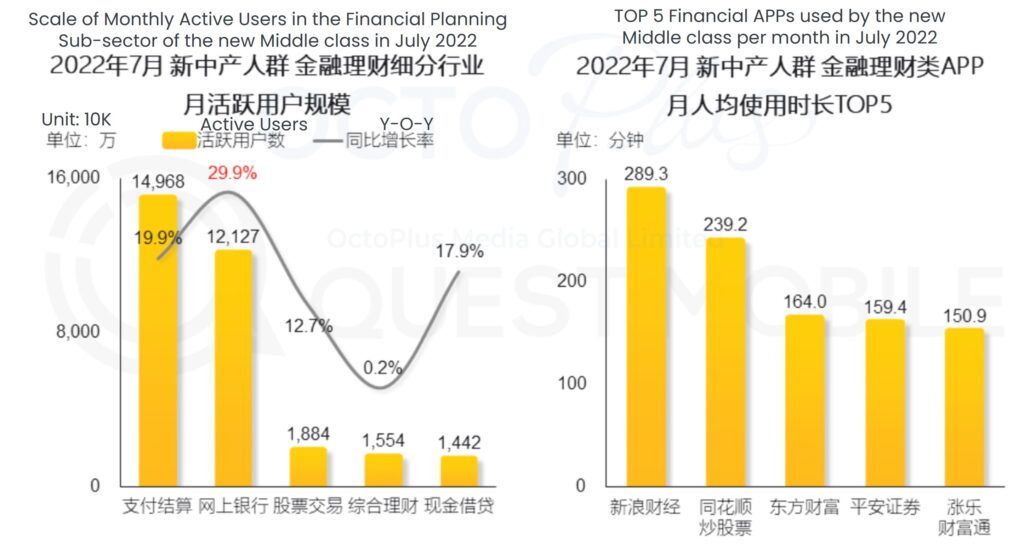 Marketing strategies
Major brands' marketing strategies will revolve around content, consumption and emotional marketing, while online multi-channel and diversified marketing will be the key.
Content marketing: As the new middle-class groups rely mainly on the Internet and obtain information through online channels, the time spent on content platforms has also grown rapidly. Short video content and live broadcast are the main ways to reach users. As the new middle-class groups like to browse formatted content, brands can increase marketing investment from major KOLs to improve reach.

Experiential marketing: New middle-class groups with high online purchasing power pay more attention to the shopping experience in addition to cost-effective quality. By creating an interactive experience with rich and diverse scenarios, car companies can forge close connections with car owners and potential buyers, and popular business districts have become gathering places for new energy vehicle brands.

Emotional marketing: Harmonious customer relationships and high-quality service can improve the user's loyalty to the brand, and the refined private traffic operation of the brand successfully attracts new middle-class groups. To attract the attention of the new middle-class group, the brand mainly creates connected emotions and accurate user group cognition by meeting the spiritual needs of users.
If you would like to know more details, please contact us.

Content Seeding in China - How Brands can Increase Sales through Content Seeding
In China, it is very common for brands to adopt product-craving strategies on social media to attract more consumers and increase sales. Content such as recommendations for good items and sharing experiences are common ways of product craving. They target users' desire for consumption through content seeding, although they can often take advantage of users' browsing habits in the modern age, they often gradually fail due to the "rush to achieve".
On China's well-known social media, the young users of platforms such as Xiaohongshu, Douyin, Kuaishou, Weibo, etc, have gradually become more rational about product longing content, and they have begun to question the native content related to some brands, products or bloggers. Thus brands have been characterized by excessive marketing and publicity, which even destroyed the "trust" that brands had built up for a long time.
A new way of playing on content seeding for brands
The current popular content seeding in China is another kind of content marketing, that targets users' consumption desires, but users have begun to have higher expectations for the quality of content.
Content drives product sales
For a long time, content marketing has been the interaction between brands and users, and the brand relies on a certain selling point of the product, carried by the more common scenes in life, to establish the association between the selling point and the brand itself. In this way, consumers can remember the brand and drive more traffic to the content, which is a common form of content-driven traffic.
Today, the desire for the brand has changed the content, from interaction with the content to sales-driven content. For example, in an e-commerce live broadcast, the host promotes the products by explaining or using them; KOL highlights the selling point of the product through knowledge, jokes, etc., and uses the scene to entice customers, fulfil the purpose of sales, and achieve the unity of product integration.
Content creates brand recognition
In addition to driving sales, content also to some extent promote users' perception of a brand. Many internet celebrity brands can quickly become well-known because the content builds the brand's cognition, and integrates the brand's tonality, temperament, and personality into marketing, giving users a more intuitive and profound experience.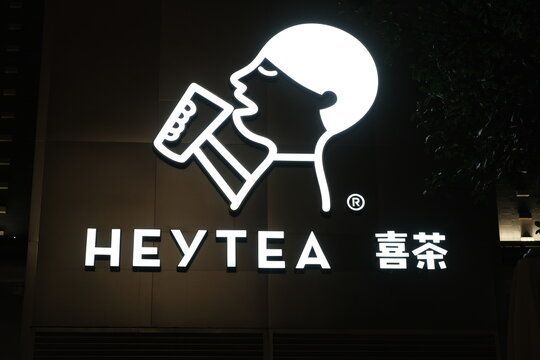 For example, Hey Tea, a well-known tea chain in China, that has grown up in the era of new consumption, is quickly recognized by young people because the brand understands how to build a brand in all aspects of packaging design, product taste, cultural attributes, and cross-border co-branding game, etc., to increase the output from product output to experience and culture output, strengthen the concept of new tea brands, and deeply root HEYTEA culture among the people.
A new frontier of content creation
Social media such as Douyin, Xiaohongshu, Weibo and Kuaishou have social functions and gradually become a channel through which consumers can obtain product information, have product experiences and even decide to consume and purchase.
With the development of network technology, the forms of content seeding have diversified, and forms such as graphics, live broadcasts, and short videos have been gradually accepted by users. Consumers have a dual identity of consumption and dissemination, which also make the marketing scenario of "content seeding" more diverse. At the same time, the brand has also built new consumption links such as social networking, content, and e-commerce, for example, e-commerce live broadcast is a new shelf after the construction of brand content marketing.
How brands grow "Content Seeding" through social media in China
Brands should choose the right social media platform based on the attributes of the product and users, and increase "content seeding" by selecting the native content generated by high-quality and appropriate bloggers. Many brands are accustomed to quantifying content marketing to attract users but often overlook the content optimization steps. Brands should cultivate these users more effectively through their usage scenarios and habits, to stimulate purchase desire.
To achieve the effect of content seeding beyond the ordinary, the CSEO services we offer can help brands improve brand reputation and sales across multiple communication channels. We can help brands raise awareness of their corporate brands and products through reviews, Q&As, product cravings, etc., optimize brand content through CSEO, achieve the effect of the hegemonic screen and promote products, and comprehensively enhance users' awareness of brands and their discussion during the search. Recommendations from the perspective of third parties/consumers are more convincing, which can greatly increase the positive trust in the brand and further increase the conversion and influence of the brand.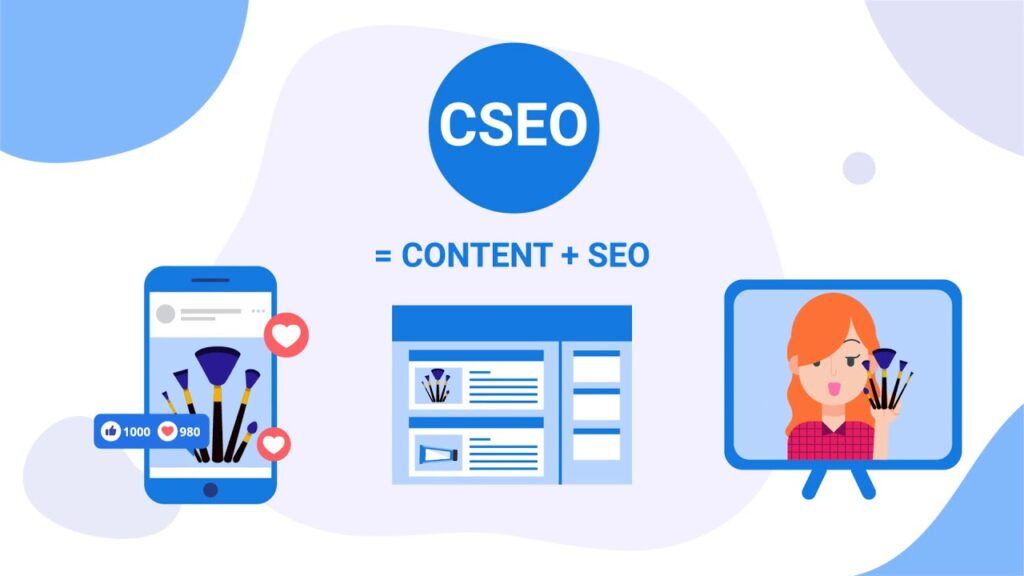 High-quality content and publishing
We have professional content creators and editors who publish jointly through the company-owned and cooperative amateur accounts and the KOL accounts to achieve the most authentic evaluation effect and increase brand trust.
We maintain sensitivity to product search rules at all times by constantly researching the latest search engine technology. We improve the ranking of brand content according to the platform's search rules and populate the latest search engine results so that the brand can be displayed everywhere, to ensure that customers receive satisfactory results.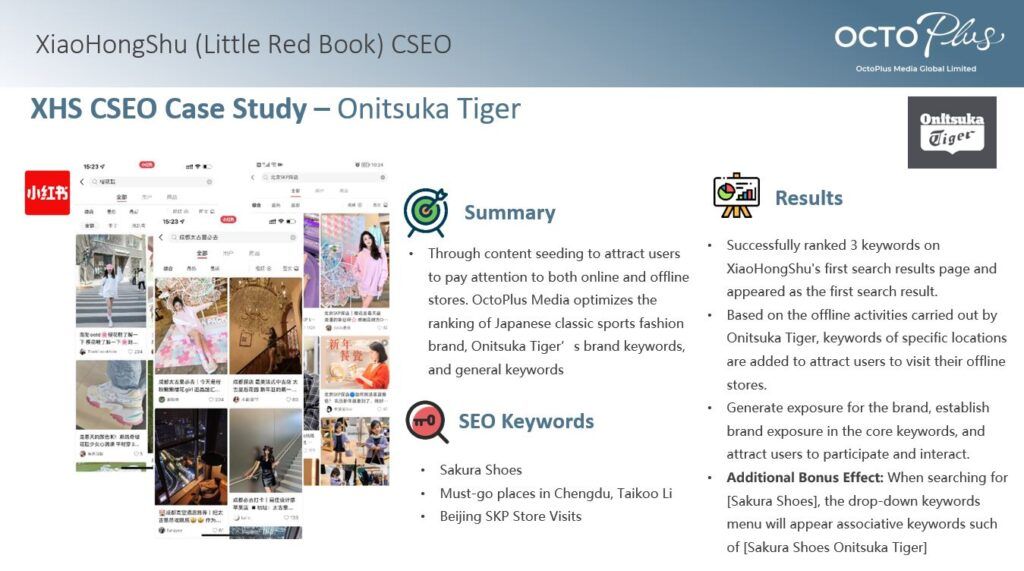 WeChat CSEO Content Seeding Case Sharing: Sino Property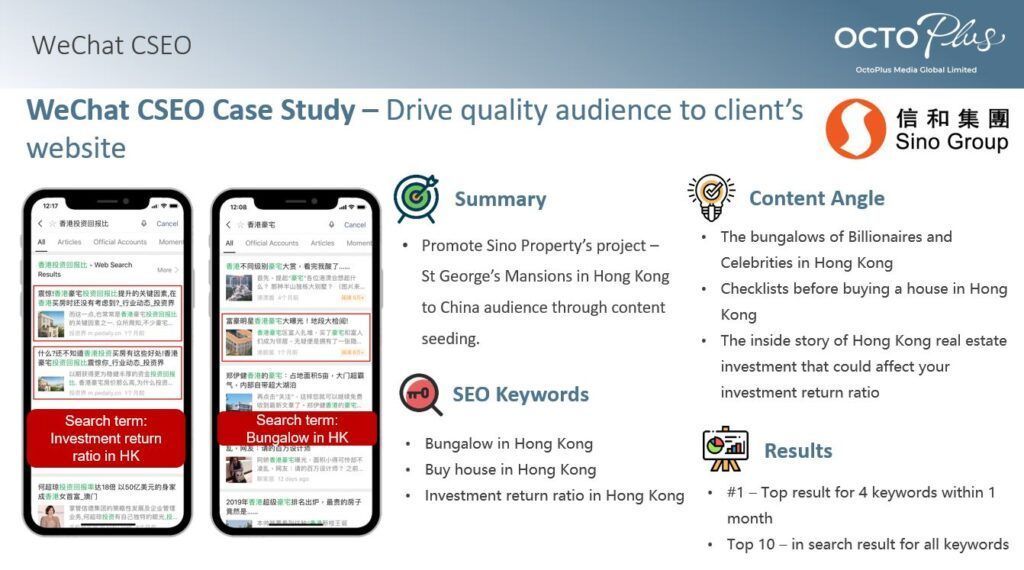 Alipay - China's mainstream third-party payment service platform
Alipay is a third-party payment service platform in China, founded in December 2004 under the Ant Group umbrella. Alipay is currently one of the mainstream payment methods in China, it has evolved from a single payment tool to an open platform covering life services, government services, social networks, financial management, insurance, and other industries.
In the early days, Alipay was a division of Taobao, and later it gradually developed into an independent payment platform, with "trust" as the core of products and services. It is committed to providing "safe, simple, fast and convenient" payment solutions for enterprises and individuals and cooperating with more than 200 financial institutions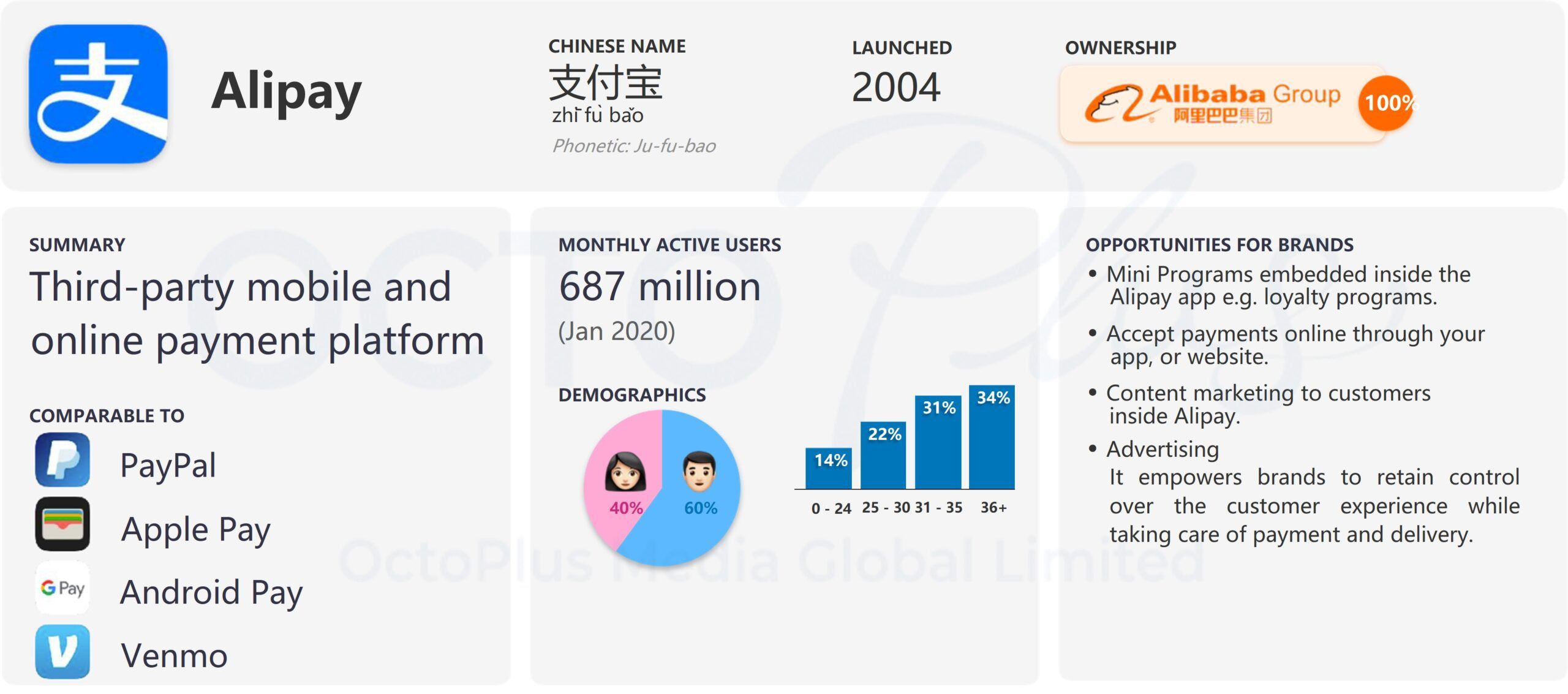 Alipay Data Analysis
The first mobile digital payment solution, available in more than 80 countries overseas

87% of Chinese outbound travellers use Alipay

Alipay has more than 350+ million European merchants

Italy, the preferred destination for Chinese tourists (over 3 million Chinese arrived in Italy), has over 150+ brands using Alipay as their mobile payment solution

More than 150+ million Chinese outbound tourists worldwide – with an estimated global purchase volume of more than US$190+ billion

Alipay for fashion, luxury goods, cosmetics, travel and dining
Alipay User Analysis
There is little gender difference among users, with 56% are male

1.2 billion users worldwide and 687 million MAU

65% of users are above 31 years old, users aged 31-35 (35%), users over 36+ (34%)
Alipay Customer Engagement Platform
Awareness – Direct and profiled marketing

In-store traffic – Geographic and real-time marketing

Conversion – Coupons

Loyalty – Analytical and cross-marketing
Brand Opportunities
Mini programs embedded in Alipay, such as loyalty programs

Content marketing for customers within Alipay

Brands retain control of the customer experience during payment processing and delivery

Access to online payments through your apps or website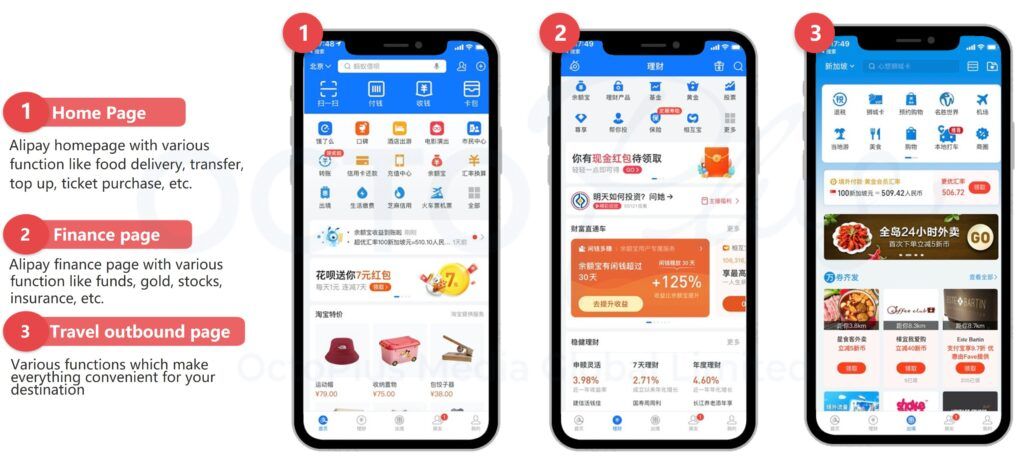 Homepage: Various functions such as food delivery, money transfer, top-up, ticket purchase, etc.

Finance page: Various functions like funds, gold, stocks, insurance, etc.

Outbound Travel page: Various functions to make everything convenient at the destination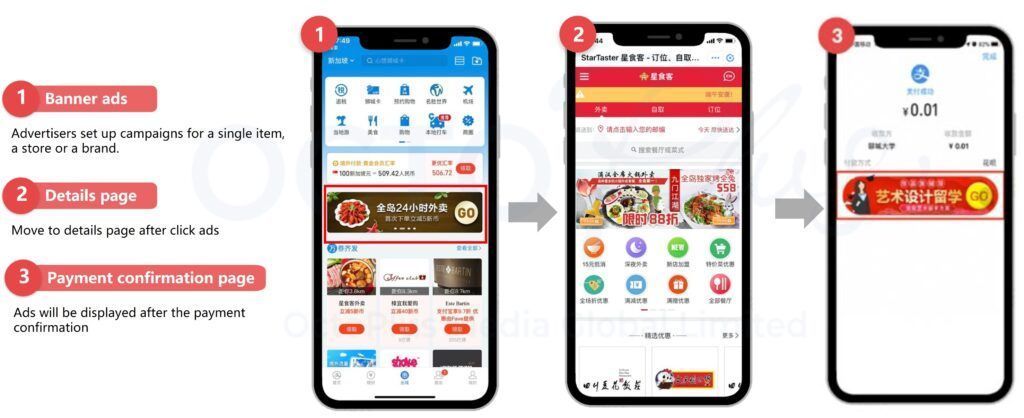 Alipay Ad Display
Banner ads: Advertisers set up campaigns for a single item, store, or brands

Details page: Move to the details page after clicking an ads

Payment confirmation page: Ads will display after payment is completed.
If you want to know more about Alipay's advertising inquiries, please contact us.
Talk to our team.
It's a team with one single shared goal, which is our client's success. Deliver results for your business now. 
 Email: bd@octoplusmedia.com