China Marketing Insights Monthly Newsletter [September 2022]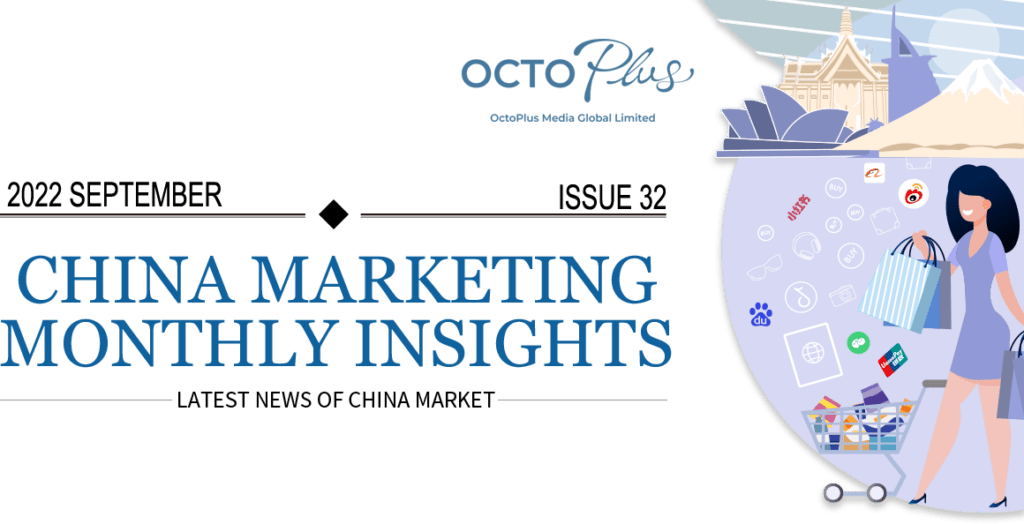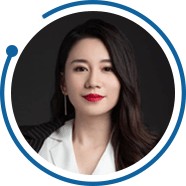 Hello,
Welcome to our September Newsletter.
We bring the latest regulatory updates as it happens in China. "Measures for Security Assessment of Data Export" has been officially implemented since Sep 1, 2022. We break down the details as it impacts all overseas advertisers.
Our research department has analysed 5 key reports this month – 1) China Internet "Native" Gen Z Insights Report – we highlighted Gen Z's online behaviour and dive into how Gen Z has brought about new consumption trends in the Chinese market. 2) China Football Fan Marketing Value Report – we run in-depth analyses of China football fans' insights and FIFA World Cup Qatar 2022 marketing prospects. 3) Overview of China's outdoor advertising data in 2022 – This report is an overview of the data compiled about China's outdoor advertising. 4) 2022 – 2023 China Cross-border Export E-commerce Marketing and Trends – We have compiled various marketing highlights, future development trends, and growth strategies for cross-border export e-commerce.  5)China's Social App Overseas Trend – 2022 Edition – This report sheds light on the differences in social apps, overseas mobile advertising trends, advertisers' key focus and creative guidelines
Finally, in the app of the month, we focus on Jiemian. Jiemian News is an influential and original financial news media in China, we detail the audience segment and marketing opportunities available through their site & app.
Sincerely,
Mia C. Chen
CEO & Co-Founder of OctoPlus Media

CHINA REGULATIONS – MEASURES FOR SECURITY ASSESSMENT OF DATA EXPORT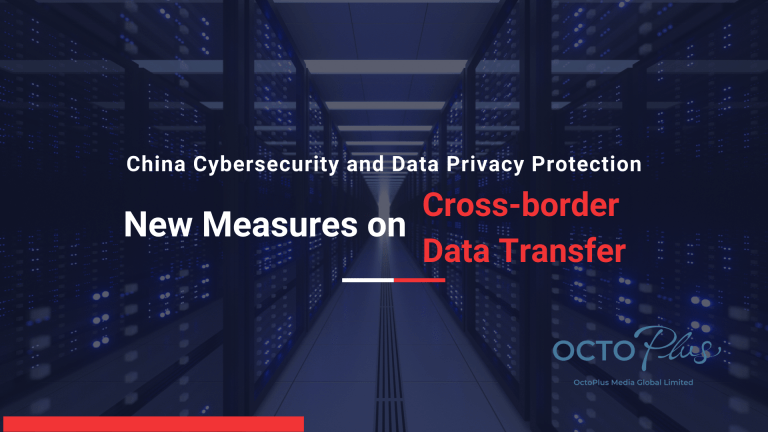 This is part of our series on the regulatory policies updates, reports and advertising laws –  Xiaohongshu Banned 39 Brands, March update, December update, November update, October update, Anti-monopoly crackdown, PIPL, Advertising law, Medical Advertising, IP Location Regulations , Didi US$1.2 Billion Fine.
China's "Measures for Security Assessment of Data Exports" has been officially implemented since September 1, 2022. Many overseas enterprises were not clear on this law as it was ambiguous, now that the law has been implemented the rules have been made more clear. We aim to spell out the salient points that would impact global businesses.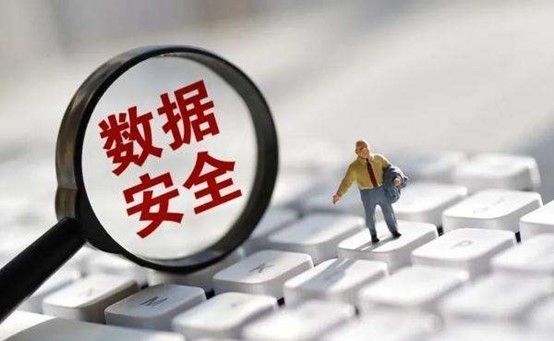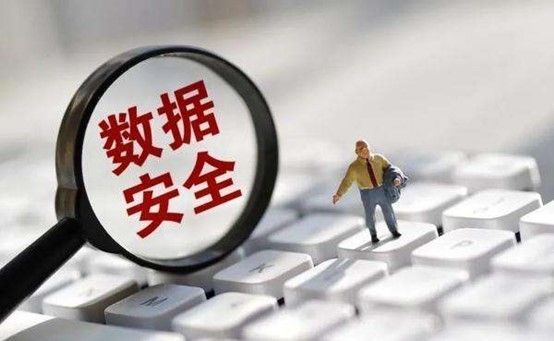 1. What are the situations of data export?
Physical transfer Data processors collect data generated from operations in China and transfer and store data abroad. It should be noted that "exit" refers to going from the mainland to other countries or regions. In the context of China's "data export", Hong Kong, Macao and Taiwan regions belong to the overseas scope.

Overseas visits Although the data generated by domestic operations are stored in China, overseas organizations and individuals can access, view, and call (except for public information and web page access)
2. What are the typical scenarios for data export, especially for overseas enterprises entering China?
Overseas enterprises conduct business in China to collect and use domestic user information The enterprise is registered overseas, although it has no physical operations in China, upon carrying out marketing activities in China, during the marketing process, it will collect the personal information of domestic customers, such as email addresses, phone numbers, geographical location, etc., and upload to the overseas marketing systems for analysis, to target product recommendation and sales. Note – Personal information: Various information related to identified or identifiable natural persons recorded electronically or otherwise, such as name, phone numbers, email address, location information, etc., excluding anonymized information.

Overseas group companies collect and use domestic data This is common in multinational corporations. Multinational corporations set up branches in China, which are responsible for business operations in China, and are also managed by overseas group headquarters. At the headquarters' request, it is necessary to provide contact information, product sales data, employee information, etc., generated during its operation for analysis and processing by the overseas group headquarters, to make unified decisions.
3. Are you an enterprise that needs to worry about the security of outbound information?
Companies that need to declare are:
(1) The data processor provides important data overseas;
(2) Critical information infrastructure operators and data processors handling the personal information of more than 1 million people provide personal information overseas;
(3) Data processors who have provided personal information of 100,000 people or sensitive personal information of 10,000 people cumulative overseas since January 1 2020;
(4) Other situations required to declare data export security assessment as stipulated by the Cyberspace Administration of China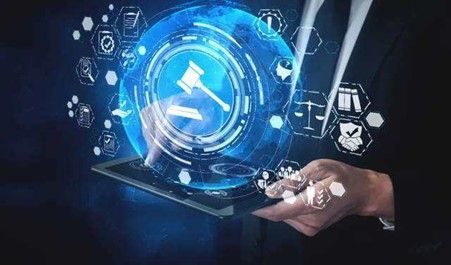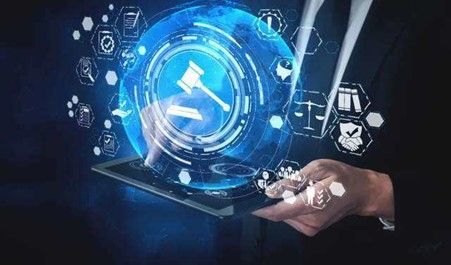 Before exporting data, the enterprise needs to submit a security assessment request to the national cybersecurity and information departments after self-assessment, and the data can only be exported after the assessment is passed.
The standard security assessment process takes longer (at least 3 months). For enterprises that do not meet the requirements but have carried out data export activities, they shall complete the rectification within 6 months from the date of implementation of these measures (September 1), and the deadline is February 28, 2023.
We will continue to follow China's regulatory policy updates, contact us to understand more and discuss China's marketing strategies.

CHINA INTERNET "NATIVE" GEN Z INSIGHTS REPORT
Born seamlessly into the age of the internet era, Gen Z is deeply influenced by digital information technology, smartphones, mobile videos, etc. QuestMobile has released the Gen Z Insights Report 2022, which provides an in-depth analysis of the purchasing power of the "native" Gen Z, discusses Gen Z's online behaviour and shows how Gen Z has brought about new consumption trends in the Chinese market.
According to QuestMobile's data analysis, after going through the internet era of 2G, 3G, 4G and 5G, "native" Gen Z online active users have reached 342 million as of June 2022.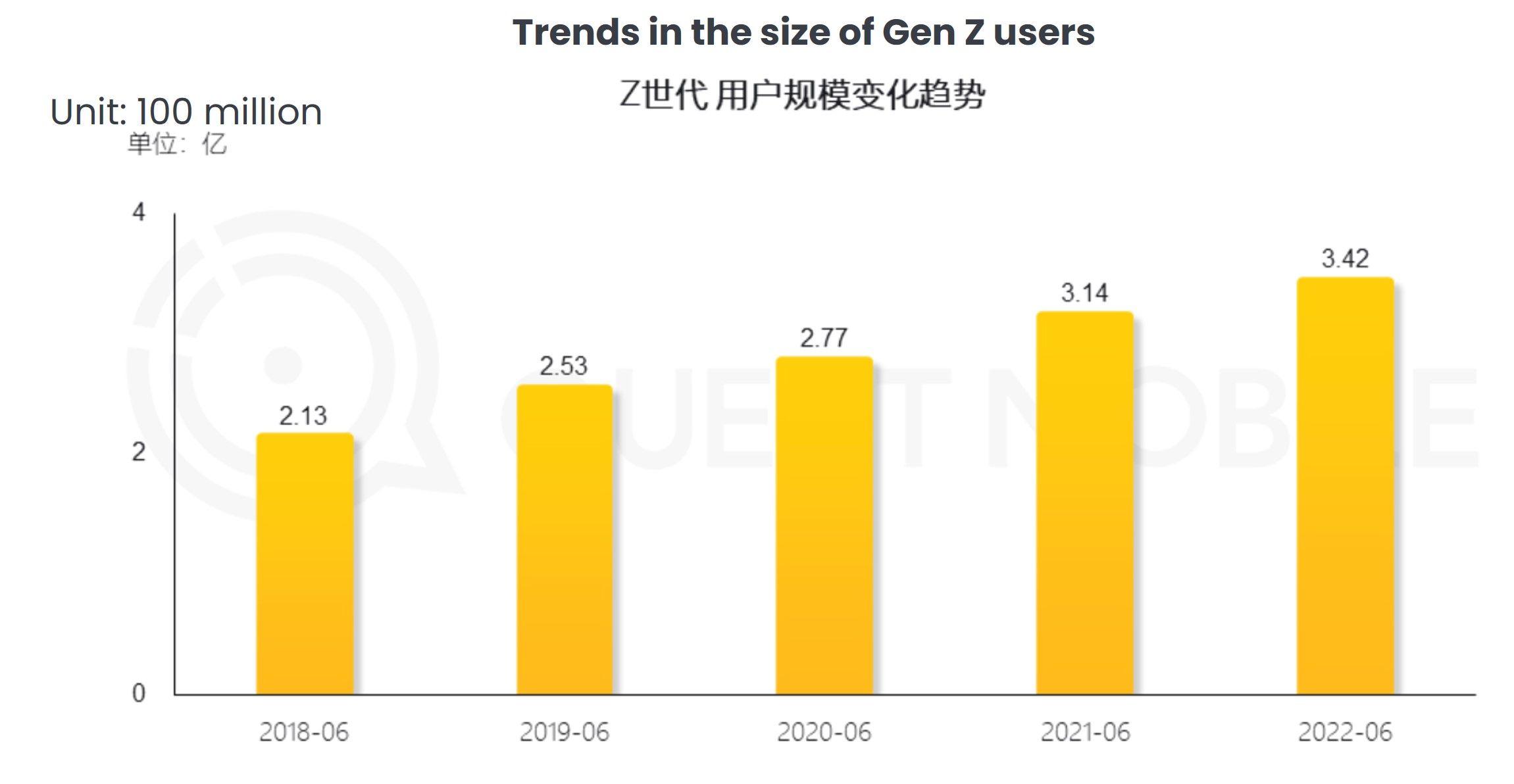 Gen Z users use the internet extensively for both study and life, with an average daily usage time of 7.2 hours, and a monthly average usage time of close to 160 hours. The mobile internet has changed the time allocation of Gen Z, activity from 21:00 to 0:00 is higher than that of users across the entire network.
As China's economy and culture flourish, Gen Z has placed more emphasis on social activities, respect and self-actualizations needs. Mobile video, mobile social networking and game entertainment are the main online daily activities of Gen Z, accounting for the total usage time of 37.4%, 28.5% and 7.9% of the TOP 3 industries, which are higher than the average level of the whole network. Specific APP monthly per capita daily usage time TOP 5 are Honor of Kings (2.23 hours), Kuaishou (1.88 hours), Kuaishou Express Version (1.86 hours), Douyin (1.85hours), Game for Peace (1.84 hours).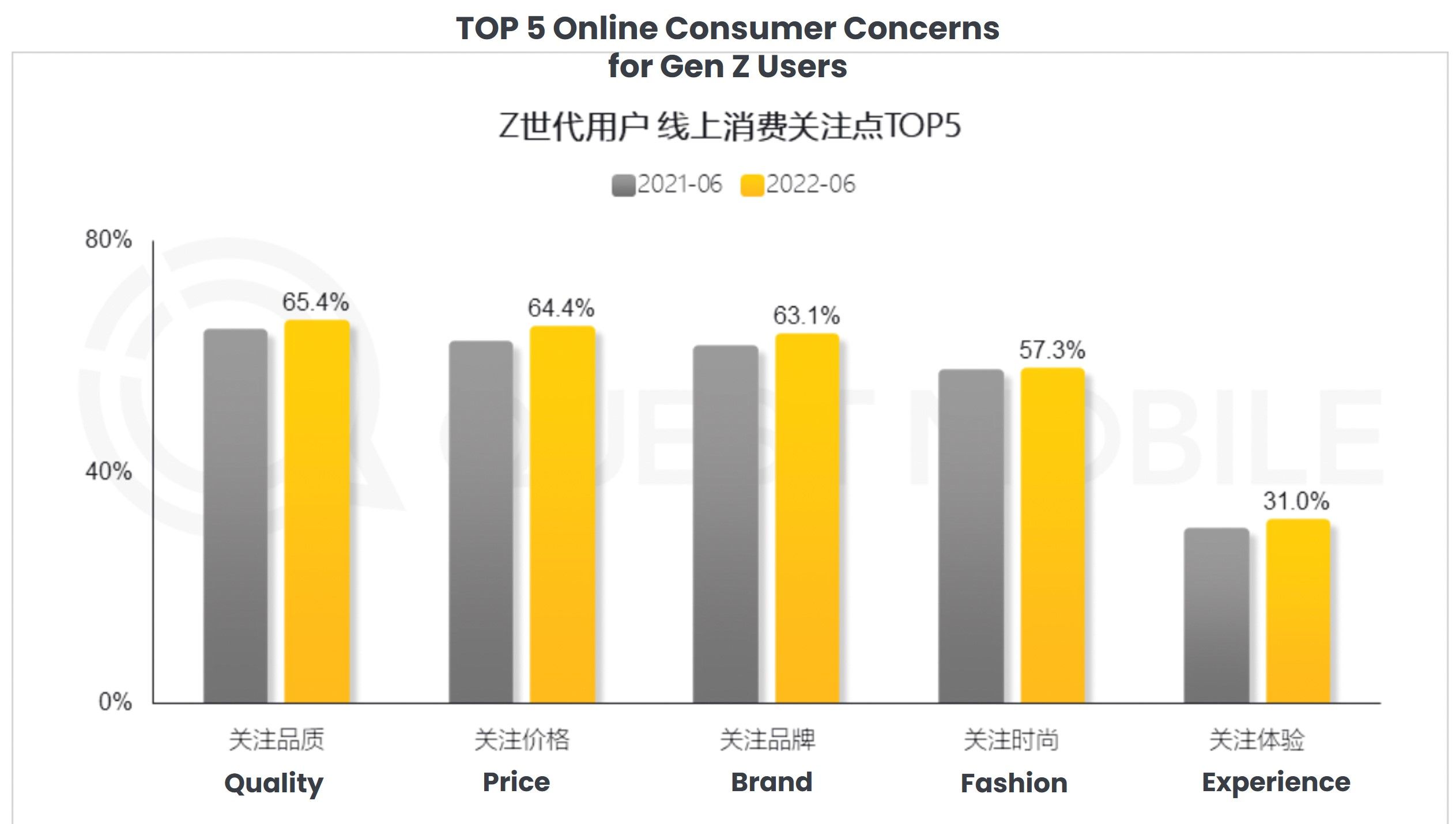 The post-00s Gen Z, the majority are students who tend to spend more time on education and learning APP, and at the same time, they love knowledge experts in various fields. Gen Z who has gradually stepped into society, have begun to favour recruitment apps and vocational education apps to improve themselves. Gen Z, who stays at home, seems to be dependent on food delivery apps. In addition, the traffic of smart home apps and sports and fitness apps has also increased. KOL Liu Keng-Hong's home fitness and live interaction have attracted many Gen Z audiences, especially the young group born in the 90s and 00s.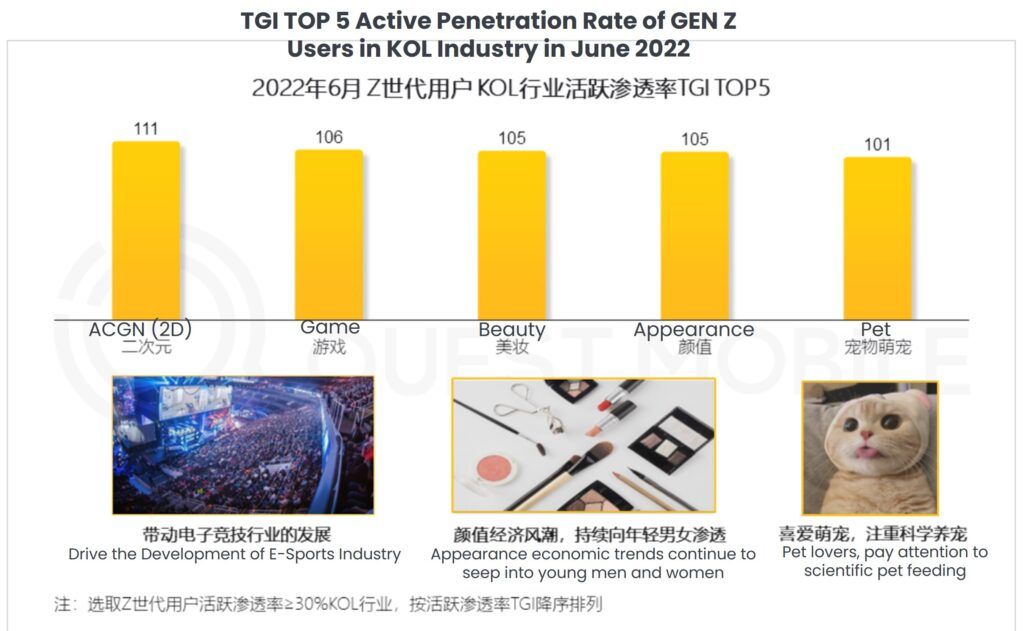 As for hobbies, Gen Z prefers the content of 2D anime, games, beauty, personal grooming and pets. For example, League of Legends, Honor of Kings, and Game for Peace e-sports content are skewed toward male users, and male users have also increased their interest in beauty content. The number of KOLs on the Xiaohongshu platform accounts for the top position in the beauty category, more than 60% of the users of the beauty KOL TOP 5 are young users aged 30 and below. Through diversified creative methods, cute pet KOLs have attracted the attention of Gen Z users and favoured pet apps.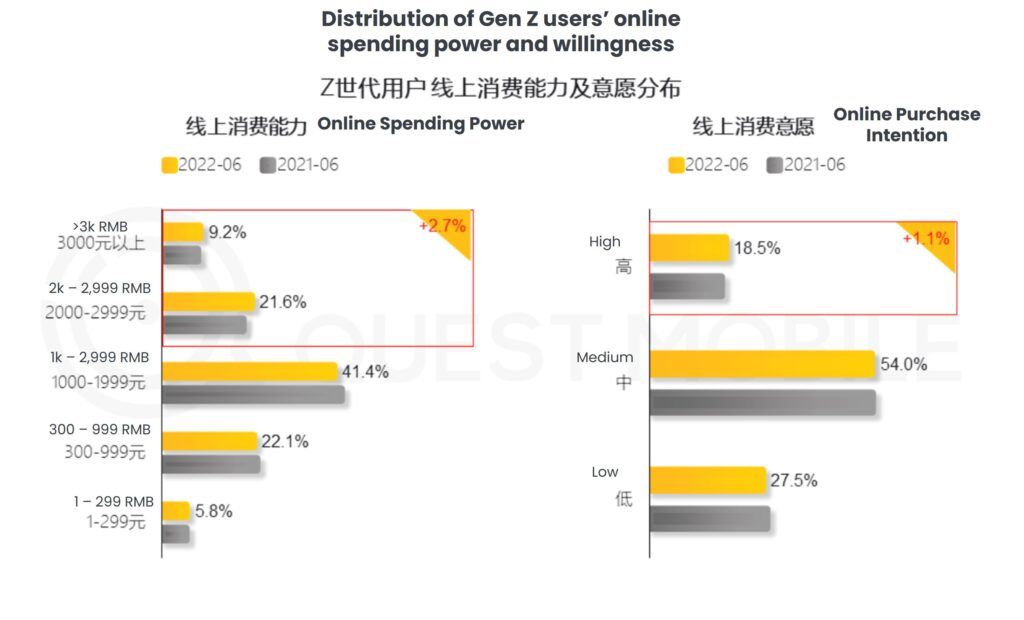 Gen Z has gradually entered the workplace, with the growth in online consumption ability and willingness, the proportion of users with an online spending power of more than 2,000 yuan accounted for 30.8%, an increase of 2.7% YoY. Although Gen Zs' spending power has grown and pursued fashion trends and shopping experiences, at the same time, it is also rational consumption, relatively focused on quality.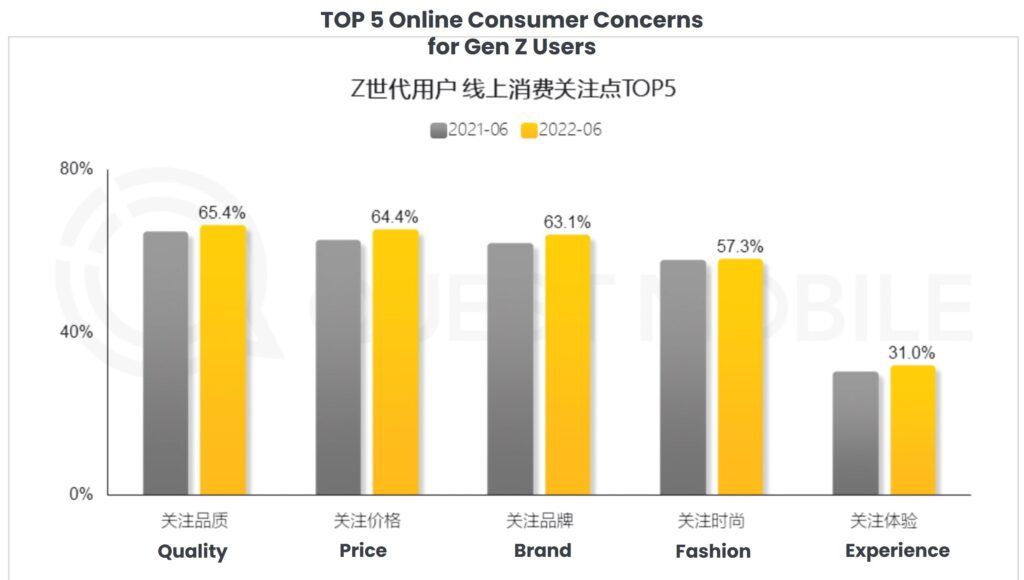 Gen Z users' demand for immersive and emerging entertainment has increased and at the same time, they have begun to pursue exquisite life and healthy lifestyle and have also set off consumer demand for national trendy culture.
If you would like to know more details, please contact us.
2022 CHINA FOOTBALL FAN MARKETING VALUE REPORT
Football is the world's most popular sport, with 3.5 billion fans worldwide, Latin America, Europe, the Middle East and Asia have the largest fan base. These fans often support their national team, local club, "world" club, or specific players. Football doesn't just attract the interest of fans around the world: from sponsorship to broadcasting, from club ownership to the value of the major football stars, football's influence is universal.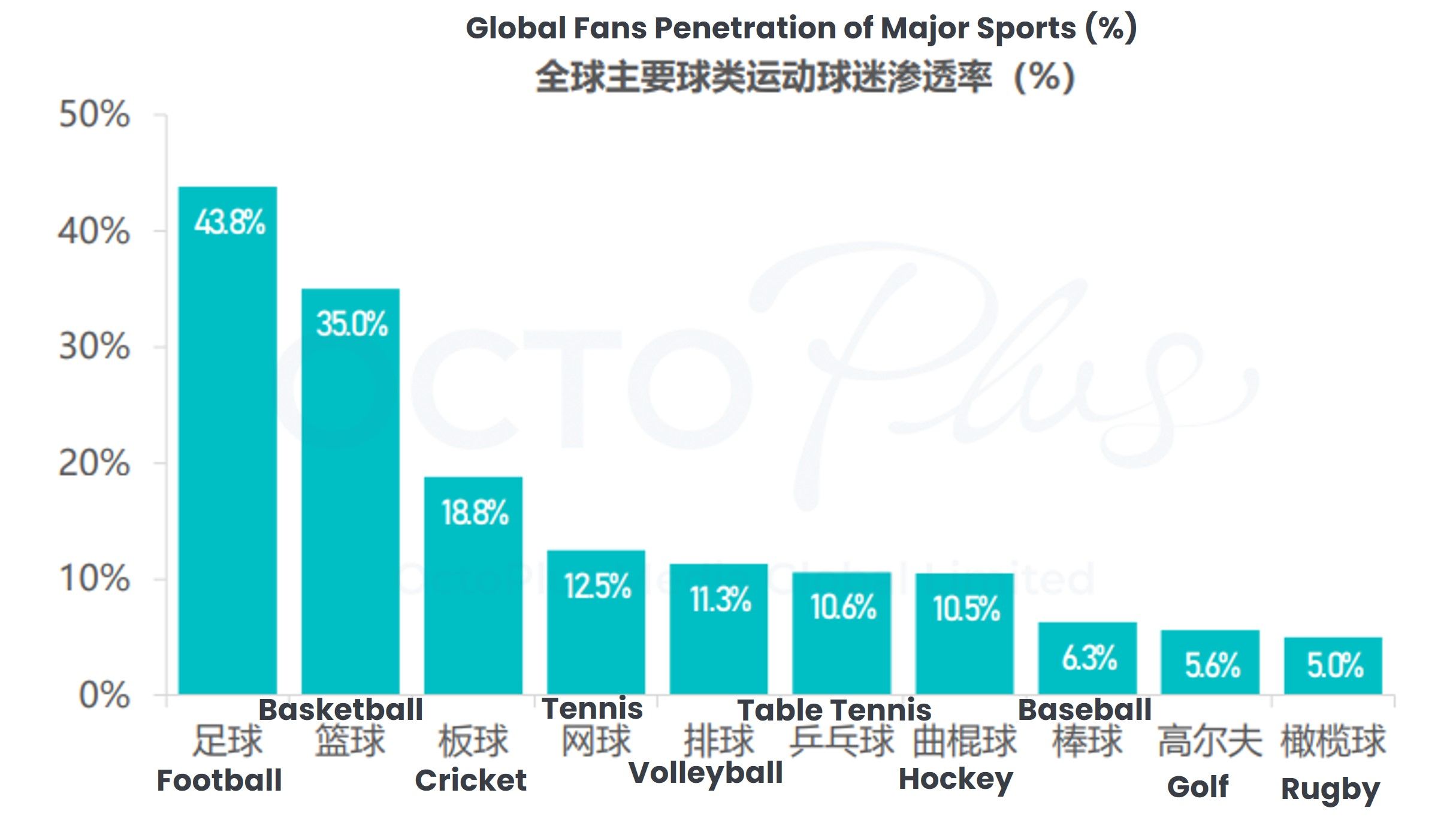 International football matches have become an important medium for brand marketing and an important part of the global brand marketing market, successfully representing the most dynamic growth industry in the world. The upcoming FIFA World Cup Qatar 2022 is one of the most important marketing opportunities in 2022. Based on Fastdata's "2022 China Football Fan Marketing Value Report", the report thoroughly analyses the development status of global football and also takes into account the portraits and valuable insights of Chinese football fans, to further analyse the marketing prospects of FIFA World Cup Qatar 2022.
The female fan base continues to grow, with 70% of women finding the Men's World Cup attractive.
Football is also the most popular sport among female fans. According to the data, 31% of women are interested in football, followed by basketball at 28%, and athletics and tennis at 26% and 13% respectively.
China has the world's largest fan base, with huge potential for football consumption
Counting the urban population alone, 228 million people in China are "interested" or "very interested" in football, and 125 million people in India are "interested" in football. This has allowed China and India to surpass the traditional football powerhouses of Brazil, Germany, Britain, France, Italy, etc., to become the two countries with the most football fans.
Portraits of Chinese football fans
With 289 million football fans, China has the largest fan base in the world and is one of the important markets for global football marketing. Nearly 90% of fans are male, and the post-70s and post-80s are the main groups of Chinese fans.

Football infrastructure is mainly distributed in cities and towns, nearly 80% of Chinese football fans live in China, of which 78.8% are in urban areas, and 21.2% are in rural areas. Chinese football fans are mainly distributed in third-tier cities (26.3%), fourth-tier cities (24.6%) and second-tier cities (15.6%).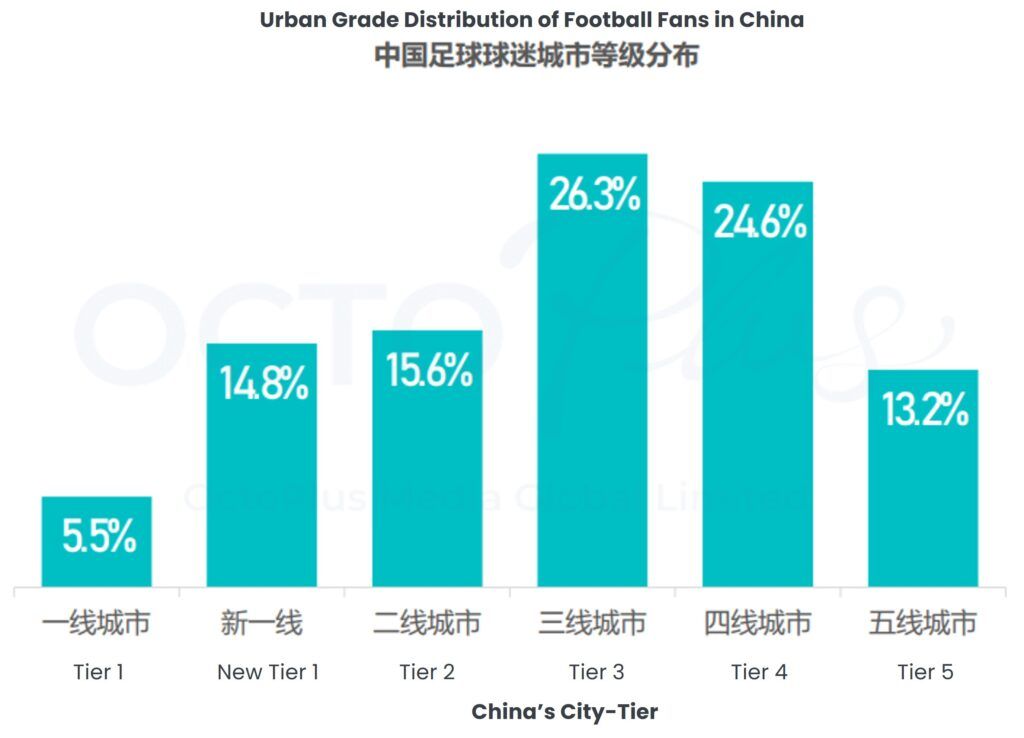 In terms of educational background, nearly half of China fans have a university degree or above, and the general educational background of China fans is higher than that of internet users. In addition, the average purchasing power of China football fans is higher than the average, nearly half of the fans earn more than 10,000 yuan per month and the commercial value is relatively high. Nearly 60% of fans have been watching football for more than ten years, and the proportion of new fans in the past five years is relatively low.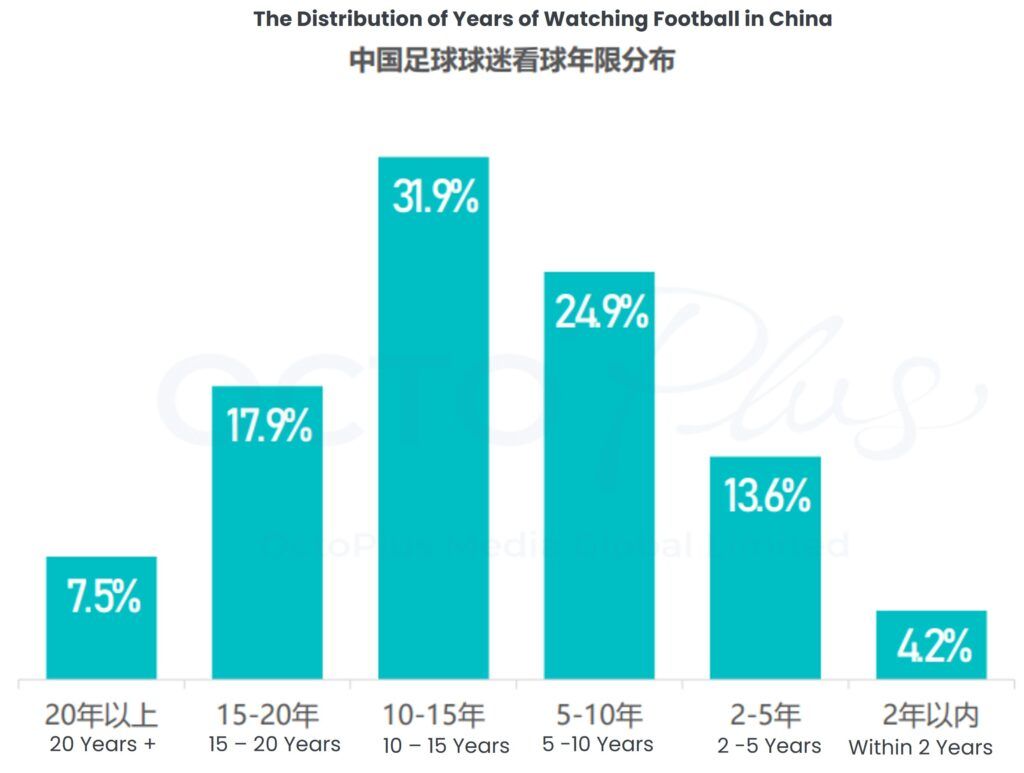 More than half of China's fans watch football less than once a month, and mobile phones have surpassed TV to become the most important way for fans to watch football. In terms of content, game highlights and browsing football forums are important parts of the China fans watching football. CCTV-5, Migu, PP Sport, iQiyi Sports, Dongqiudi and Zhiboba are the main platforms for fans to watch live broadcasts, highlights, and post-match discussions.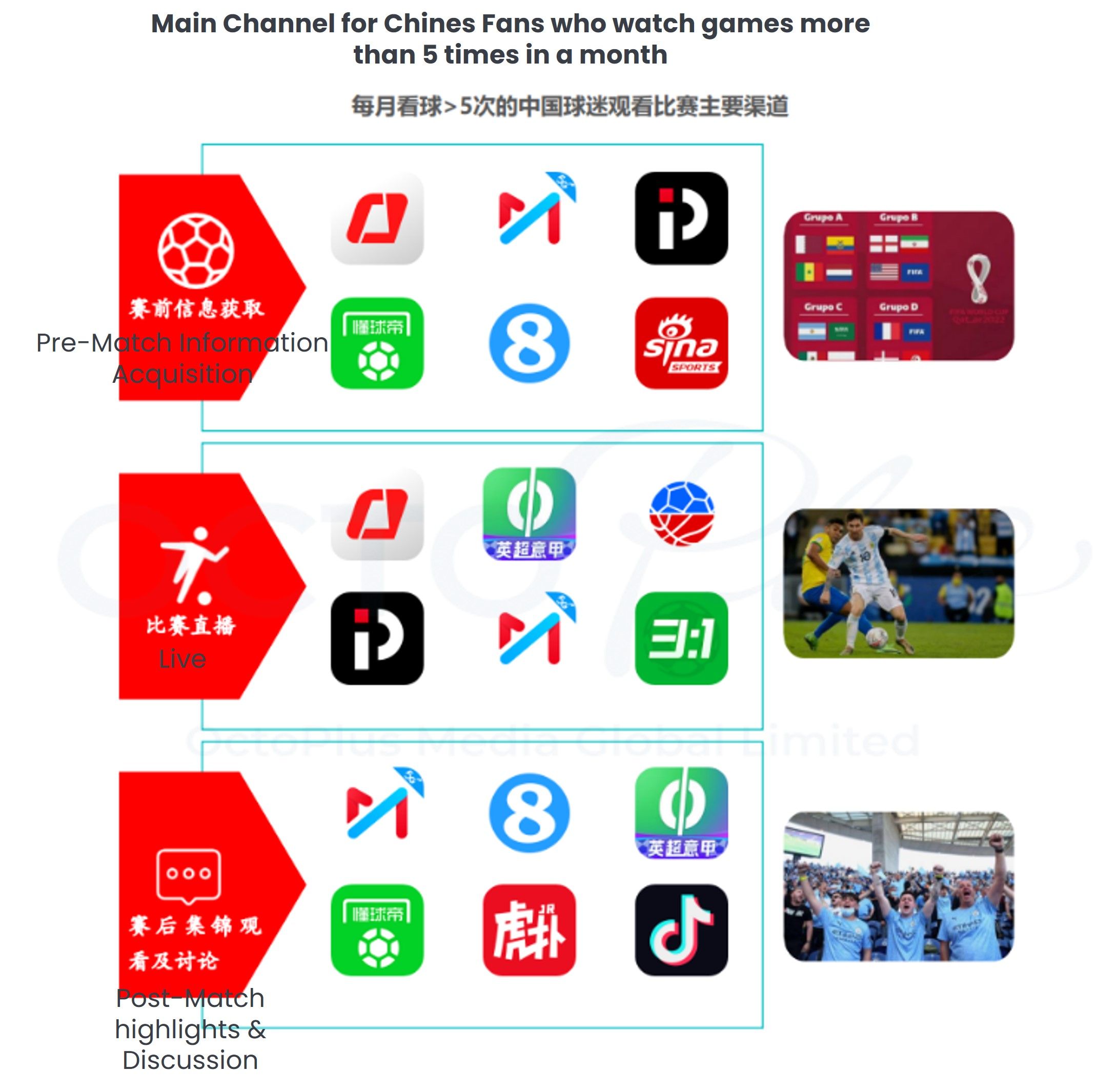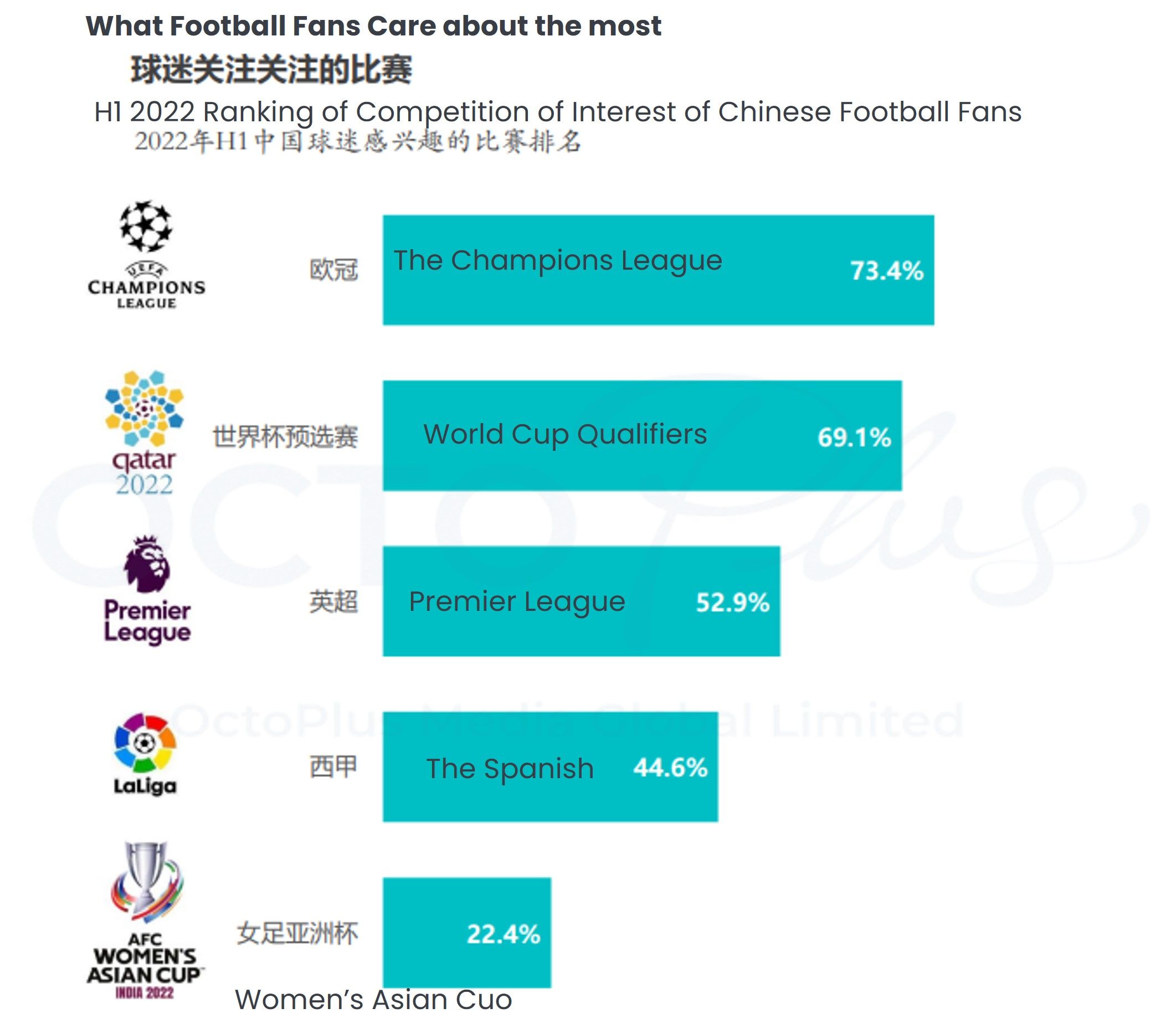 In the first half of 2022, the UEFA Champions League and World Cup qualifiers attracted the most attention from fans, the AFC Women's Asian Cup surpassed the Bundesliga and Serie A and was shortlisted in the top five.
FIFA World Cup Qatar 2022 Media Marketing Outlook
The FIFA World Cup Qatar 2022 will begin in November, and the marketing activities related to the World Cup will become one of the key projects of marketing for various brands in 2022. Brands need to explore ways to win in the highly competitive World Cup marketing activities. Renowned brands are trying to increase revenue through advertising. In-depth knowledge of the FIFA World Cup Qatar can help brands carry out effective marketing campaigns in the most digital World Cup ever.
Like the Olympics, the FIFA World Cup is one of the truly "mega-events" in the sports world, with billions of spectators enjoying a wonderful sporting feast every four years. World Cup media rights revenue has become FIFA's largest source of revenue, as broadcasters are willing to pay more for broadcasting rights to attract large audiences, although the World Cup is mostly broadcast for free in most football markets.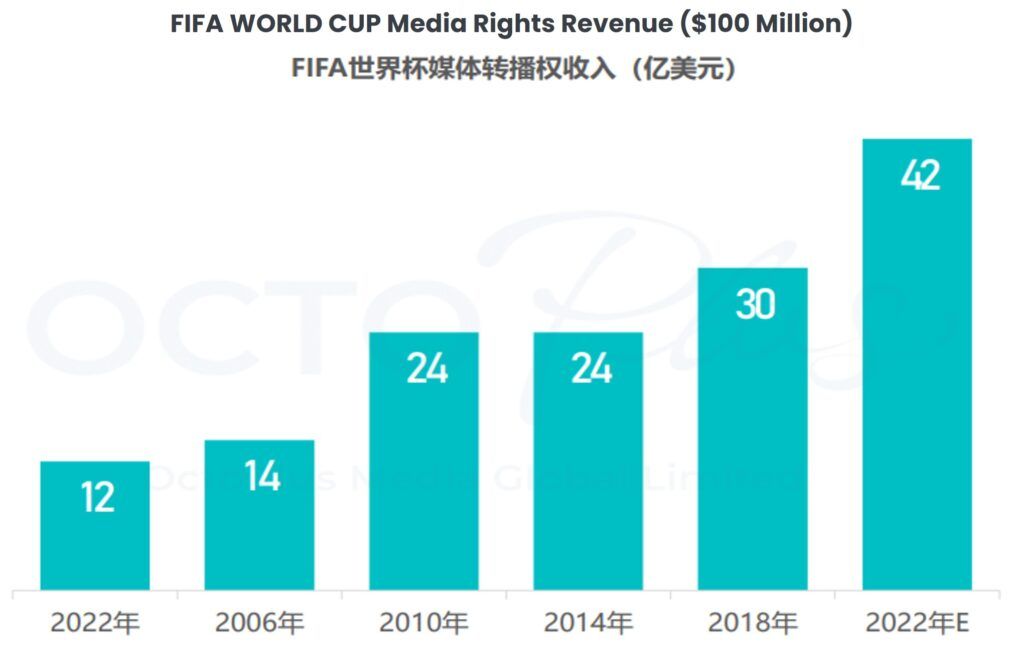 The media's investment in World Cup broadcast rights continues to grow, and the current investment in 2022 has reached a peak, stockpiling ammunition for a marketing campaign that covers billions of people.
The proportion of China fans watching matches on mobile phones is significantly higher than in other parts of the world, and the marketing value of mobile football information live broadcast platforms is prominent
World Cup 2022 viewers, especially younger ones, have more entertainment options than ever vying for their time. To attract more young viewers, World Cup broadcasters and marketers should preferably offer good mobile viewing options. The younger generation is more likely to watch the World Cup through mobile terminals than the older generation. The proportion of China fans watching football matches through mobile devices such as mobile phones is higher than the global average, and the marketing value of mobile football live broadcasting platforms is obvious.
China spent the most on advertising during the 2018 World Cup
In the 2018 World Cup, companies invested a total of US$2.4 billion in advertising spending, while the advertising expenditure of China companies reached US$835 million, higher than US$400 million for American companies and US$64 million for Russian companies, becoming the top World Cup advertising country.
China enterprises enthusiastically participate in the FIFA World Cup Qatar
China companies continued the "enthusiasm" for the World Cup in Russia during this World Cup. The arrangements around the major championship-winning teams and sports stars were also carried out simultaneously, such as Mengniu Dairy signing Messi and Mbappé as the brand ambassadors, and Yili Group signing three national football teams of Argentina, Portugal, and Spain.
The commercial value of FIFA World Cup Qatar 2022 is doubtlessly
The popular sports economy in the past has verified the growth logic of "fan empathy, mental space, brand value, and consumption growth" generated by sports IP. It also enables China companies facing stiff competition to identify new growth opportunities that World Cup sports marketing can offer brands.
How FIFA World Cup Qatar can enhance China company's global influence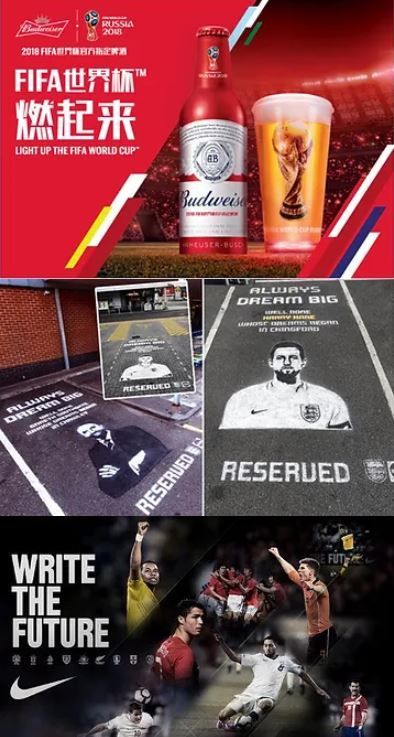 From a marketing perspective, the World Cup has produced many brilliant marketing cases, among these successful cases are Budweiser's lighting up the FIFA World Cup, Liddell's "Dream Big" and Nike's "Write The Future".
However, World Cup-related marketing doesn't necessarily work for every brand, and brands don't need to try to incorporate football messages into their ads, thinking that all football lovers will buy products printed with their own brands.
Instead, brands should ensure that ads are product relevant as much as possible to football matches to increase brand awareness among users, rather than using overly generic ads, as such ads are glimpsed in World Cup hype.
The World Cup is not only direct marketing for brands but also an opportunity to show the world what the company values and how it is viewed globally, which is especially important for China companies going global.
Contact us to find out how to promote your brand through the FIFA World Cup Qatar 2022.
OVERVIEW OF CHINA'S OUTDOOR ADVERTISING DATA IN 2022
Below is an overview of the data compiled by CTR Media Intelligence for China's Outdoor Advertising Data Report for the first half of 2022. Notably, all industries have been hit hard by the epidemic, leading to an overall decline in advertising market spending. The most significant declines are traditional outdoor advertising and cinema video, while elevator LCD and elevator poster advertising increased about 4% – 7%.

From the perspective of key industries, alcoholic beverages, pharmaceuticals, and personal care products have played a prominent role in outdoor advertising in the first half of 2022. The beverage and alcoholic beverage industry has a larger increase in elevator advertising and is higher than other industries. Spending on industry categories such as tea, yogurt, raw milk, and dairy-based beverages has increased significantly YoY.
Traditional outdoors
In the first half of 2022, traditional outdoor advertising decreased by 34.6% YoY, while among the TOP 10 industries (major categories), only alcoholic beverages and transportation saw a YoY increase in advertising spending, increasing by 12.4% and 1.1% respectively; the most significant YoY decline was seen in IT products and services (-55.6%), followed by real estate/construction (-54.2%) and commercial and service industries (-50%).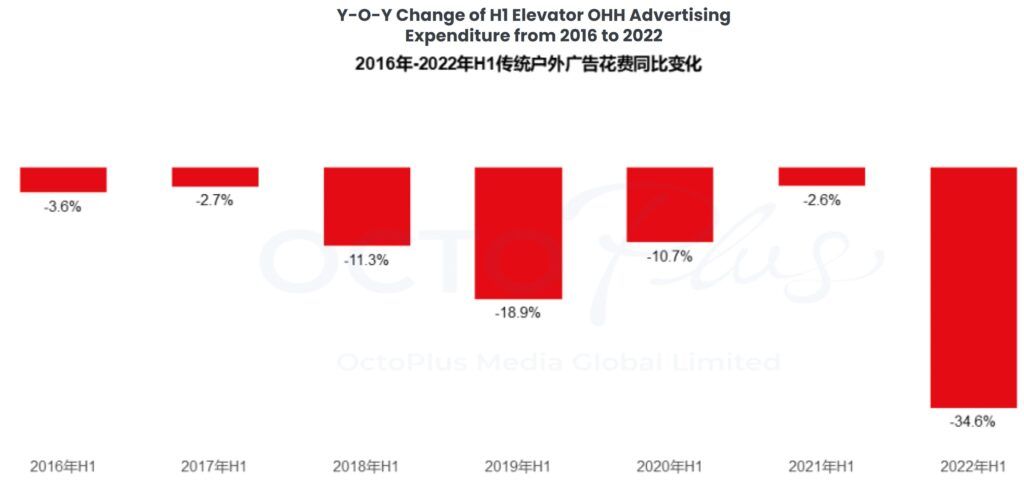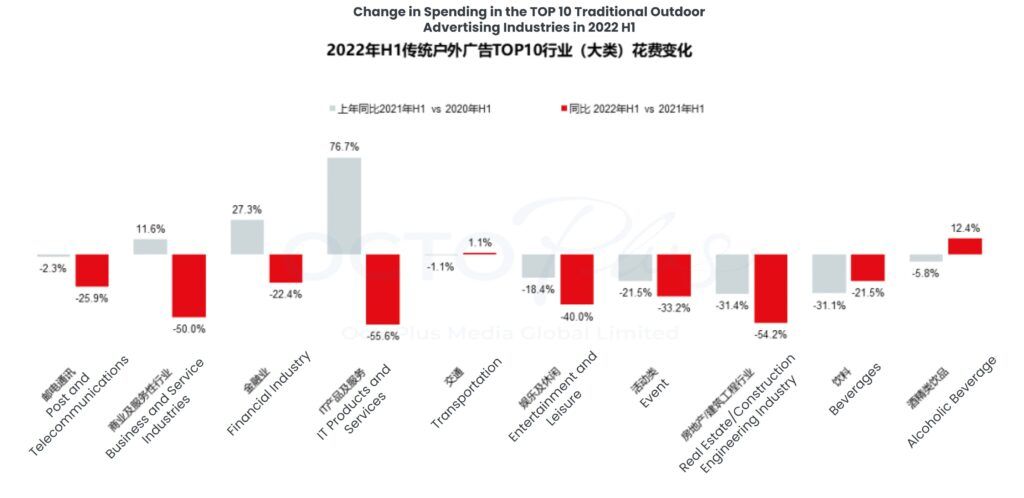 The financial industry, the 11th in the TOP30 list, has the largest increase in the cost of traditional outdoor advertising, compared to other industries, such as the top 3 network services, mobile applications and services and medical/healthcare organizations are all in the trend of reducing costs.
The TOP 5 brands in the advertising spending list: Quanjing, Ganji, VIVO, Pupu Supermarket WeChat Official Account, Apple

The TOP 5 of the new brand in the first half of 2022: Jinchen, Audemars Piguet, Fengyunxing, Guangzhou University MBA Education Center, Aderans
Elevator LCD
In the first half of 2022, among the elevator LCD advertising with a YoY increase of 3.9%, the biggest changes in spending include pharmaceuticals, household items and alcoholic beverages, all of which are greatly increased in elevator LCD advertising, and other industries include beverages, food, clothing, personal care products, etc.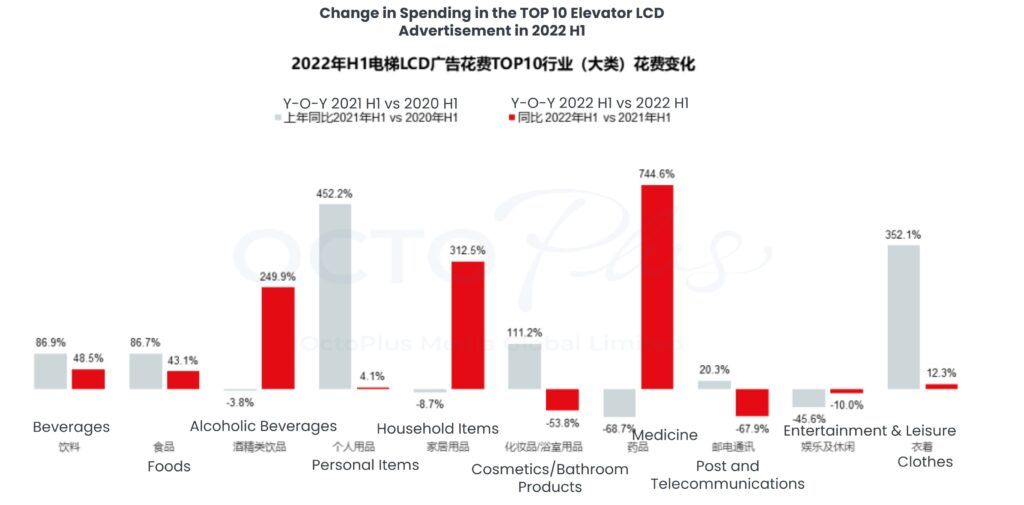 In elevator LCD advertising spending, the beverage is a key industry, with dairy beverages topping the list, while solid beverages, beverages – corporate image, liquid beverages, and Chinese food wines are in the top 10, almost all of them have increased in the YoY change in advertising spend. In addition, industries with a YoY change of more than 1000% include digestive system medicines, kitchen appliances, automotive services, cold medicine and communication products.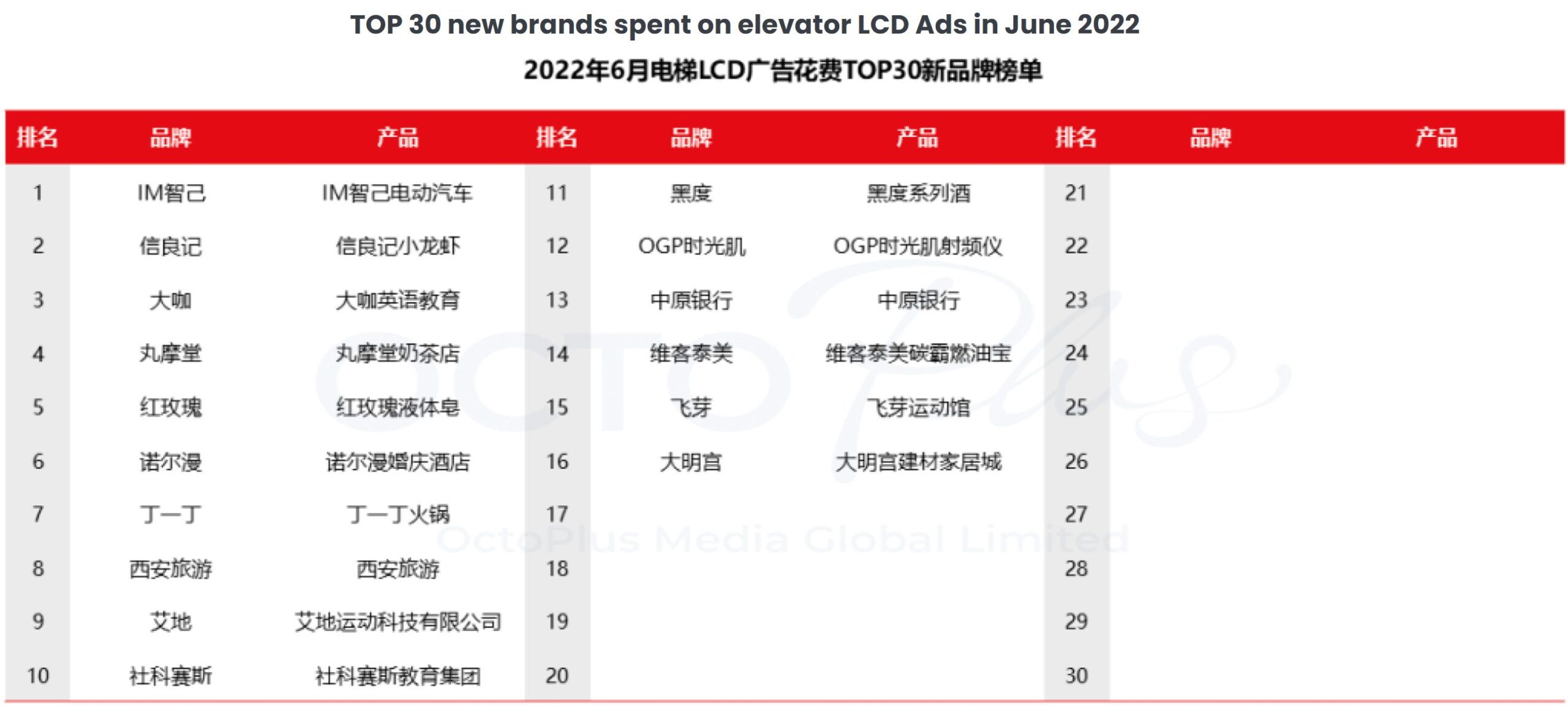 The TOP 5 industry brands in the advertising elevator LCD are Milkground, Mengniu Dairy, Junlebao, Yili and Campanile

Top 5 new brands: IM Motors, Xinliangji, Daka Elite, One More Time and Hongmeigui
Elevator Poster
Elevator poster advertising also increased by 7.7% YoY in the first half of the year, among the TOP10 industries (main categories), half of them have increased and the other half have decreased, with the largest increase in personal goods while post and telecommunications have the largest decline. Just like the elevator LCD advertising, the top industry (medium) category is the same as dairy beverages, with the difference that the second and third categories are Chinese food wine and solid beverages.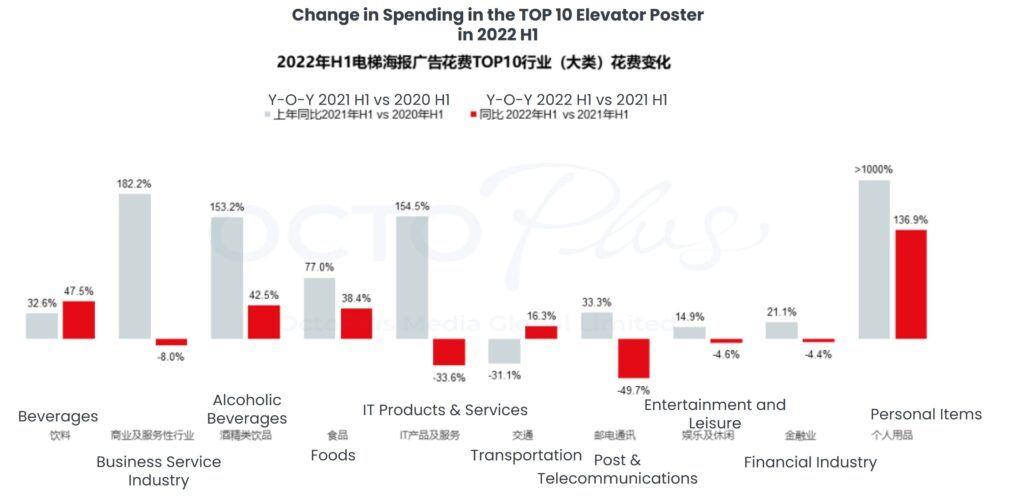 The top five brands in the TOP 50 brands with advertising spending on elevator posters are Tucano, Mengniu, Junlebao, Yili and Campanile

Top 5 new brands in the TOP30 list: Xinliangji, Deepure, Luhuibao, IM Motors, Mount Ermei Mineral Water
Cinema Video
Cinema video saw the largest YoY decline in advertising spending in the first half of 2022, with an overall decline of 51.2%. Compared to outdoor advertising spending, most of the TOP10 industries (major categories) are on a downward trend, among which only transportation (2.9%), alcoholic beverages (111.8%), activities (127%) and food (2%) are increased.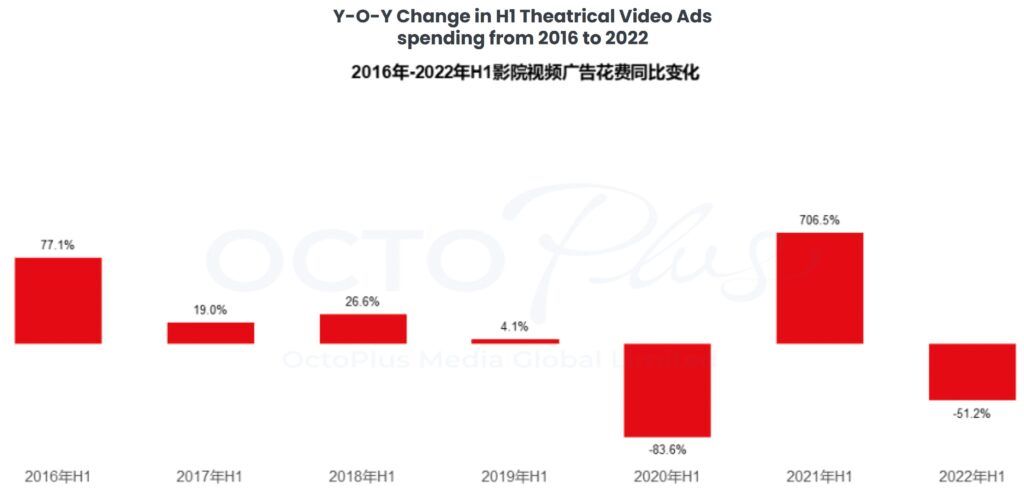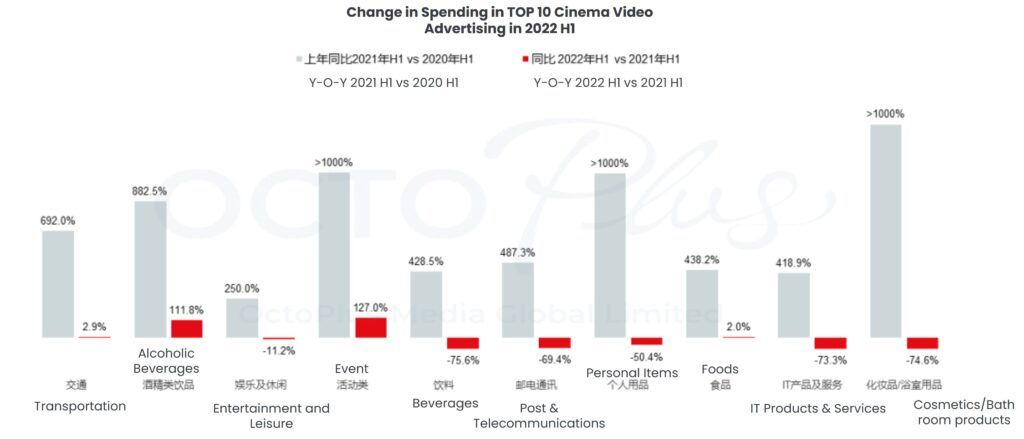 Only a few key industries (medium category) showed significant YoY increases in advertising spending, including transportation – corporate image, sports, apparel, wine and liquor, retail services, and jewellery/accessories. Representative brands that have significantly increased their investment include BMW, Torre Oria, Brilliance Auto, Milkground, BMW Mini Cooper, Adidas, etc., and according to the data, there are no new brands for cinema video advertising.
For more details, please contact us!
2022 – 2023 CHINA CROSS-BORDER EXPORT E-COMMERCE MARKETING AND TRENDS
In the past year, China has ranked first in the global import and export ranking, with a net import and export commodities reaching about 605.1 million US dollars in 2021, of which the export value of commodities exceed 3.36 trillion US dollars and the total import value is about 2.69 trillion US dollars. The United States and Germany rank second and third respectively.
Despite being affected by the epidemic in the economic environment, global e-commerce maintains its growth trend and achieves rapid development, while cross-border e-commerce has a breakthrough. The Morketing Research Institute conducted an industry survey on China's cross-border export e-commerce and published the report "2022-2023 Cross-border Export E-commerce White Paper: "In Search of Certainty". Based on this report, we have compiled various marketing highlights, future development trends, and growth strategies for cross-border export e-commerce.
Marketing Playbook
Social media platforms such as Google, Facebook, Instagram, TikTok, YouTube, etc remain as main delivery channels

Use short video marketing to promote your brand and unlock the value of private domain traffic, leading to conversions and becoming a new consumption channel for cross-border e-commerce

Strong interaction, strong product longing and strong conversion will continue to be promising, including short videos, KOL influencer marketing and live broadcasting

Marketing methods that integrate with emerging technologies such as AR, VR, etc., can increase topicality and attention with diversified delivery layouts
Conversion cost and conversion rates
According to Skai.io's data report, the overall social media advertising expenditure of China's cross-border e-commerce in the first quarter of 2022 increased by 10% year-on-year, but advertising only achieved 95% of the number of social media advertising impressions in the first quarter of 2021, indicating that traffic efficiency is reduced and ad conversion rates are decreasing. Judging from the survey results, cross-border e-commerce is currently facing difficulties in customer acquisition and conversion, as most cross-border e-commerce sellers have insufficient knowledge of the industry and consumers in the target areas, such as different consumption habits of consumers in China and abroad, uniform traffic layout, inaccurate target audience, etc.
Marketing Transformation
The traditional traffic and distribution model has gradually weakened, refinement and digital model transformation are the current period of change for cross-border e-commerce. The refined model can reduce costs and increase efficiency, rationally plan and allocate human resources. However, most domestic e-commerce sellers are still in the initial and exploratory stage, they do not have enough awareness of the transformation models, ostensibly aware of the importance of transformation but are not yet able to apply it. Sellers need to have more refined data and digital analysis of target customer profiles and consumer behaviour, and actively seek to utilize platforms/systems to improve the efficiency of operations management, at the same time, they also need to optimize the marketing level to ensure two-way improvement of advertising efficiency and effectiveness.
The future development trend of cross-border export e-commerce
1. Digitalization – create digital transformation and innovation for overseas business, whether in logistics, warehousing, service, marketing, management, etc., to achieve overseas product and brand upgrades. Under the "Guidelines for Overseas Investment and Cooperation in the Digital Economy" issued by the Ministry of Commerce, Cyberspace Administration of China, Ministry of Industry and Information Technology, "digital intelligence" is an inevitable option for China enterprises to go overseas.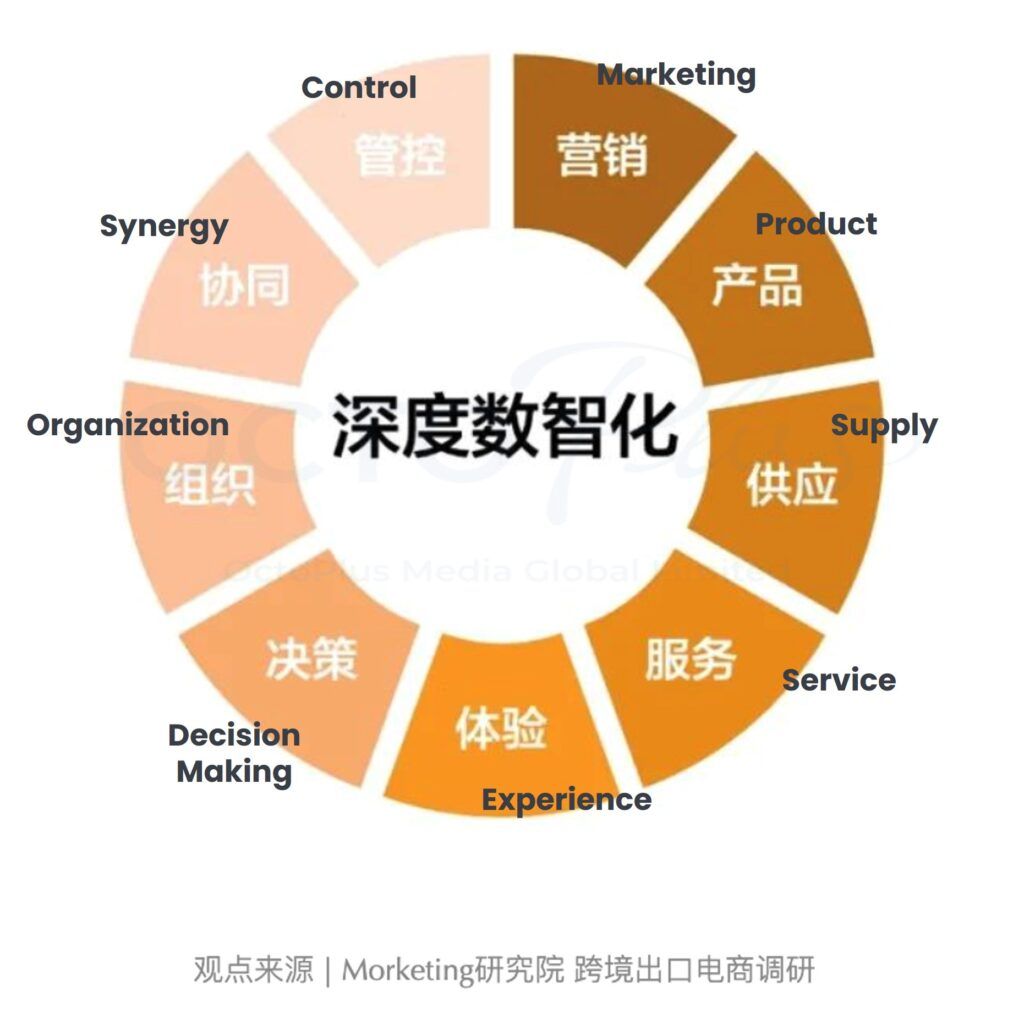 2. Branding – create long-term brand value, seize the brand and image position in the users' hearts, improve awareness and competitive advantage, and the brand DTC (Direct-to-Consumer) independent channel is a strong and effective realization channel. Nearly 90% of the respondents believe that branding is the key development direction for the future.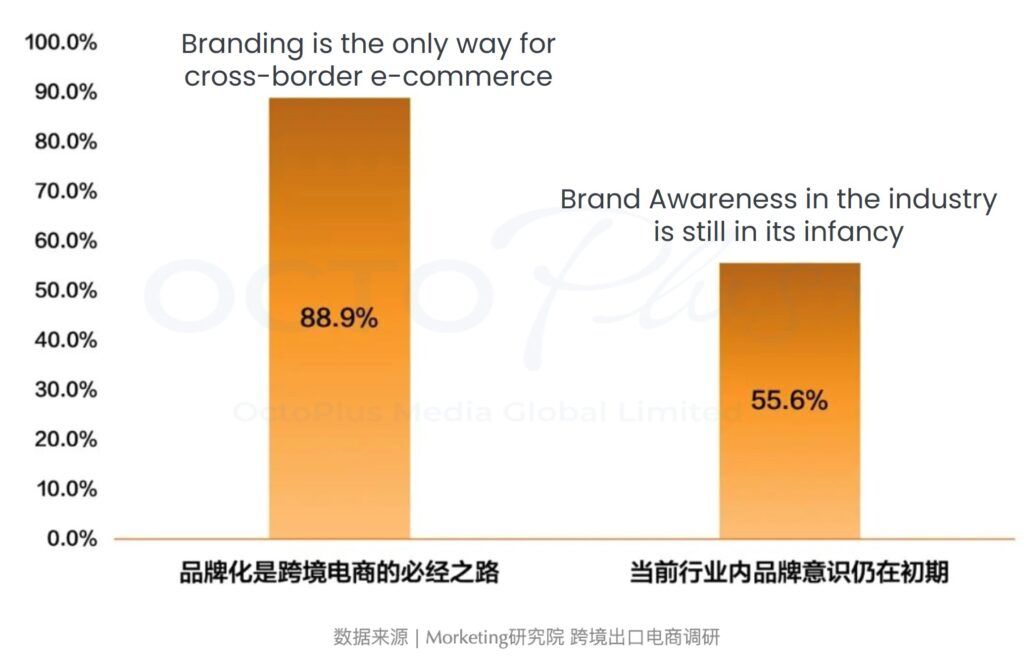 3. Refinement – sellers need to improve the efficiency of traffic utilization with a more sophisticated operational direction or tap into deeper traffic, value-added products, more diversified marketing, as well as a more detailed breakdown and understanding of user groups. With the complexity and ever-changing market, the cost and threshold of enterprise customer acquisition are gradually increasing, and the new requirement of refinement can enable accurate target user positioning and targeted delivery, resulting in more effective traffic conversion.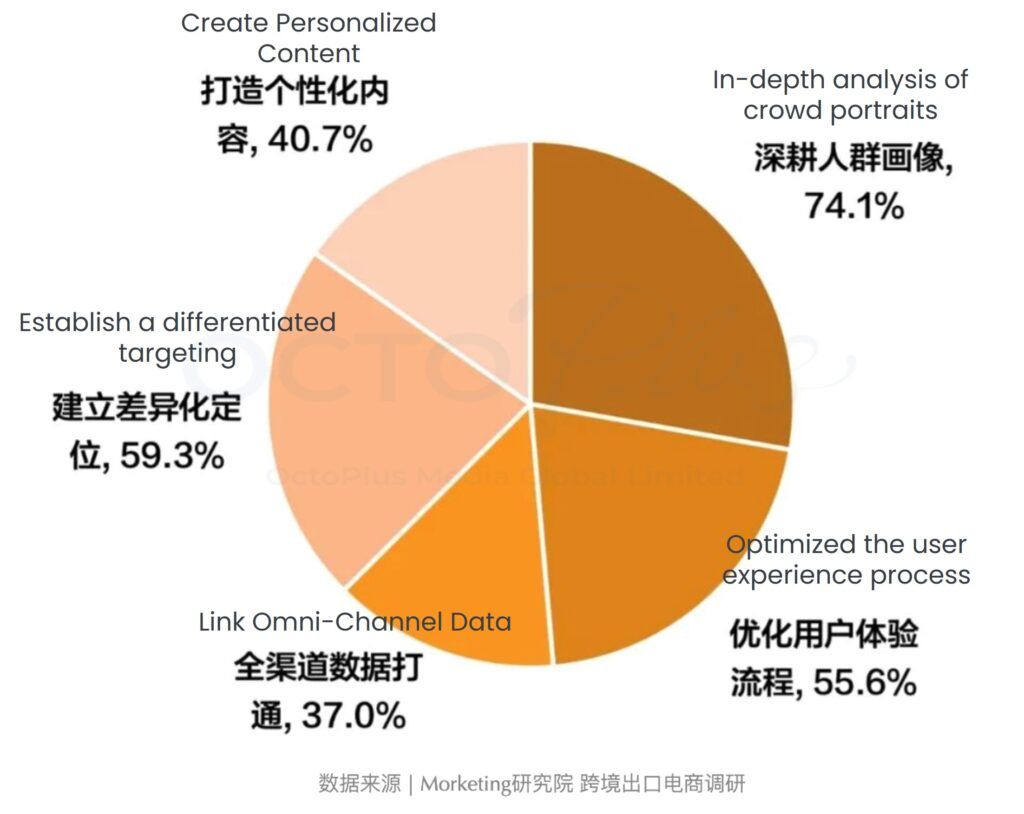 4. Compliance – raise awareness of security compliance, such as compliance of various businesses including finance, taxation, privacy, platform, capital, intellectual property rights, etc., as well as risk control management. Perhaps departmental policies will have an impact on this in the short term, but in the long run, compliance is a benign impetus for the industry.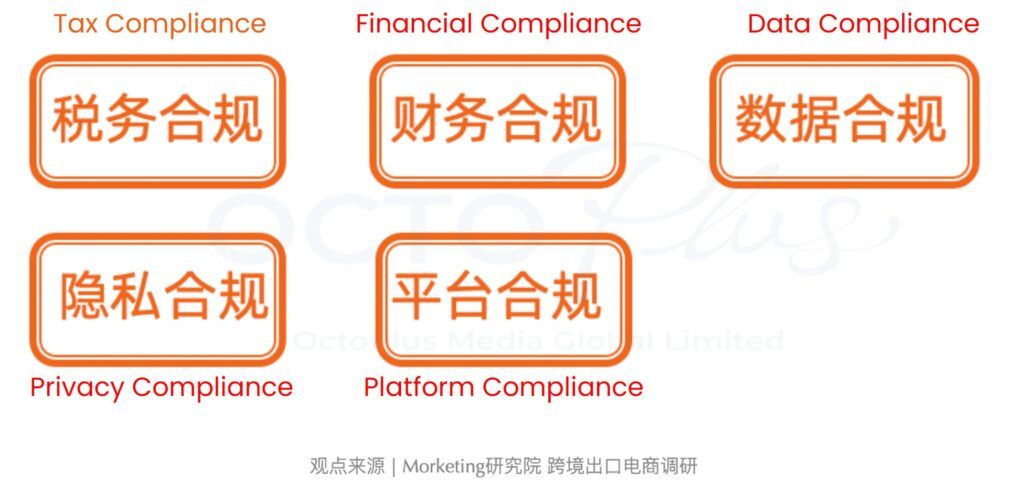 5. Diversification – using high interactivity and strong content marketing is very helpful in promoting, increasing awareness and driving conversions. Therefore, to avoid dependence on a single platform, try to increase the number of off-site traffic in a multi-channel and multi-form layout. The diversified layout logic revolves around the three aspects of sales, marketing and content
Six growth strategies for cross-border export e-commerce
Private traffic growth – market development is becoming more and more unstable in 2022, private domain can achieve various goals at different stages (focusing on selling goods, precipitating users, testing new products, increasing repurchase), and building brand image through the private domain to achieve a brand premium. "Attract new, precipitating, re-operating, and attracting-new" is a circular process created for private domain traffic.

Gameplay breakthrough – the overseas and China market environment is similar, and consumers are influenced by the internet and technological products. Emerging sales channels such as CTV, emerging marketing methods such as integrated VR/AR, partner marketing, guided marketing and other methods are also preferred by sellers.

Digital transformation – even though the digitalization process in the industry is still in the early stage of exploration, business decisions should use data as a reference to establish analytical models to find growth indicators and strategic directions through data insights, etc., while understanding the advantages and disadvantages of users and products

Comprehensive localization – from product to marketing to the team, improves localization strength all around, but localization is a long-term process that needs to be built systematically.

Refined operation – in-depth analysis of user behaviour, equipment, channels and other dimensions, to obtain a complete user profile and achieve refined operation, while effectively using traffic, focusing on user engagement, conversion and exploring the value of traffic. In addition, differentiation is achieved by focusing on the externalization of products and the spiritual core.

Strengthen internal strength – different industries face different challenges and uncertainties, by strengthening internal strength, the ability to withstand risks, offset impacts, and find "certainty" under uncertainty can be improved.
For more details, please contact us!
CHINA'S SOCIAL APP OVERSEAS TREND – 2022 EDITION
Although there are giant social networking products such as Facebook and Instagram in the industry, due to the growing consumption power of the younger generation, social networking, as one of the core areas of internet users, has triggered the rise of many new social applications in the industry.
The "2022 Overseas Social App Mobile Advertising" data released by AppGrowing International Edition sheds light on the differences in social apps, overseas mobile advertising trends, advertisers' key focus and creative guidelines
Overseas mobile advertising trends

From 2021 to 2022, although the proportion of social apps in overseas mobile app advertising continues to decline, the share of ads served in social apps has an upward trend. Despite a slight decline in the second half of 2021, it increased by 1.4% in the first half of 2022, this difference indicates that competition for social app ad placement is gradually becoming fiercer.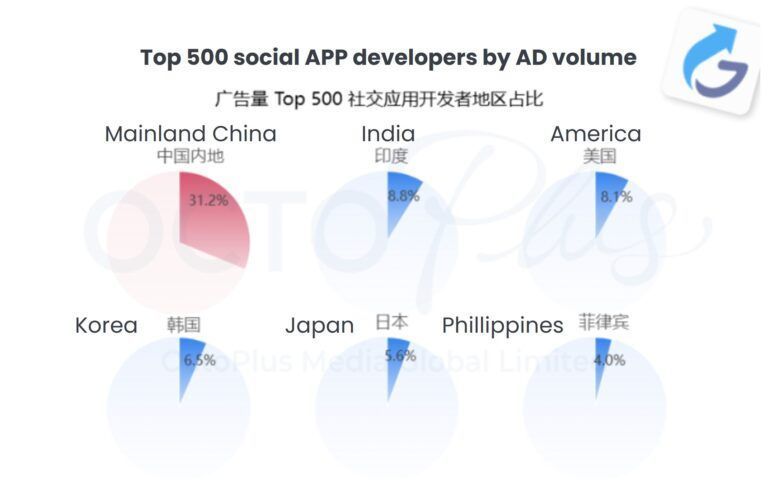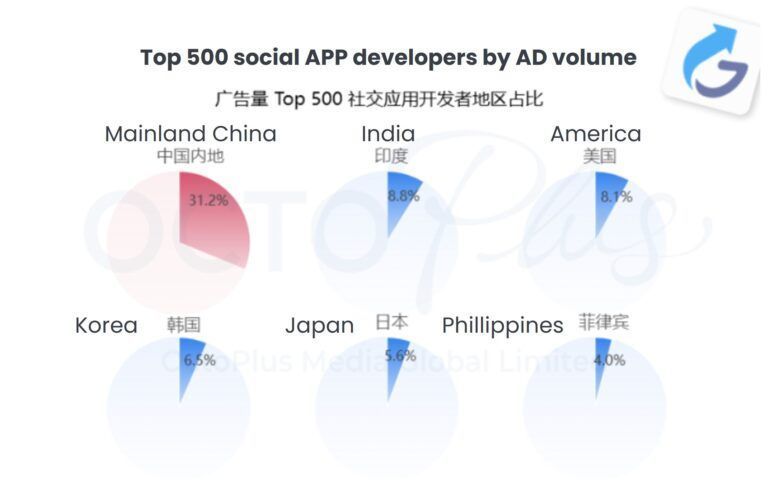 China's social apps accounted for 31.2% of the Top 500 social apps in advertising volume, surpassing the share of other regions. The main competition for China's overseas social app advertising comes from India, the United States, South Korea, Japan, and the Philippines. The regions with the largest number of China's social apps launched overseas are mainly Southeast Asia and the Middle East, where more than 70% of China's social apps are launched.
However, the overseas launched percentage and advertising volume are not proportional. While more than 70% of China's social app markets are dominated by Southeast Asia and the Middle East, the Middle East has only 14.3% of advertising volume, which is lower than Europe and North America, and 26.7% of Southeast Asia. It can be seen that social app advertisers in the Middle East face lower marketing pressure than in Southeast Asia, which is why more advertising needs to be placed in the Southeast Asian market.
Key advertiser's focus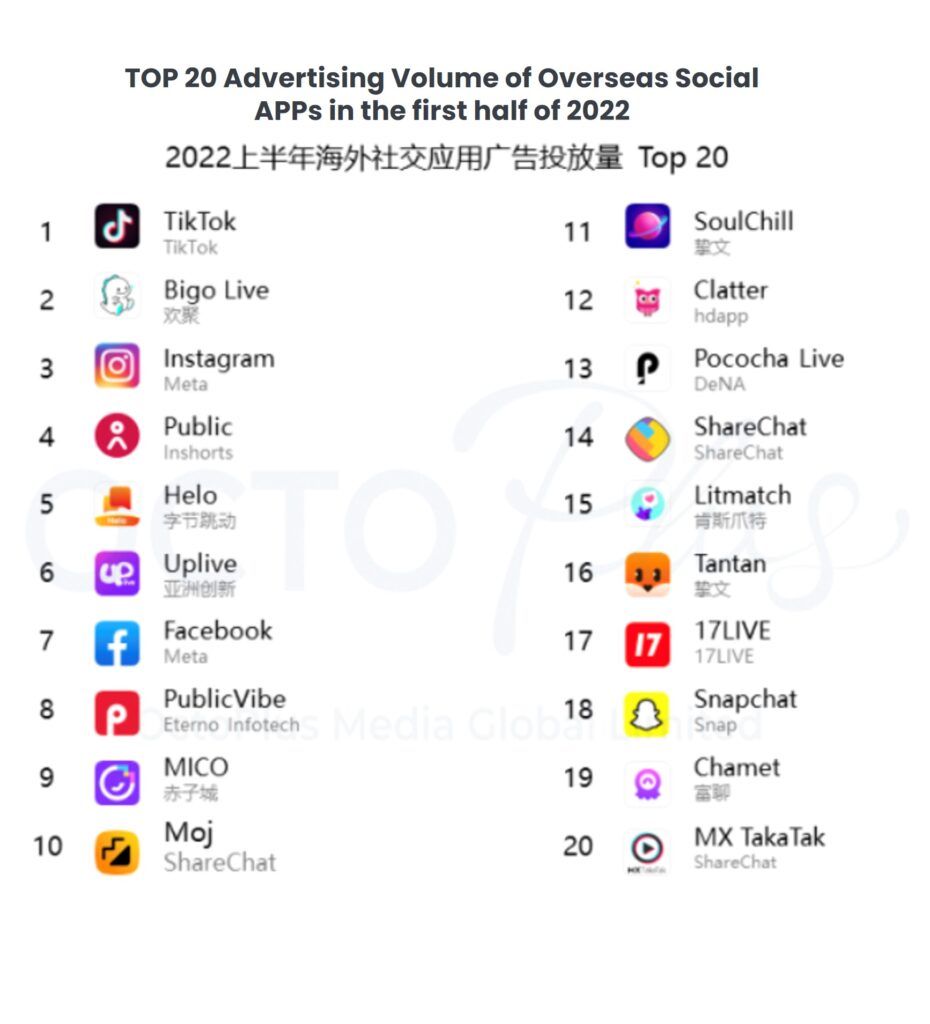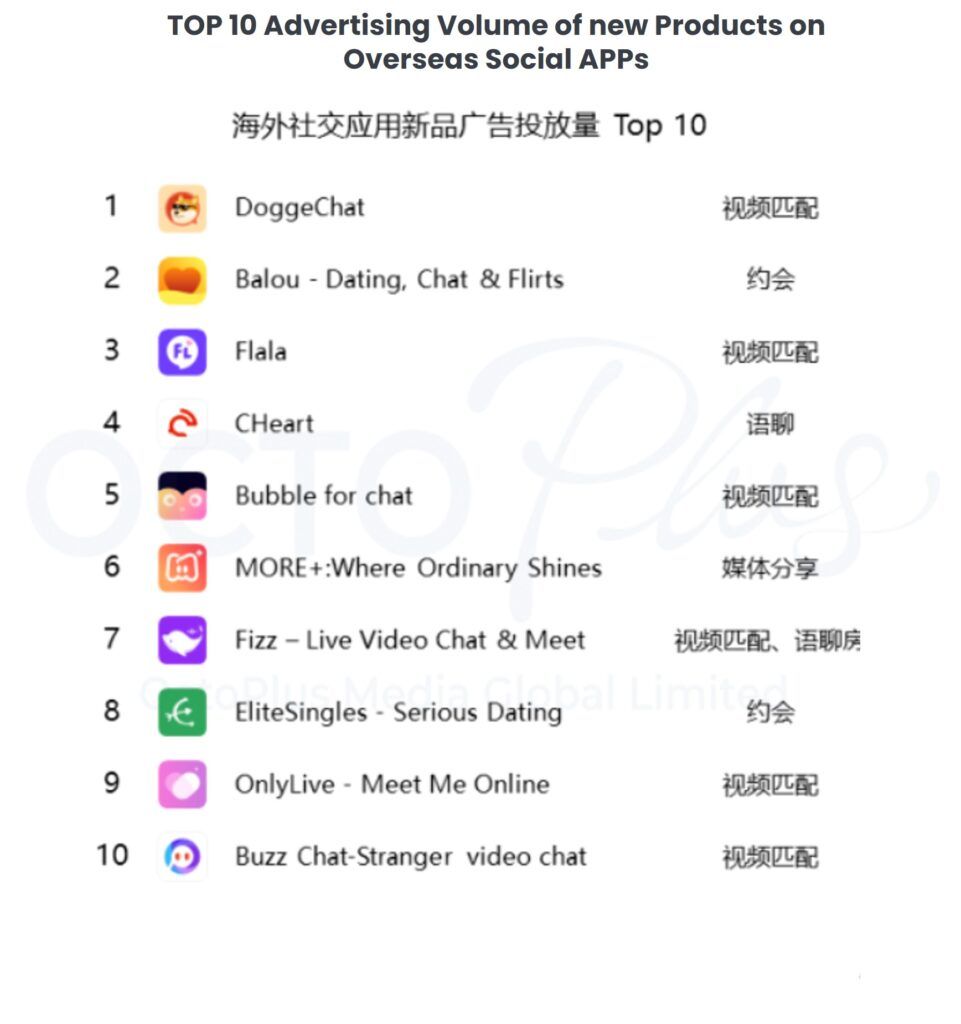 From the TOP 20 ranking of advertising volume, the mature and stable social products that have been in operation for many years take the top position and are mainly dominated by live broadcasts, short videos and image sharing. While the bottom position of the list is mainly youngster-targeted social application products such as voice chat or dating apps. As the traditional short video and live broadcast categories market has long been dominated by the giants, the new social app products launched recently show that manufacturers have focused on video matchmaking, voice chat, dating, etc., but at the same time, have started to pay attention to other niche groups and have launched marketing selling points on topics such as dialects, music hobbies, elite groups and more.
Creative guidelines
According to AppGrowing's observations, there are different creative trends among different types of social apps.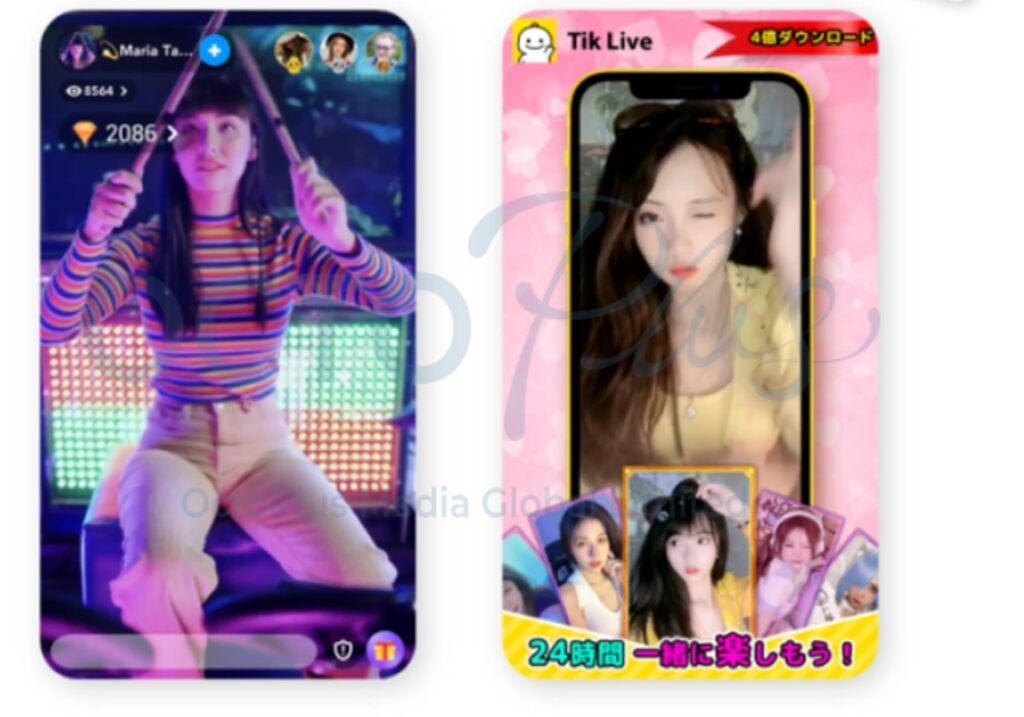 The main core of the live broadcast social app is the "Host", through continuous switching of different genders, styles, and talented hosts in the advertisements, it helps users to efficiently connect with the preferred host, attract users and ultimately achieve the purpose of app download
Focusing on the user's emotional needs, one-to-one video matchmaking reduces social pressure. In order to meet users' emotional needs, advertisements should display handsome guys and beautiful ladies to highlight the rich resources in the apps. The scene of swiping left and right to switch portraits can stimulate users' emotional needs and hormones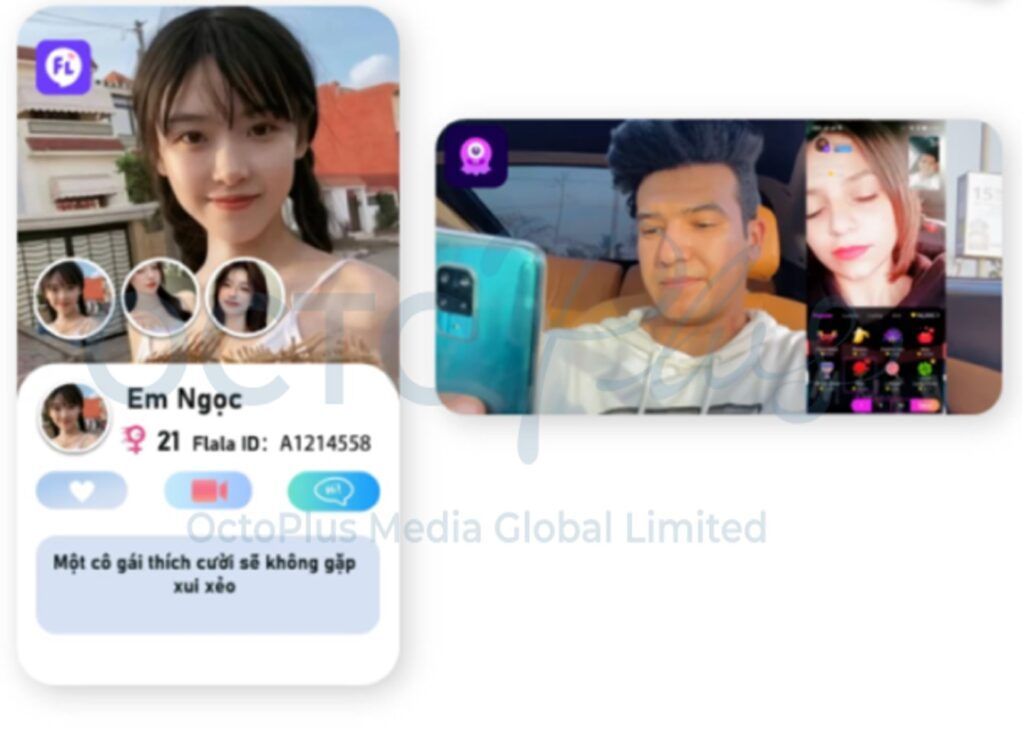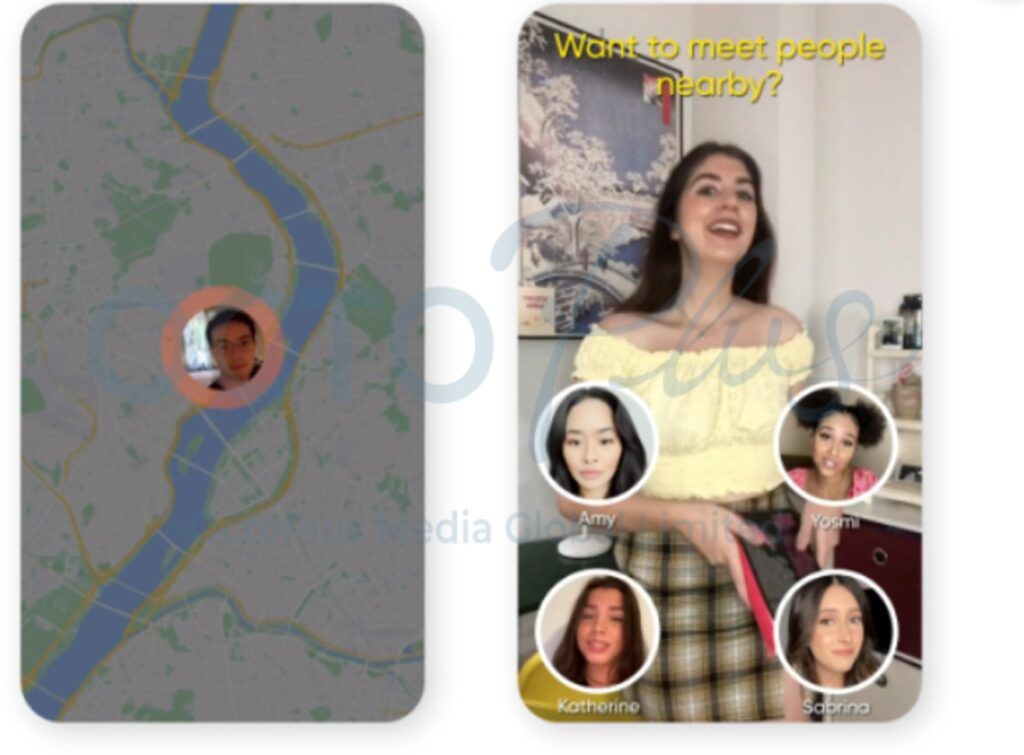 The authenticity of the person to be paired with is the core requirement of the user, even if it is a one-to-one scenario, the user hopes that the relationship can be successfully brought into real life and continue to maintain after the match. Through the real-person appearance in the creative, sharing from a third-person perspective to find love in the app or displaying the "people nearby" function interface, can increase the user's trust and thus achieve the purpose of app download.
"Soul social" relies on an audio social app with intrinsic characteristics as the core, mainly highlighting the keywords of "anonymity", "freedom", and "trend" and displaying multi-themed voice chat rooms to create a scene where users get connected for common hobbies. Gen Z, who are individualistic and willing to express themselves, are more skewed towards this type of app.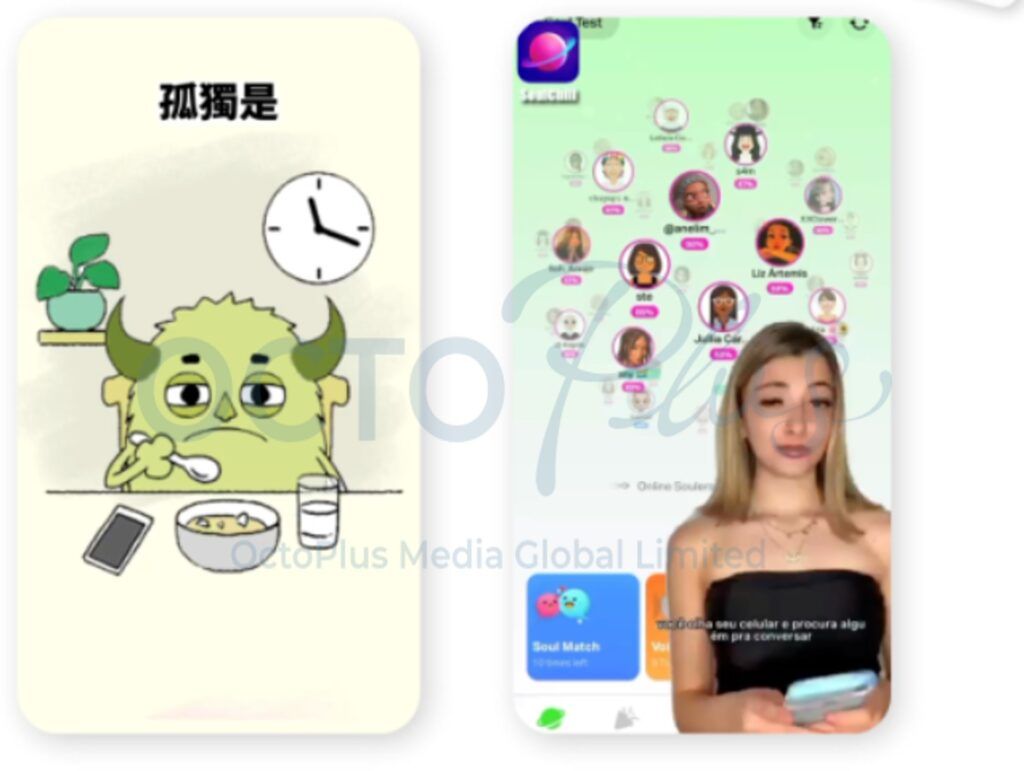 Lastly, can't miss the recent trending "metaverse" new products. This type of application combines the virtual image and virtual world of the Metaverse, focusing on different styles of advertisements, such as high-freedom personality modelling, high-reduction real-world entertainment activities, etc.
Overall, different types of social applications need to be matched with different creative materials to achieve effective promotion and ultimately encourage users to download.
For more details, please contact us.

APP OF THE MONTH – JIEMIAN
Jiemian News is an influential and original financial news media in China, founded by Shanghai United Media Group in September 2014. With financial and economic topics as its core, Jiemian News has four major content sections and more than 40 content channels.
In 2017, Jiemian News clients were ranked as one of the "Top Ten Most Influential Apps" by the Central Cyberspace Administration. Simultaneously, it ranked first in the iResearch Business Information Mobile App Index from 2017 to 2019. In 2018, Jiemian acquired Financial Associated Press, officially renamed "Jiemian Financial Association", under its umbrella includes Jiemian News, Financial Associated Press, Lanjinger, and China Star Market.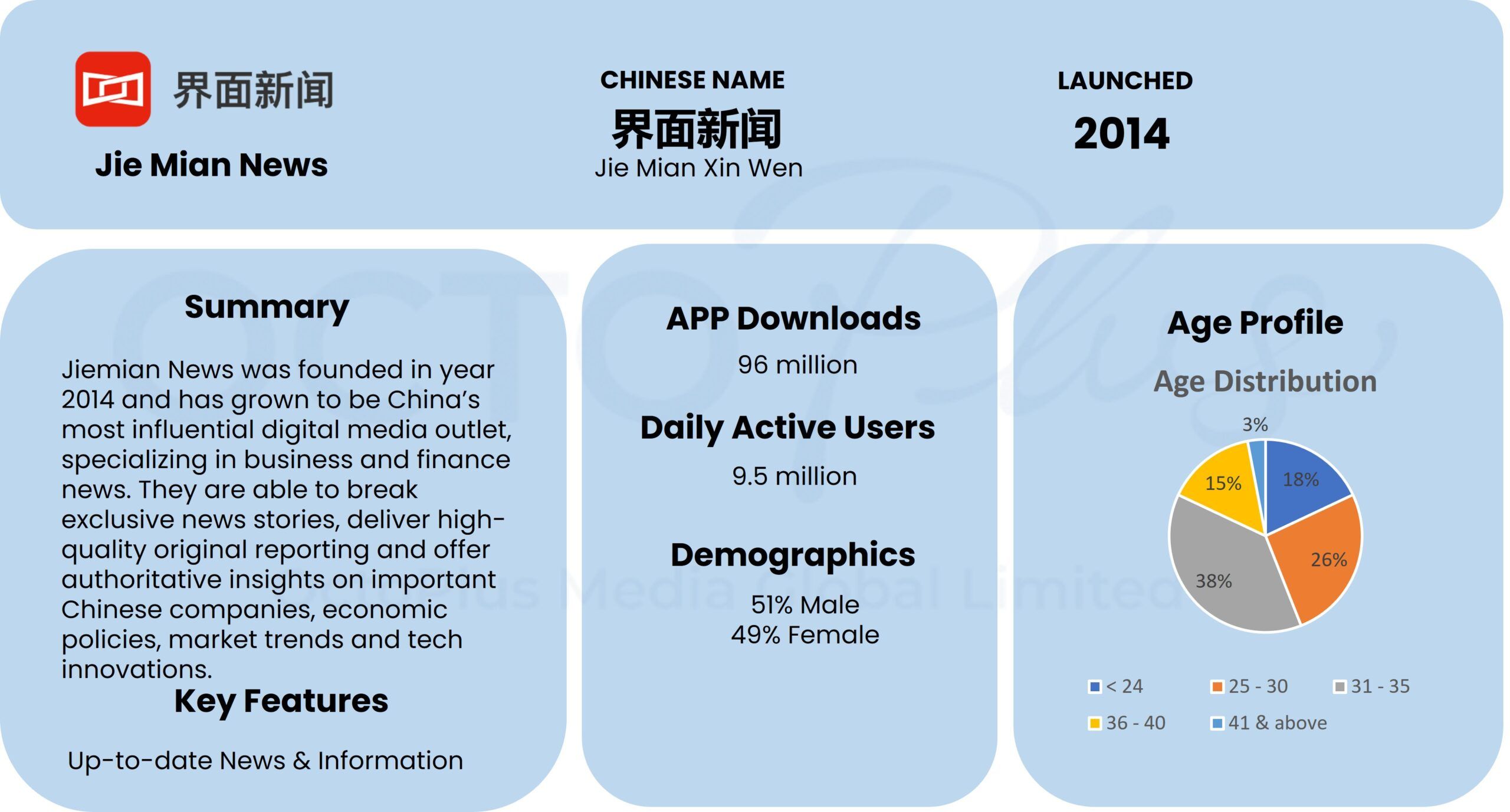 Jiemian News and its other products have their client APP, website, Weibo and WeChat official account and other internet communication platforms.
Jiemian News App has 96 million downloads and 9.5 million DAU

The official website of Jiemian News has 2.5 million DAU

Jiemian News has a certain number of followers on China's major social platforms: Jiemian News' official Weibo account has more than 11.1 million followers; its WeChat official account has more than 650,000 followers

Follower data on other platforms: Douyin 1.96 million, WeChat Video Account 350,000, Kuaishou 200,000, Bilibili 210,000
In addition, users can also see their high-quality original content on Toutiao, Baidu, Tencent, NetEase, Sohu, iFeng and other cooperation channels.
Jiemian News User Group Profile
The ratio of male users of Jiemian News is slightly higher than that of female users, with a male-to-female ratio of nearly 1:1

Jiemian News has a high proportion of new generation users, with 63.73% of young users aged 25 to 35

Jiemian News users are mostly highly educated, with more than 70% of the users with a bachelor's degree or above, which is significantly higher than the education level of all netizens, helping to reduce the cost of brand education

Beijing, Shanghai and Guangzhou account for a relatively high proportion of Jiemian News users, Beijing, Shanghai and Guangzhou are the top three provinces in the country, and are concentrated in the first- and second-tier cities across the country.
Brands empowerment by Jiemian News
Jiemian News provides high-quality and diversified PR and content creation, providing valuable information and services.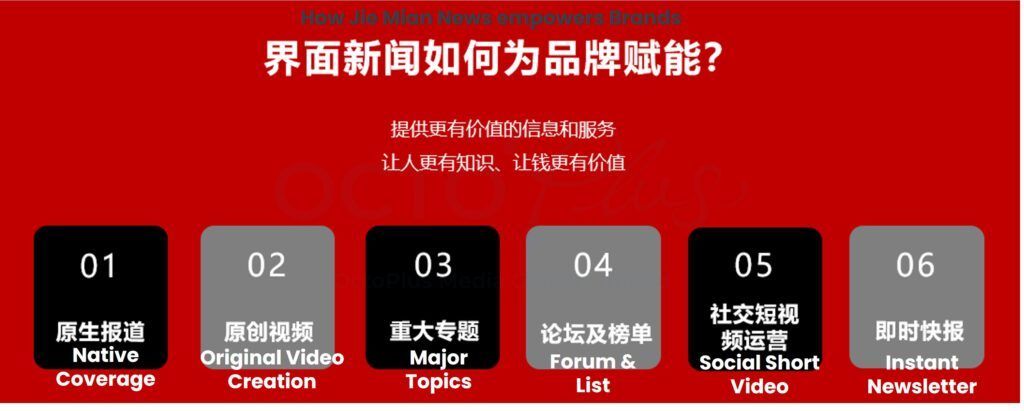 1. Native coverage
From the large-scale event to coverage planning to independent content IP, and brand-customized content to produce Jiemian content
50+ channel layouts, with an average of 3 content sections per channel

30+ topics are offered throughout the year, covering popular activities and topics

Food, industry, finance and technology are always at the top of the list.
2. Original video
Jiemian high-quality video column to meet the diverse needs of enterprises
Native planning: Customize single or multi-topic videos according to the needs of brand communication, highlight brand products/concepts in the article or use brand characters as the creative prototype

Native implementation: Combined with Jiemian's original video topic selection, brand elements are implanted, brand characters and brand logos are highlighted, and the brand provides products creative materials etc.

Packaging editing: The brands provide relevant materials, and Jiemian carries out creative repackaging, which is interpreted as a creative video from the media perspective.

Thematic title: Combine the existing thematic content on Jiemian, naming right of the content column, to enjoy powerful exposure brought by each episode of the program.
3. Major topics
Jiemian News will feature an influential presentation at the China International Import Expo (CIIE) and the linkage of new game experts, select the elite talent matrix, combine with the high-quality exposure and topic popularity of the talents, and combined with Jiemian News's excellent video content planning ability and endorsement ability.
Gather the most elite 50+ top KOLs

Diversified forms of coverage: exploring exhibitions, product interaction, live broadcast, short video content customization cooperation and distribution on social platforms such as Douyin Xiaohongshu, Kuaishou, brand and talent posters are publicized to fuel the events, etc.
4. Forum and List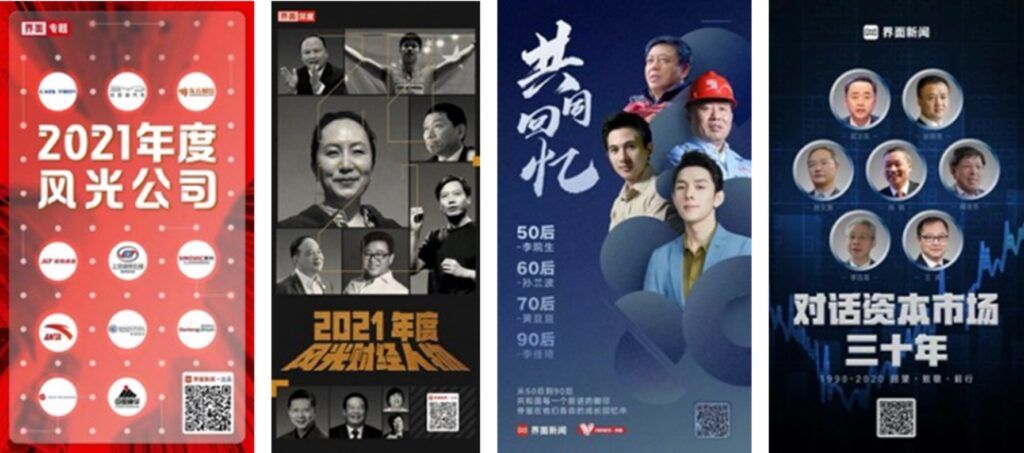 12 super summits, 27 major industry selections and an annual blockbusters summary. Focusing on trending enterprises, people or events, the editorial department of Jiemian News will launch a trending summary from time to time throughout the year and analyze the hot events in depth.
5. Social short video
Jiemian News provides one-stop account management, including account positioning, creative planning, video shooting, editing, etc.
6. Instant newsletter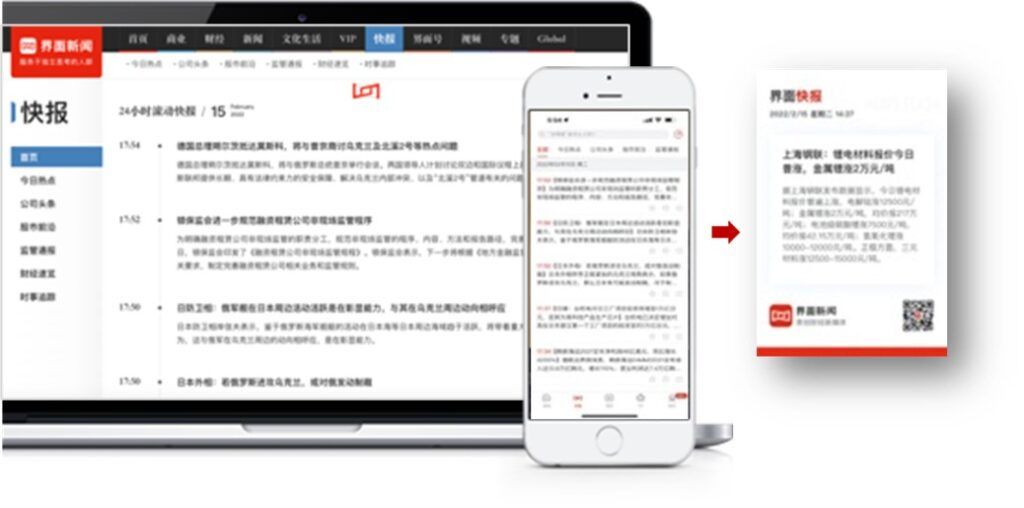 Jiemian News sets up an instant news channel, and instant news is continuously updated daily
The volume of posts: 300+ articles updated daily

Template setting: Today's hot topics · Corporate headlines · Stock market frontier

Regulatory Notices: Finance quick facts · Current events tracker

Communication channel: Automatic generation of newsletter posters for external distribution

Collaboration: As a co-publisher, the brand is displayed at the bottom of the newsletter sharing page
Jiemian News not only provides high-quality PR and content services but also high-quality advertising spots for brand placement. The platform's strong user base provides many exposure opportunities for brands.
To learn more about Jiemian News or to start your marketing planning, please contact us!
Talk to our team.
It's a team with one single shared goal, which is our client's success. Deliver results for your business now. 
 Email: bd@octoplusmedia.com