Advertising on CTRIP: Biggest China Online Travel Platform (OTA) among Chinese Travellers
What is Ctrip?
Ctrip Travel is the world's leading online travel platform. It provides one-stop travel services from transportation tickets to hotels, and even tickets for scenic spots. The cumulative downloads of Ctrip's APP have exceeded 3 billion, and the ratio of male and female users is relatively balanced, with 50% under the age of 29. The consumption power of Ctrip users has increased by nearly 10% annually, and the consumption power of high-end members is particularly strong. The average annual consumption of top membership level – black diamonds is over RMB 400,000.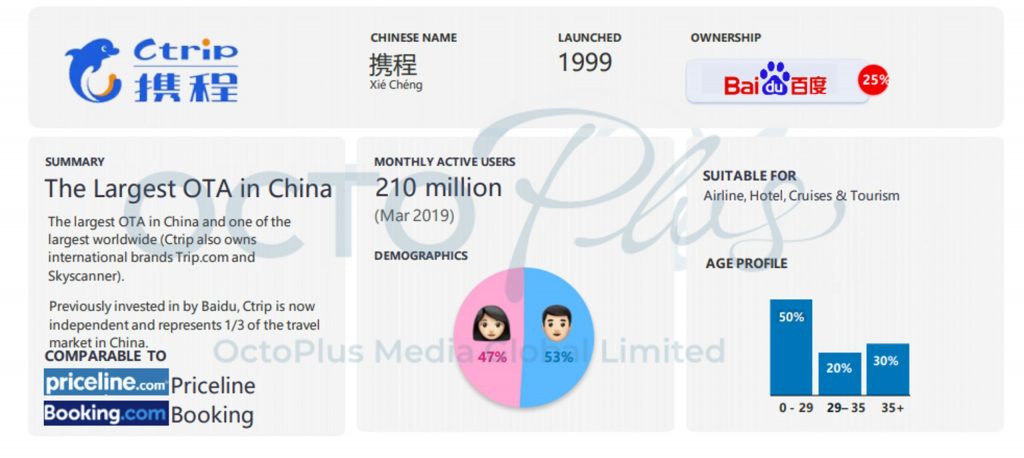 Marketing Advantages – 3 core capabilities:
First core capability – Traffic:
Integrate global traffic, across media and Ctrip's APP, and capture travel traffic on the entire network. Ctrip also uses big data to target the precise population in an all-round way, and uses a variety of targeting capabilities such as cross-targeting and lookalike expansion to improve product efficiency.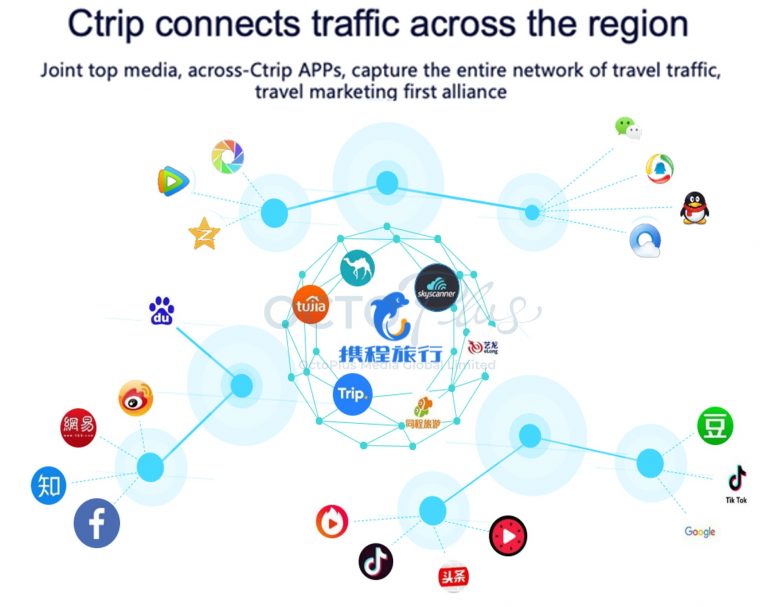 Ctrip's latest advertising form-multi-screen joint investment and "One shot" can help the brand strongly expose and enhance users retention with immersive expression.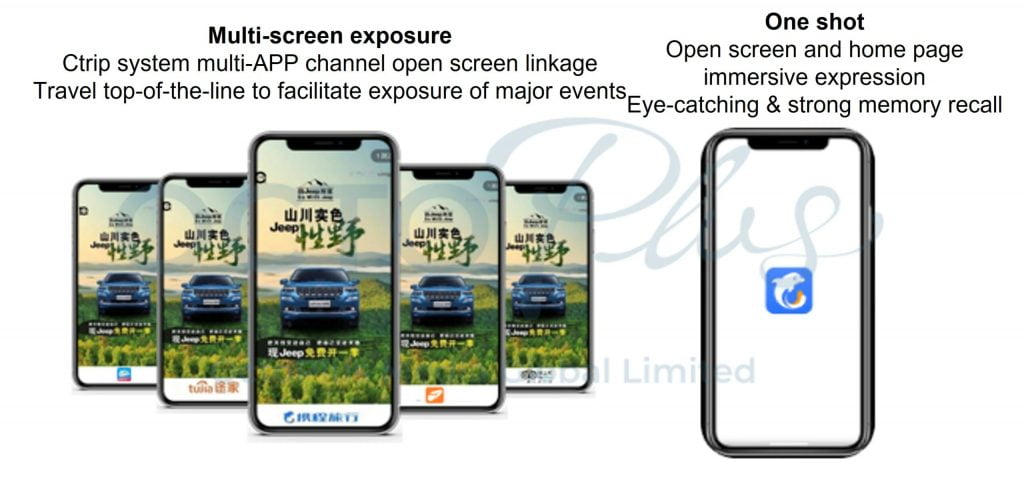 Second core capability – Content:
For a wide range of content, whether it is travel, fashion, or lifestyle, the top creators in the travel industry introduced by Ctrip cover 70% of the entire network, and the number of daily exposures has reached more than 3 million.
Third core capability – Scenarios:
Ctrip has a wealth of cooperation in travel scenarios, vivid experience forms make users feel and touch, and one-stop coverage of the user's entire journey.
Ctrip's Marketing Capabilities:
Marketing Ceremony: Seasonal platform-style festival event
Ace IP: A series of IP with maturity and market awareness
Industry event: annual influential event in the travel industry
Themed travel: personalized themed activities focus on travel circles of interest
Advertising Format:
There are many types of Ctrip advertisements, mainly in the form of CPD and CPM sales, and they are divided into PC and mobile APP. The multi-screen joint investment and One Shot mentioned above are innovative advertisements at the price of CPT.
The PC-side hard-broadcast is based on the homepage and different pages on the top and bottom or a few left and right sidebars for banner placement.
APP is the main launch page video (3-5s), the top/middle banner of each page, and of course also includes an interstitial pop-up window in the program.
Preferred purchase (PD advertising) can select the desired advertising location and orientation through CPM, where the advertising location includes the open screen (3-5s) video or picture, the APP homepage banner and the information flow advertisement.
In addition, Ctrip's advertising also cooperates with multiple types of targeting, such as user location based on first-tier and second-tier city, or the user's intentional destination, whether it is domestic or overseas. For example, users who have searched for Dubai travel must go attractions, bought tickets to Hong Kong Disneyland, booked air tickets and hotels to travel to Australia and other foreign countries, or browsed a lot of Singaporean food content on the Ctrip APP to grasp the destinations that users want to go or have decided to go to and their intention is to achieve the effectiveness of advertising more effectively, so that the best exposure and traffic can be achieved through Ctrip targeting to reach a precise audience.
In summary:
Start screen video can be clicked/static picture can be clicked
APP homepage banner/information flow
APP air ticket/train ticket/hotel/bus ticket-banner at the top of the homepage
APP open screen pop-up window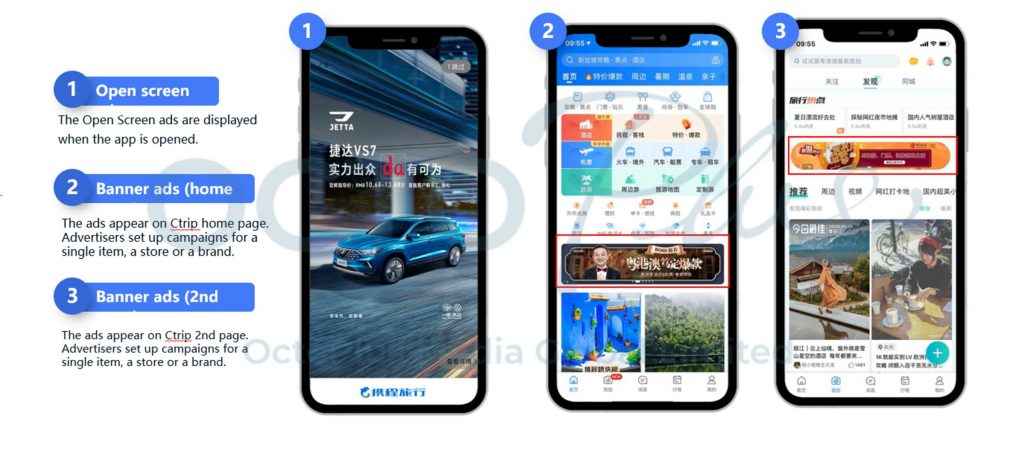 For more detailed information about Ctrip, please contact us!
Download the E-Book on China Advertising Now for FREE!
OctoPlus Media Curated Content for China Marketing Education
Discover the China market and Integrate with marketers to make better decisions and devise better marketing programs
Add Your Heading Text Here
The Complete China
Advertising Handbook (2023 Guide)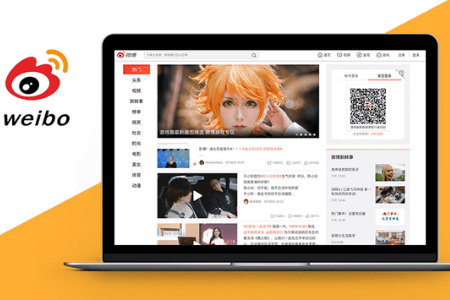 *A Preview Of Our Handbook
Add Your Heading Text Here
The Complete China 
Programmatic Advertising 
Guidebook (150pages)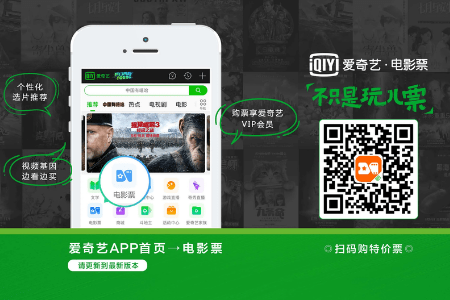 *A Preview Of Our Handbook
Get your free China marketing E-book and get started today by filling up the details.
 The completed version will be delivered straight to your inbox!!