China's Outbound Tourism Marketing Research 2023
China was an important player in the international market until 2020 and it is also the world's largest source of outbound tourism and tourism consumption expenditure country. Since the China government began to release more and more good news about outbound tourism, and after the epidemic prevention and control policies began to have major adjustments, outbound tourism has gradually accelerated towards the pace of recovery.
The new policy has a rapid impact on overseas tourism consumption, with the substantial opening of the borders and resumption of overseas travel driving the highest search volume on the Chinese travel platform Ctrip in the past three years. After the release of this series of optimization measures, China's tourism industry sees hope for recovery. Based on the market survey of the travel industry conducted by China's Outbound Travel & Tourism Market (COTTM), we have compiled some key insights to know more about the next trend of China's outbound tourism.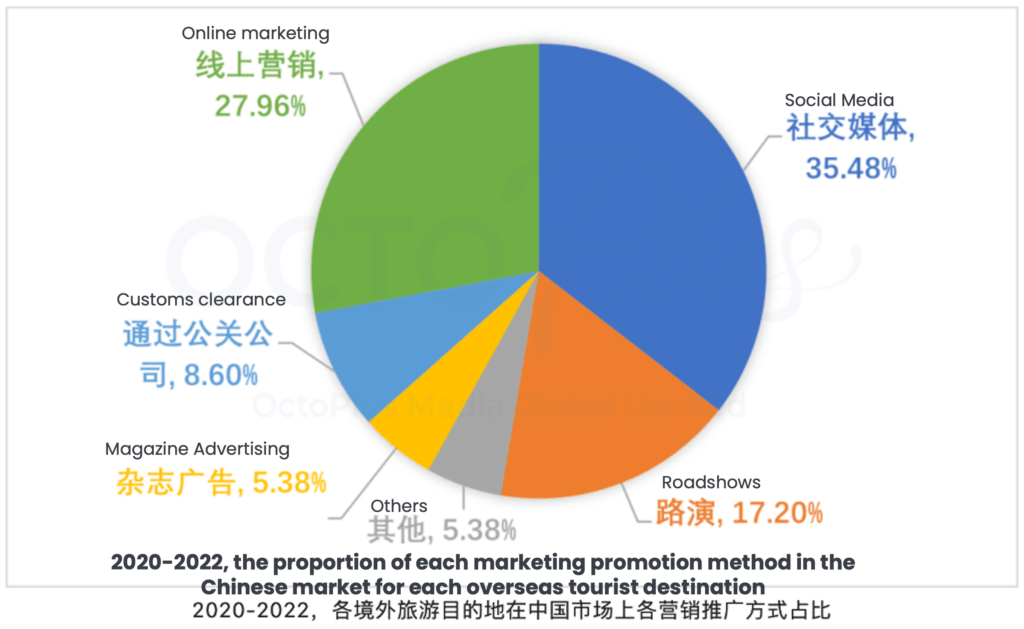 During the period from 2020 to 2022, major overseas tourist destinations promoted their destinations and related tourism products through various platforms in China market, with social media (35.48%), online marketing (27.96%) and roadshows (17.20%) accounting for the TOP 3 promotion methods. As overseas tourism has hope of recovery, according to the COTTM survey results, a whopping 31.58% of the Ministry of Tourism/Embassy/Tourism Bureaus (representative office) believe that China's outbound tourism market will fully recover in the second quarter of 2023, and 28.95% believe in the third quarter.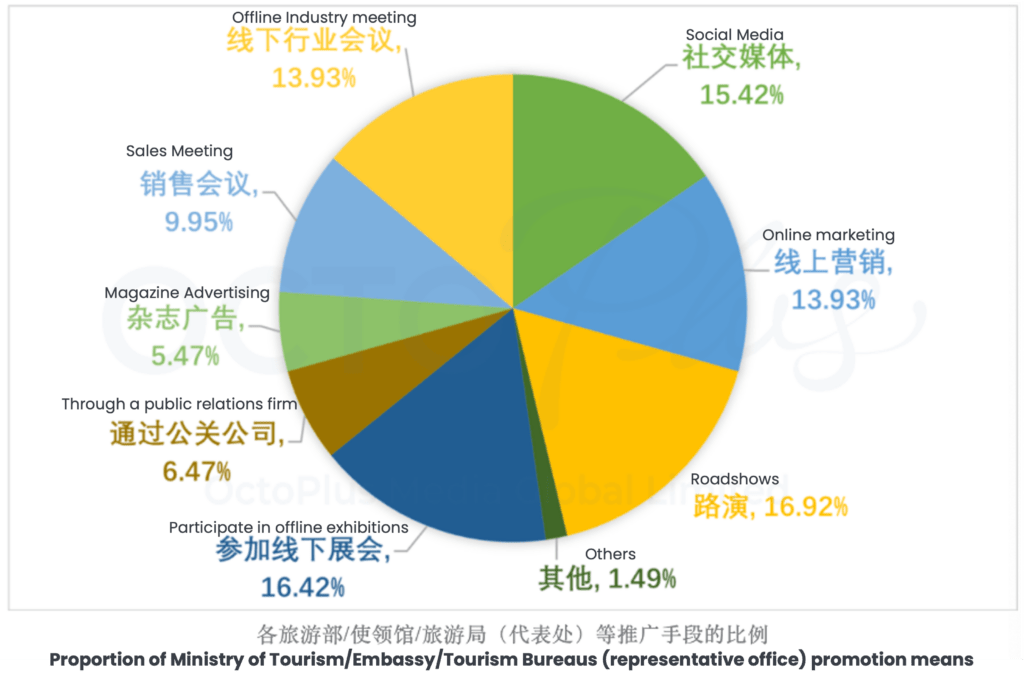 Up to 71.06% of the major Ministry of Tourism/Embassy/Tourism Bureaus (representative office) are very confident about the arrival of Chinese tourists in 2023. Among them, the Qatar Tourism Boards view China as an important market to develop and cultivate and has huge development potential. The representative of the Spanish Embassy in Beijing believes that Chinese fans have a high degree of attention to the promotion of the destination on the official account, regardless of the offline and online promotion, Chinese tourists have shown a high degree of interest and love for Spain. After China opened its entry and exit, major Ministry of Tourism/Embassy/Tourism Bureaus (representative office) will promote their respective destination countries through a series of promotion methods. Among the promotion methods, offline activities accounted for the highest proportion, and among them, offline exhibitions accounted for the highest proportion 16.42%.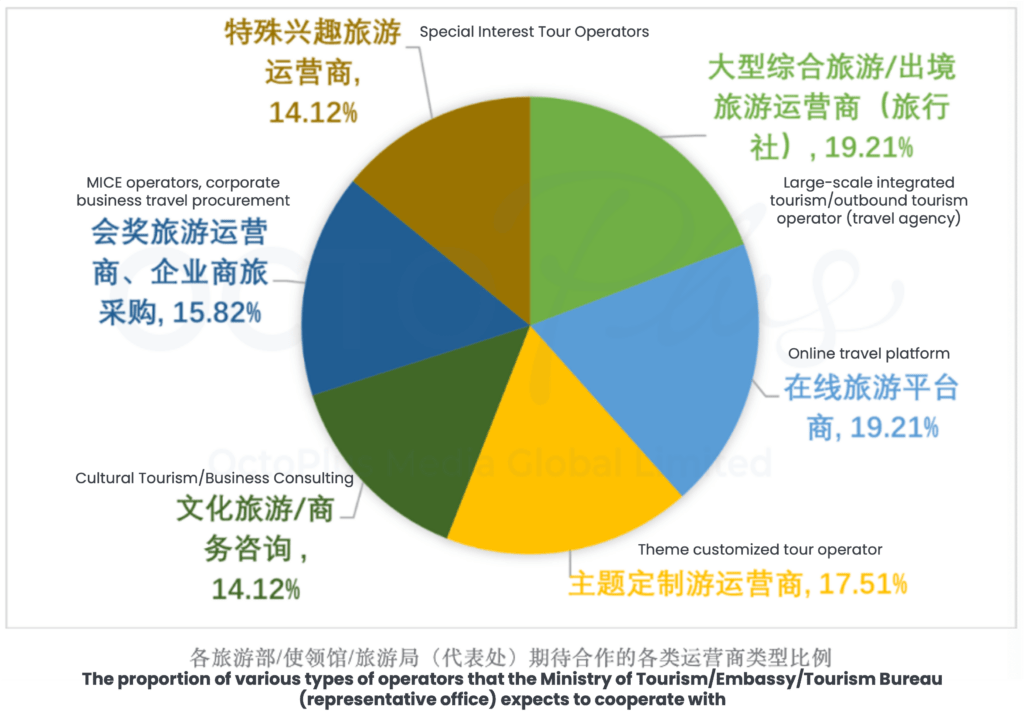 According to the survey results, 45.95% of Chinese tour operators believe that the top choice for Chinese tourists for outbound travel is Thailand, Malaysia, Singapore, Philippines, Vietnam, Cambodia, Indonesia and other Southeast Asia countries, followed by Japan and South Korea with 17.12%. In addition, business and leisure activities between China and destinations in Central Asia, South Asia and West Asia will become closer and more frequent with the advancement of the "Belt and Road Initiative". It is worth mentioning that after Chinese President Xi Jinping visited Saudi Arabia last year, has signed the 《The Implementation Plan of the Government of the People's Republic of China and the Government of the Kingdom of Saudi Arabia on the Joint Construction of the "Belt and Road Initiative" and the "2030 Vision"》, and at the same time announced that opening up Saudi Arabia as a destination for Chinese people to organize outbound tourism, which will promote Chinese citizens to visit Saudi Arabia or other Arab countries in the form of business travel and leisure travel.
Qatar, which successfully hosted the World Cup, will further increase Qatar and other Middle East regions as destinations for outbound tourism, and attract Chinese tourists who are interested in bespoke themed tourism products such as customized luxury travel, parent-child, adventure and entertainment theme. Among the types of resource providers in the destinations, the TOP3 that Chinese tourism operators want to know about are ground pick-up services (20.86%), themed customized tour services (18.06%) and hotels or accommodations institutions (18.06%). At present, up to 36.84% of Chinese tourism operators are actively looking for outbound tourism resources, followed by 22.11% of operators forming teams for the outbound tourism business.
To find out more about the survey results or trends in China's outbound travel, please contact us.
Talk to our team.
It's a team with one single shared goal, which is our client's success. Deliver results for your business now. 
 Email: bd@octoplusmedia.com