Meituan-Dianping: China Version of Yelp, Most Popular O2O Service App. - How to attract Chinese travellers to store?
Over the past years, China's outbound tourism has been roaring and become the world's top spenders in travel retail tourism, especially in the luxury market. Chinese tourists are highly mobile-driven, digital-savvy consumers. You will find several super apps used by Chinese abroad all the time. All genders: WeChat, Dianping (China's Yelp); Female skew: RED, Meitu.
OctoPlus has been working with these super apps for years to better understand Chinese outbound travelers' behavior and customize effective marketing communications to attract Chinese travelers to store.
What is Meituan Dianping?
Meituan-Dianping, a Chinese online-to-offline life service platform, has connected 5.8 million active merchants with 400 million active consumers. It originated from a group-discount website which sells coupons or special deals from merchants, now has developed into full-fledged O2O eco-system, No.1 living guide for Chinese local and Chinese tourists abroad.
Meituan and Dianping are two separate apps. Meituan has a stronger focus on deals, hotels booking and groupons, so still more widely used in mainland China. While Dianping is an APP focusing on reviews, shopping or dining experiences.  OctoPlus Media can create stores on Dianping for overseas merchants and managing the Dianping profile (trust us it is very useful). Dianping is similar to China's Yelp.
Meituan Dianping's user demographics are in general younger generation who enjoys shopping/food/movies/travel. High income, high spending, young and rich, basically, all travel retail brand's target audience.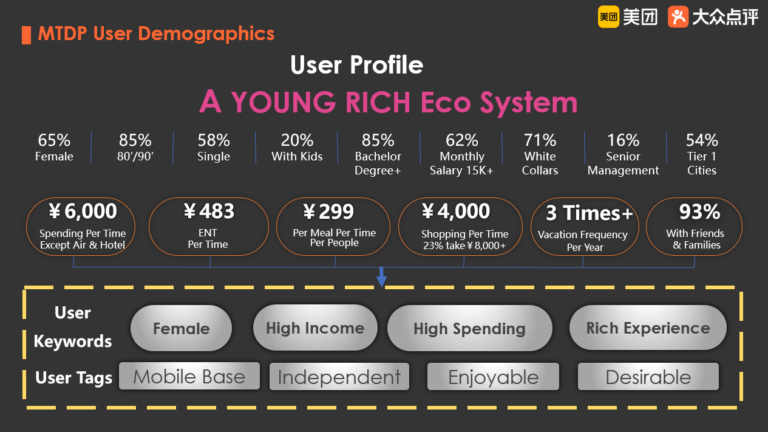 China Dianping MTDP User Demographics
How to Market to Chinese Consumers with Dianping?
Shopping coupons are the most effective, high ROI advertising products from MTDP ecosystem. Even though we have worked on many branding and content campaigns for various clients, we always recommend a coupon or free gift mechanism to drive direct footprints to store, which will trigger more in-store shopping from high-quality consumers.
The best part is, this is a CPA campaign! The buying model of coupons is fixed cost based on your industry genre; it ranges from 6–8–10 RMB per coupon. So 6–10 RMB will be deducted when a potential customer interested to redeem your coupon offline and clicked to save your coupon.
The average redemption rate of the coupon is 10%. You can calculate and estimate how much you are paying for each valuable customer in-store.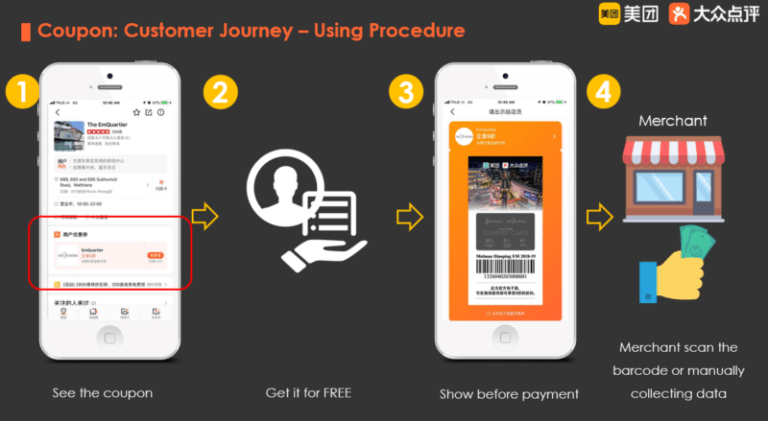 2. AD EXPOSURE (PRECISELY PUSH)
MTDP can support accurate location-based push. We can push promotion messages to the consumers close to your shops. For example, a King Power duty-free shop promotion LBS pushed message will pop-up in Chinese traveler's phone when they have entered the commercial zone of King Power in Thailand Bangkok.

China Dianping Ad Exposure
Inbox Message
Push Message
Select Target Audiences
Customize Keywords
3. CUSTOMIZED CONTENT ON DIANPING (CHINA'S YELP)

4. BRAND PENETRATION ON DIANPING
In summary, there are many creative and effective ways to make full use of Meituan and Dianping APP for Chinese travelers on the go.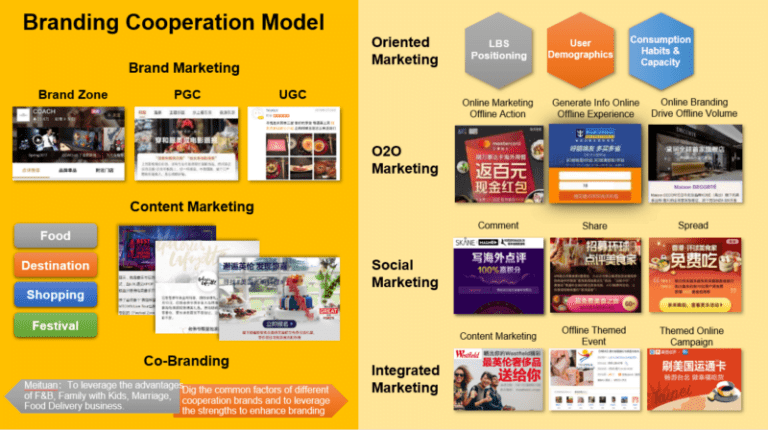 China Dianping Branding Cooperation Model
In summary, there are many creative and effective ways to make full use of Meituan and Dianping APP for Chinese travelers on the go.
Here at OctoPlus Media, we know how the markets move and what consumers look out for. Be sure to contact us and let OctoPlus Media help you create a red-hot strategy for the Chinese market!
Download the E-Book on China Advertising Now for FREE!
OctoPlus Media Curated Content for China Marketing Education
Discover the China market and Integrate with marketers to make better decisions and devise better marketing programs
Add Your Heading Text Here
The Complete China
Advertising Handbook (2023 Guide)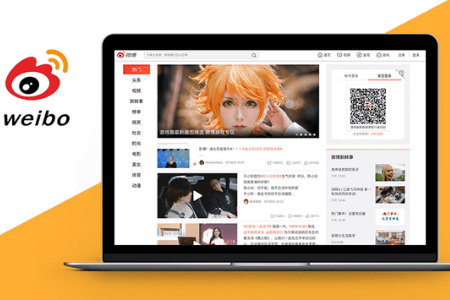 *A Preview Of Our Handbook
Add Your Heading Text Here
The Complete China 
Programmatic Advertising 
Guidebook (150pages)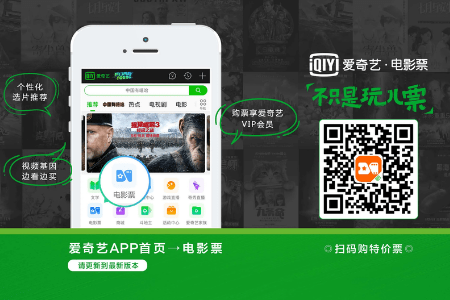 *A Preview Of Our Handbook
Get your free China marketing E-book and get started today by filling up the details.
 The completed version will be delivered straight to your inbox!!