Advertising on TouTiao: Biggest China News and Information App
Toutiao (Literal meaning: Headlines) or Jinri Toutiao (Literal meaning: Today's Headlines) is the leading integrated information platform in China today. It allows hundreds of millions of Chinese netizens to understand what is happening in the world, and also allows advertisers to be known by more consumers. It is a superb content platform that recommends information to users through artificial intelligence technology. From information to knowledge, the value of Toutiao continues to increase. In addition to following top news through Toutiao, users can also gain knowledge through it.
WHY IS TOUTIAO SO POPULAR TODAY?
Toutiao brings together many domestic high-quality PUGC content, which is highly favorable by users, including CCTV, Xinhua, People's Daily, etc. to deliver high-quality content here; and Xiaomi's founder: Lei Jun, famous political commentator: Chiu Yi, well-known publisher: Hong Huang, etc. also read and share interesting news here.
Toutiao has reached 120 million daily active users, which higher than Tencent News, Sina News, and NetEase News; and monthly active users reached 260 million. Toutiao's high-line user distribution is significant, and the younger user group is growing larger. Among the top 10 cities, most users belong to the first-tier or new first-tier cities, and the ratio of men to women is more even, of which 19-35 years old account for nearly 70%.
The composition of Toutiao's users is constantly evolving, and the diverse support plans from the platform bring together more young, female, and knowledgeable users.
Users from the 20 – 29 age group are gradually paying more attention to Toutiao's hot searches over the years. The younger group prefers to watch video content on the platform. Their five favourite Toutiao categories are sports, anime, games, fun and film & television.
The size of the female population is increasing over the years, and "her power" has risen. Female users account for 44.47% in Toutiao, of which 60% aged between 19 and 35, are with relatively higher ratio of post-80s. Their reading interests are fashion, food, home, parenting, and education.
The size of the intellectuals is gradually expanding, and knowledge-based content is favoured by users. The intellectuals account for 13.16% in Toutiao, with 81% male users. Among those intellectuals, 59.9% aged from 31 to 50 years old and most of them are new middle-class users. They are more interested in international, finance, education, and real estate content.
TOUTIAO IN-APP SEARCH VOLUME
The daily active users of Toutiao has doubled from 2018 to 2019. The average search frequency per user has increased by 27%, and the search volume in Toutiao has increased by 2.5 times (data period: May 2018 – April 2019), this is definitely a new traffic spot apart from the traditional search traffic. As an integrated information terminal, Toutiao carries search behaviors such as news, images, videos, hot topics, Q & A, encyclopedias, etc., and this allows advertisers to reach the target audience directly based on the search behavior.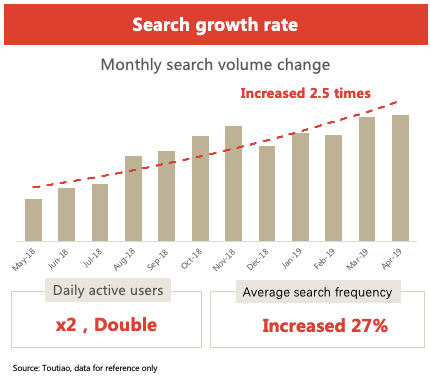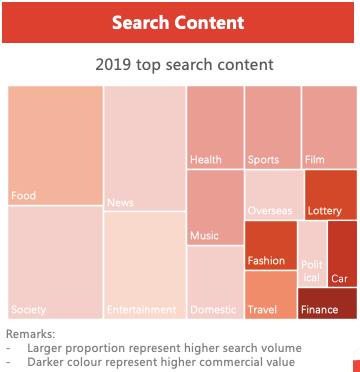 Apart from the search volume, the search content is also broad and diverse. The highest proportion of search content is food and society, followed by news and entertainment, and then health, music and domestic. While, the highest commercial value of content is finance, car, fashion and lottery.
With the increase of search volume, Toutiao is constantly optimizing the search path and would like to create a "browse and search at the same time" environment. First of all they strengthen the search function – there is a search icon on every content page, making it easier for users to search any time. Next, they simplify the search function – the search bar on top of the page is always refreshed with the hot topic, and the hot topics in Toutiao will be displayed below, as well as the historical search records, estimated searches and recommended topics. Lastly, connecting search and native by displaying the news feeds and recommendations that are related to users' searches through artificial intelligence.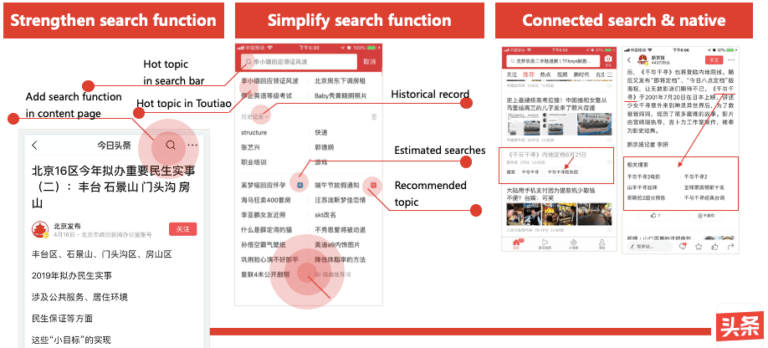 NEWS FEED + SEM CLOSED LOOP, CREATE MORE NATIVE TOUCHPOINTS TO FACILITATE CONVERSION
Previously, the stages of search marketing took place on different platforms, which separated the marketing flow. Today, on Toutiao, news feed and search are on the same platform, which improves user experience and facilitate conversion.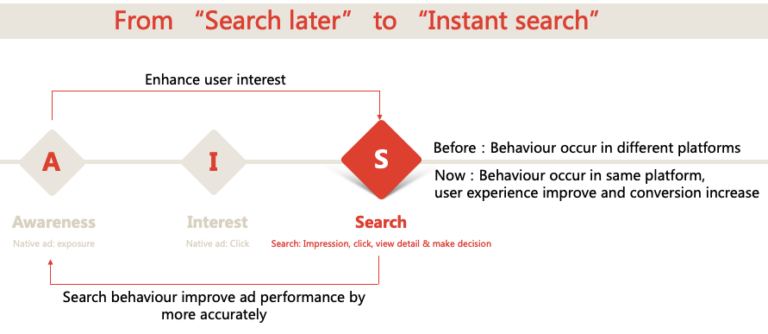 WHY DOING SEM ON TOUTIAO?
Not just inventory traffic, Toutiao also captures the attention of users with high mobility and the number of users is gradually increasing. Not only that, Toutiao has high user loyalty too. Based on QuestMobile TRUTH Oct 2018 report, Toutiao has higher user loyalty as compared to Tencent News and NetEase News.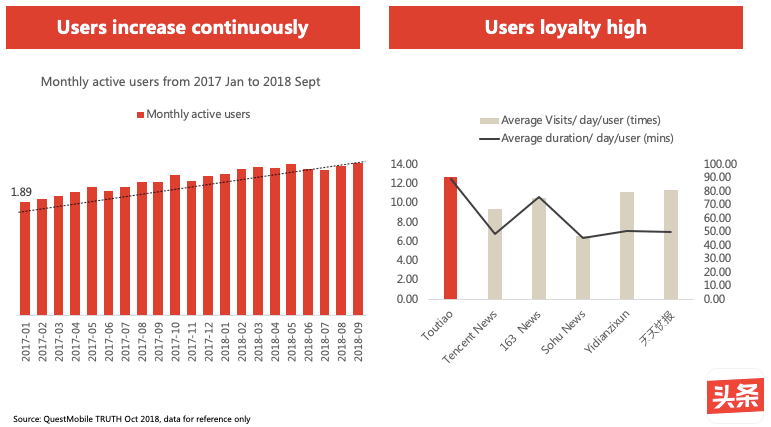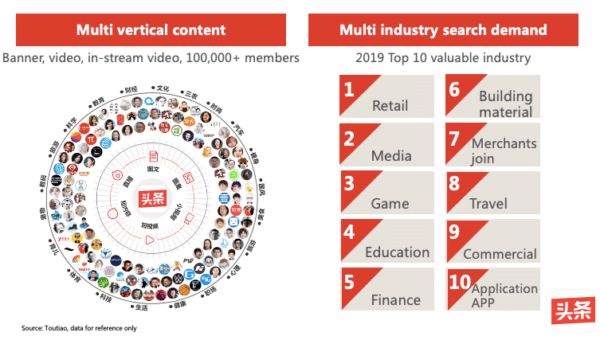 Not just news, Toutiao also have around 100 thousand of members posting multiple vertical contents, e.g., banner, video, in-stream video, etc. that fulfil the search demand from multi industries.
Not only in-app, Toutiao also integrated information from other sources to keep the search results updated.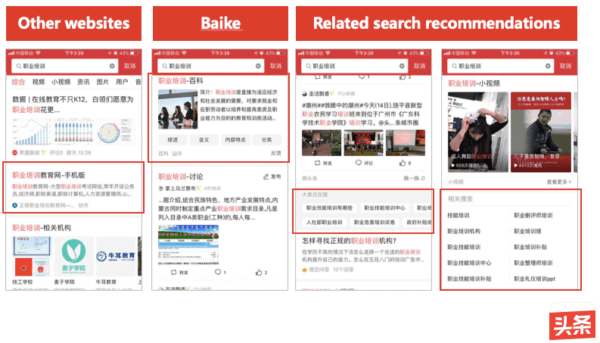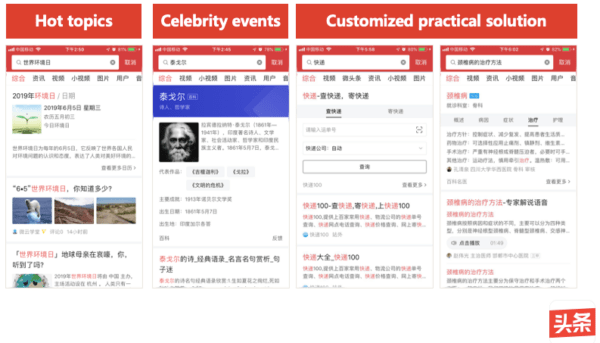 Not just general information, Toutiao also customize different topics based on industry in order for users to reach the info they need quickly.
Not only data, but Toutiao's AI technology is also able to understand the content correctly and display the news feed accurately.
6. CONVERSION OPTIMIZATION
Not just clicks, Toutiao supported flexible bidding strategies and to set a goal for conversion that fulfil different campaign objectives from brands/advertisers.
SEM of Toutiao is divided into 3 parts – Keywords, Creative and Landing Pages. It's a full path user search experience – search keywords, click to view the content and download or fill up form for lead generation.

Toutiao has variety of creatives, e.g., video on the left, title on the right, image on the left with title on the right, title on top with image on the left and summary on the right, and commodity display. The second and seventh positions will be the search ads for every refresh, which take care of user experience while displaying the ads. Toutiao's AI is constantly calculating the correlation between the keyword and creative to make sure they have passed the ad correlation test. AI also examines if the creative carries the message from the keyword in order to maintain the consistency of information. It's recommended that to include keyword on the creative to improve the consistency. The minimum consistency level is at least 60%.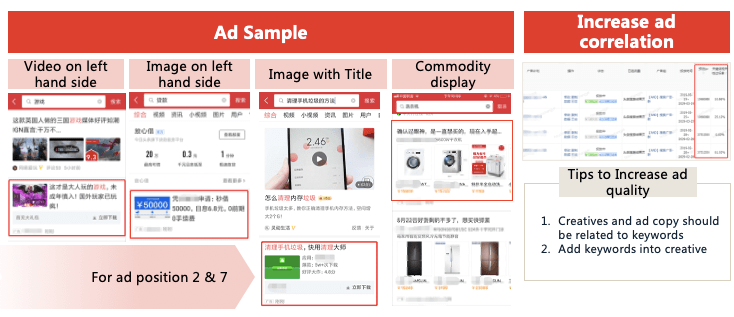 Toutiao SEM supports two important objectives in mobile bidding, which are enquiry form and app download. In order to improve the performance, the landing page experience plays an important role. The enquiry form ad can improve the performance by optimizing the path, while the app download ad can improve the performance by optimizing user experience through scene simulation. The keys for campaign optimization are maintaining user experience, soft landing and consistency.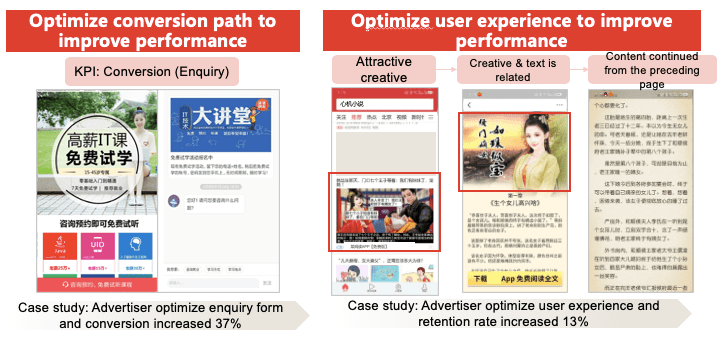 SEM of Toutiao is divided into 3 stages, which are the initial stage, getting stable stage and effective stage.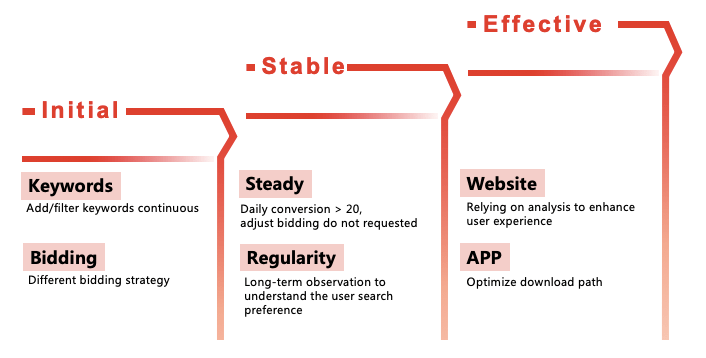 TRY OUT DIFFERENT OPTIMIZING STRATEGY FROM MULTIPLE FACTORS
Keywords: Continuously adding keywords and filter the keywords based on the performance. Try to maximize clicks within the budget.


Bidding : Use different bidding strategy and observe the performance.
LONG-TERM MONITORING, TREAT THE DATA FLUCTUATIONS CORRECTL
Steady: Does not need to adjust bidding if daily conversions more than 20


Regularity: Long-term observation to understand the search preference of user
FULL TRACKING FOR FULL CONTROL


Enquiry form: Relying on analysis to enhance user experience
App download: Optimize download path
We, at OctoPlus have rich experience and a good record in SEM. Our team can customize effective strategies – from creatives to keywords to landing pages, and continuously optimize to ensure that your ads can reach your target audience on Toutiao and spread your content.
If you want to know more about Toutiao SEM, get in touch with us today.
Download the E-Book on China Advertising Now for FREE!
OctoPlus Media Curated Content for China Marketing Education
Discover the China market and Integrate with marketers to make better decisions and devise better marketing programs
Add Your Heading Text Here
The Complete China
Advertising Handbook (2023 Guide)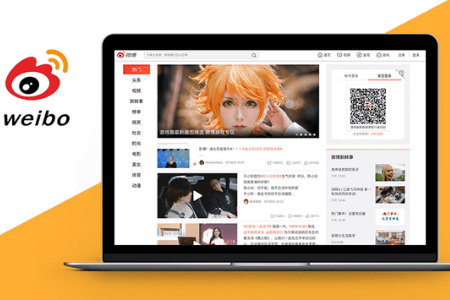 *A Preview Of Our Handbook
Add Your Heading Text Here
The Complete China 
Programmatic Advertising 
Guidebook (150pages)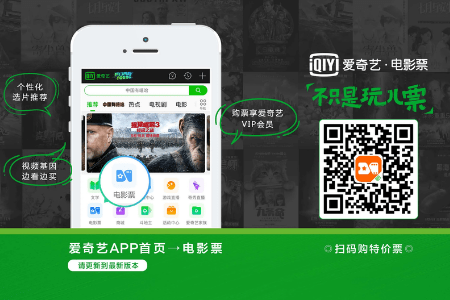 *A Preview Of Our Handbook
Get your free China marketing E-book and get started today by filling up the details.
 The completed version will be delivered straight to your inbox!!