Youku - China's Leading Online Video-Sharing Platform​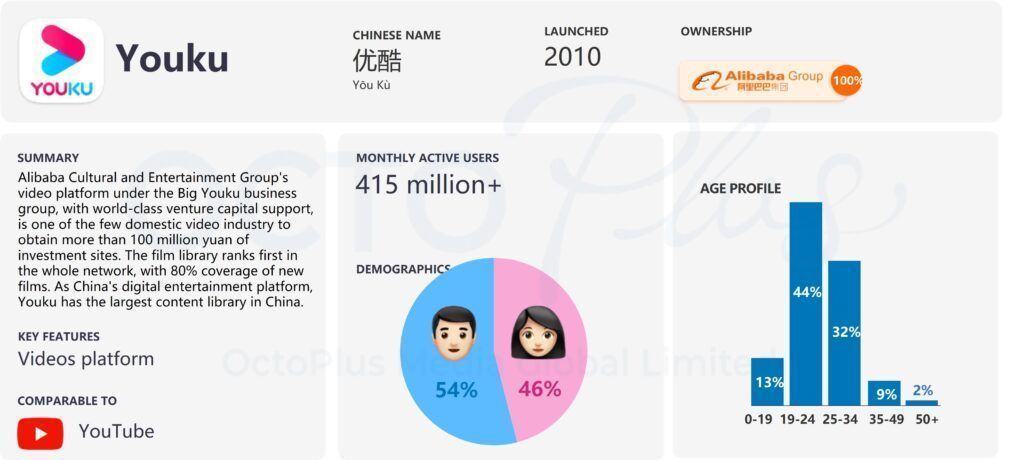 Youku.com is the leading online video-sharing platform in China which was very similar to YouTube when it was first launched but gradually transformed into an online media company. It was engaged in the production of movies and TV series and owns many audio and video copyrights. Youku.com was founded on June 21, 2006, and officially launched on December 21, 2006, it is one of the major digital media and entertainment companies under Alibaba Group.
Youku currently supports four major terminals of PC, TV, mobile and car, and has copyrighted, co-produced, self-produced, user-generated content (UGC), professionally-generated content (PGC) and live broadcast content. Youku can be viewed in 230 countries around the world, with major users spread across the United States, Taiwan, Hong Kong, Japan, Indonesia, Brazil, South Korea, Malaysia, Singapore, and Russia. More than 80% of all overseas traffic comes from the top ten countries and regions on the list.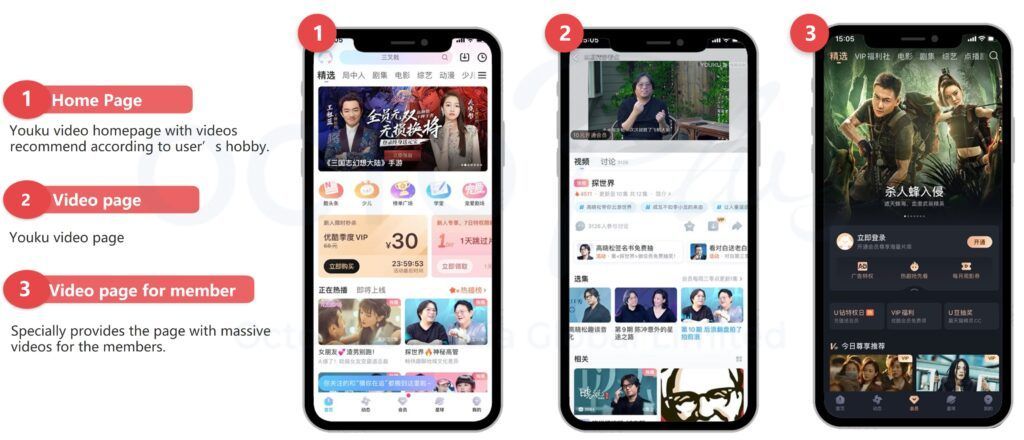 User analysis
415 million monthly active users

54% male, 46% female

Most users are 19-24 years old, up to 44%; 32% of users are 25-34 years old

Users are mainly distributed in Beijing, Shanghai, Shenzhen and other first- and second-tier cities
The coverage of China's OTT market continues to grow, and Youku, as one of the OTTs, has highly commercialized marketing products. Smart screen (smart TV) is the most important advertising/new brand touchpoint channel for Youku OTT users; 47.3% of users believe that smart screens are the main channel to engage with advertising and marketing information. Youku marketing can be the key touchpoint to grab users' attention. At the same time, smart TV ads performed well in terms of user attitude indicators such as creativity, credibility, and attractiveness, ranking first in smart TV ads, mobile phone/pad screen casting ads, fixed ads/pop-up ads (including APP open screen ads), live TV ads, long and short video ads and social media ads.
Youku platform has a leading market share, and wide coverage of high-quality families to achieve content consumption for smart home scenarios. In addition, Youku has high data operation capabilities and can target audiences precisely, and marketing functions are more comprehensive under the Alibaba ecosystem. Youku can be seen on all brand TVs, Youku mobile APP + large screen/dual-screen exposure has high visibility of ad delivery.
How to advertise on Youku?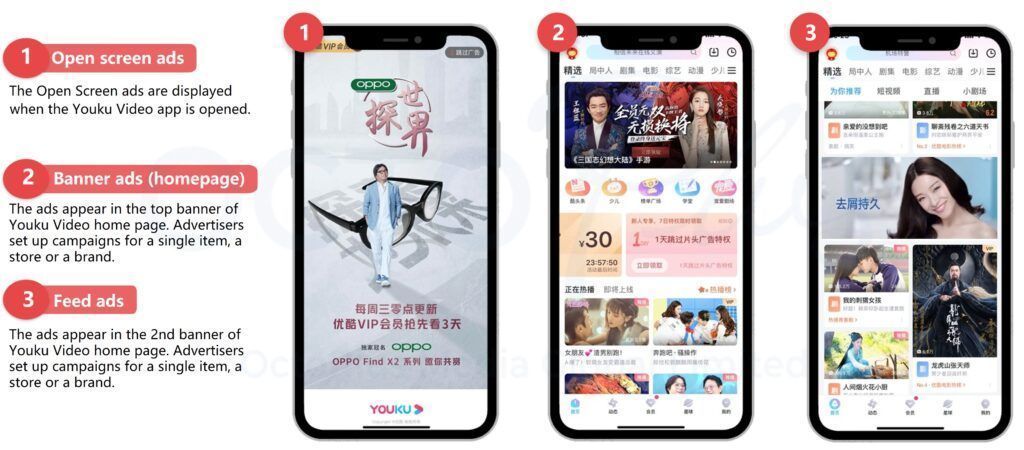 1. PC Display Banner
Video playback page banners 300*100 and 300*50

UGC banner on the right corner 300*250

Bottom column banner 610*100

In-window pre-roll ads/pause ads/fullscreen

Corner label ads in playback window 640*90 and 337*110 (*Display rules: based on the user's viewing time, the ad will appear at 0,1,5,20 minutes and every 15 minutes thereafter; the duration of the corner label ad is 45 seconds for the 0th minute, 3 minutes for the 1st minute and 2 minutes for the other corner label ads.
2. Mobile APP
Full-screen splash ad: 640*960, 640*1136, 750*1334, 828*1472, 720*1280 (*display requirements: for brand industry only)

In-feed ads: APP homepage, channel homepage
(i) Picture: Static 750*350
(ii) Text: Within 15 characters
(iii) Interaction: Both image and text copy are clickable
New home screens or cast screens are high-quality traffic opportunities in the digital ecosystem, and OTT as an important part of it is developing in an orderly manner. The improvement of OTT reach, the evolution of content power, the enhancement of touch points, its perfect high-value commercialization model, considerable data performance, and irreplaceable family scenarios have become high-value marketing resources for brands.
If you would like to know more about Youku's advertising inquiries, please contact us. 
Talk to our team.
It's a team with one single shared goal, which is our client's success. Deliver results for your business now. 
 Email: bd@octoplusmedia.com
Download the E-Book on China Advertising Now for FREE!
OctoPlus Media Curated Content for China Marketing Education
Discover the China market and Integrate with marketers to make better decisions and devise better marketing programs
Add Your Heading Text Here
The Complete China
Advertising Handbook (2023 Guide)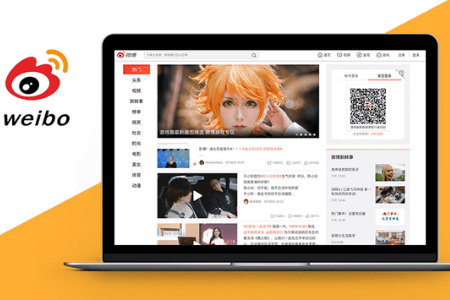 *A Preview Of Our Handbook
Add Your Heading Text Here
The Complete China 
Programmatic Advertising 
Guidebook (150pages)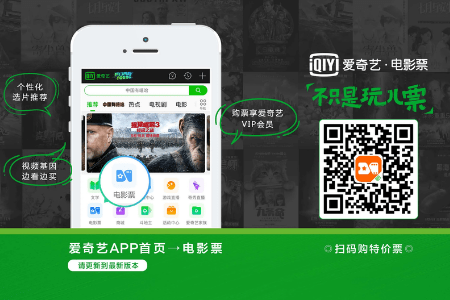 *A Preview Of Our Handbook
Get your free China marketing E-book and get started today by filling up the details.
 The completed version will be delivered straight to your inbox!!